NOSM University's military mentors are resources for NOSM University medical students and residents who are members of the Canadian Armed Forces. The mentors meet with the current learners semi-regularly throughout their training, and are available using the email addresses below to any learner who has questions about studying medicine as a member of the military.
---
"I'm very excited to be working with NOSM University to support the MOTP/MMTP learners in both the UGME and PGME programs.  Studying medicine as a member of the military is very rewarding, but it can also come with its own unique administrative requirements.  I encourage any military learner at NOSM University to reach out to me via email if you have any questions about your program, or your future career as a Medical Officer with the Canadian Armed Forces." – Capt. David Jerome.
Captain David Jerome, Lead Mentor
Captain Jerome completed his medical school at MUN, and completed his Family Medicine residency in NOSM University's rural stream. As a military physician, Captain Jerome has deployed overseas with both the Canadian Army and the Navy. Captain Jerome teaches regularly in the NOSM University Family Medicine program. Captain Jerome was one of the co-founders of the Canadian Association of Wilderness Medicine (CAWM) and he currently serves as the Association's President. Captain Jerome started the CCFP(EM) Residency program in July 2023.
---
Dr. Heather Galbraith
A graduate of NOSM University, Lieutenant Commander Retired Dr. Heather Galbraith is a family medicine specialist recently retired from the Canadian Armed Forces (CAF), currently working in Ottawa, Ontario, where she practices as a Care of the Elderly/Palliative and Long Term Care (LTC) and Retirement home physician. Her role in the CAF also included aviation medicine and scuba diving medicine. She is fully bilingual, and in her spare time, she enjoys spending time with her young family and connecting with friends, swimming competitively, and volunteering as a swim coach.
---

Lieutenant Commander Chet Mecham
Lieutenant Commander Mecham attended medical school at UBC, graduating in 2015. Lieutenant Commander Mecham joined the Canadian Armed Forces during his second year of medical school. He attended family medicine residency at NOSM in North Bay, ON, graduating in 2017. He was then posted to 2 Field Ambulance in Petawawa ON from 2017-2019, to Shilo, MB from 2019-2021 and is currently in Cold Lake, AB. He has a large family that has joined him in his adventures.
---
Captain Joelle Thorgrimson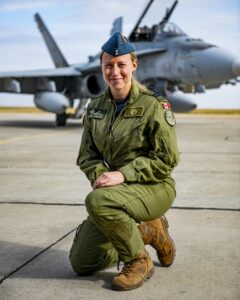 Captain Joelle Thorgrimson is an Indigenous military flight surgeon from Kenora, ON who attended medical school and completed a family medicine residency at NOSM Univesrity. She has worked as a flight surgeon in Cold Lake, Alberta, deployed overseas and is now completing a fellowship in aerospace medicine with the United States Navy.
---

Dr. Diane Whitney
Dr. Diane Whitney is currently the Assistant Dean Resident Affairs of NOSM U and previously she was the Program Director of Psychiatry at NOSM University. Dr. Whitney served as a general duty medical officer and flight surgeon at CFB Baden where she provided care to military members and their families from 1989 to 1992. She served in the first Persian Gulf War during 1990/91 with the Canadian Medical Services Team in Doha Qatar. As a psychiatrist in her civilian career, Dr. Whitney has provided psychiatric care to military members and veterans.
---