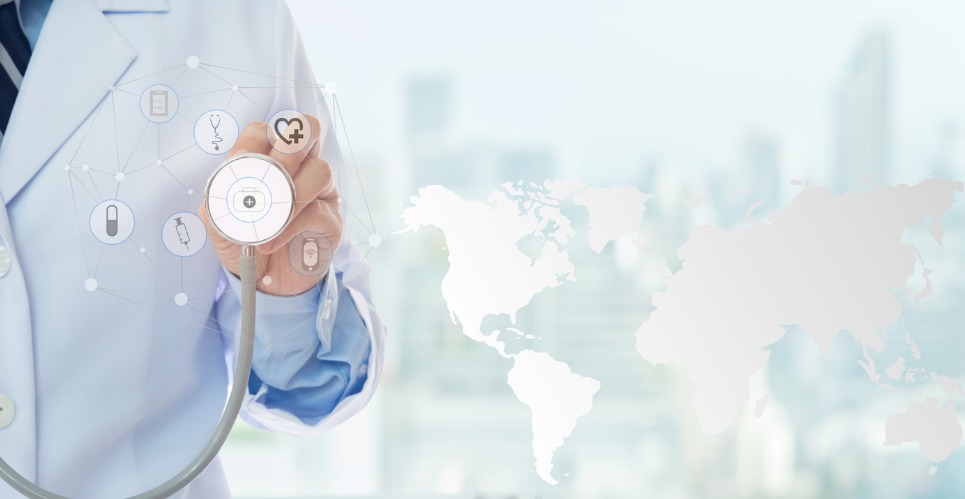 Global Health
NOSM's Global Health activities are currently in their infancy and development phase.  Our current focus supports our learners who wish to pursue interests and opportunities in Global Health.  We currently support our learners with pre-departure training and a comprehensive international elective approval process.
In the future, our goals include facilitating international exchanges with other medical school's that NOSM has international agreements with; the development of local elective opportunities for visiting international or Canadian medical students; and curriculum enhancements around Global Health content.
The vision for Global Health at NOSM exists at the intersection of social accountability, NOSM's current social accountability mandate and Global Health domains that reflect these ideas.  There are many lessons that can be taken from Global Health principles that will help develop a better understanding of what are, at times, developing world conditions within a developed world here in Northern Ontario.  Likewise, what we learn from our experiences here in Northern Ontario have the potential ton contribute to solutions in similar circumstances elsewhere in the world.
Overview of the Application Process
International electives have been shown to increase the likelihood that future MD's will work with disadvantaged populations, maintain true generalist skills and alter career paths to pursue primary care.  An international elective can be a transformational experience for medical learners.  It exposes them to different worldviews, to low resourced settings, to ethical dilemmas they would not otherwise consider and often highlights the deep-rooted causes of ill health.  The international elective approval process is designed to help prepare our learners for these experiences and walk them through the steps that will help make their international elective a safe and positive experience.
If you are interested you must plan to attend pre-departure training.  This is mandatory.  The approval process is a two-step process that will likely take 6-12 months to complete.  All tasks must be completed and reviewed with the Global Health Coordinator and/or learner affairs prior to departure.  Inclusive to this process is a standardized letter that will be sent to the host institution that details expectations for NOSM's medical learners.  You will become familiar with the International SOS Assistance service prior to departure; and you will be required to review and sign a waiver of liability.
Most importantly, the process requires that you meet with the Global Health Coordinator at least twice prior to your departure.  You will also have to commit to a mid-elective check-in and a post-arrival debrief sessions.  There are also three evaluation forms to fill out about the elective.  1) The learner's evaluation of the elective itself.  2) The learner's evaluation of themselves by your designated supervisor; and 3) an evaluation of the elective approval process.
Failure to comply or agree to the aforementioned will result in a denied application for an international elective, termination of the elective pre-maturely or no credit given for the elective.
For more information please review the International Elective Approval Process and/or begin the application process.
Did you know…
The NOSM Global Health Consultation Group consists of student representatives, approximately 25 faculty and invited guests who have interests in Global Health… [Terms of Reference] [June 18th, 2018 Meeting Minutes]
That there exist international agreements with medical schools from around the world that can help facilitate educational or research experiences for our learners…
That we have a very passionate and dedicated Student Global Health group.
That there is a Global Health Certificate program overseen by the Student Global Health Group…
We are institutional members with the following International organizations with links to global health:  The Network Towards Unity for Health (TUFH), Association of Medical Education of Europe (AMEE) Aspire for Excellence in Social Accountability panel, Consortium Longitudinal Integrated Clerkship (CLIC), Training for Health Equity Network (theNET).
We are also members of the following National organizations with links to Global Health: Canadian Consortium of Universities for Global Health Research (CCUGHR) and the Association of Faculties of Medical Universities of Canada Global Health Group (AFMC).
Contact Information
Global Health Coordinator
Dr. Alex Anawati
Email: aanawati@nosm.ca
Northern Ontario School of Medicine
935 Ramsey Lake Road
Sudbury, ON
P3E 2C6