October 20th 2021: Pathways to Careers In Health for High School Students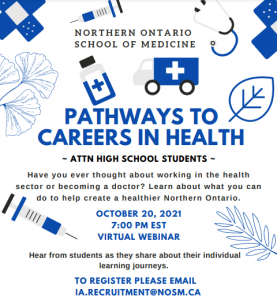 October 20th 2021 at 7:00 pm virtual webinar.
Have you ever thought about working in the health sector or becoming a docto?
Learn about what you can do to help create a healthier Northern Ontario.
Join Lakehead University Health Sciences and Northern Ontario School of Medicine students as they share in their journeys in education.
The Indigenous Affairs Unit has partnered with the admissions team to bring our high school students in the north the opportunity to hear from Indigenous students in the health sciences.
High school students who attend will be entered into the attendance draw for a $50.00 gift card!
To register click here.
Future Events
February 16th 2022: Pathways to Careers in Health for Post-Secondary Students and Health Professionals
Past Events