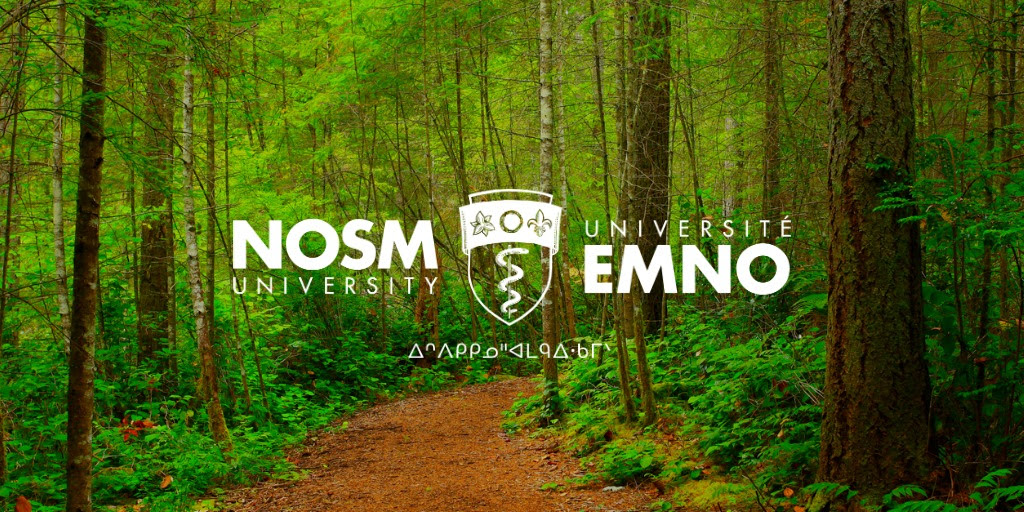 The Northern Ontario School of Medicine (NOSM), created in 2002, made history by becoming Canada's first independent medical university—now known as NOSM University—on April 1, 2022.
NOSM University is one of the greatest medical education success stories of Canada. Born of a grassroots movement, NOSM University is a made-in-the-North solution to regional health care inequalities. Its internationally recognized distributed, community-engaged learning (DCEL) model is distinctive and has grown into something extraordinary.
This education model requires NOSM University to have strong ties and engagement with remote, rural, Indigenous and Francophone communities. It features partnerships and collaborations with more than 500 organizations, in more than 90 communities, and with more than 1,800 clinical, human, and medical sciences faculty dispersed across all of Northern Ontario.
In addition to offering a Committee on Accreditation of Canadian Medical Schools (CACMS) fully accredited MD program, NOSM University offers a Master of Medical Studies, Northern Ontario Dietetic Internship Program (NODIP), Medical Physics Residency Education Program (MPREP), Physician Assistant (PAs), and Postgraduate Residency programs accredited by both the Royal College of Physicians and Surgeons of Canada (RCPSC) and College of Family Physicians of Canada (CFPC). 
NOSM University has a mandate to be socially accountable to the cultural diversity of the region it serves including Indigenous and Francophone peoples, remote communities, small rural towns, large rural communities, and urban centres. Evidence of this mandate can be found in the University's curriculum, administrative structure, research program, student demographics, continuing education program, and more.
NOSM University faculty, staff and students do not function in a traditional medical school building. Rather, the walls of the University are the boundaries of Northern Ontario, spanning thousands of kilometres, with two main campuses and countless communities that are linked in some way to the University.
MD Program
As of June 2023, NOSM University has graduated 902 MDs—73 are Indigenous and 179 are Francophone. More than half of these physicians have stayed in Northern Ontario.
On average, 52.67% of NOSM MD grads select Family Medicine as their first choice for residency, compared with 38.20% for all Canadian applicants.
All NOSM University medical students have a first-year placement in what is called Integrated Community Experience (ICE). This is a mandatory four-week placement in a First Nation community, a Métis organization, or an Indigenous health organization in Northern Ontario.
Residency Programs
As of June 2022, 769 residents have completed training in NOSM University's residency programs.
NODIP
To date, NOSM University has graduated 15 classes, comprising 186 Registered Dietitians. One hundred and two (55%) are practising in Northern Ontario, including 100% of the 2022 graduates.
Accolades for NOSM University
NOSM University is a proud recipient of the 2019 Charles Boelen International Social Accountability Award, presented by the Association of Faculties of Medicine of Canada.
In 2013, NOSM University received the prestigious ASPIRE award, which recognizes international excellence in social accountability and medical education.
NOSM University has been honoured by the Society of Rural Physicians of Canada with the Rural Medical Education Award 11 times for the highest proportion of graduates going into rural family medicine.
Community Partnerships
NOSM University currently has 42 Indigenous community partnerships who have signed long-term partnership agreements to host students. The long-term partnership provides a framework for both NOSM University and respective signatory to work in collaboration to ensure a successful placement for both community and students.
Facts & Figures
In 2018, NOSM contributed an estimated $122-134 million in new economic activity in Northern Ontario.
About NOSM University Quick Links