Community Profiles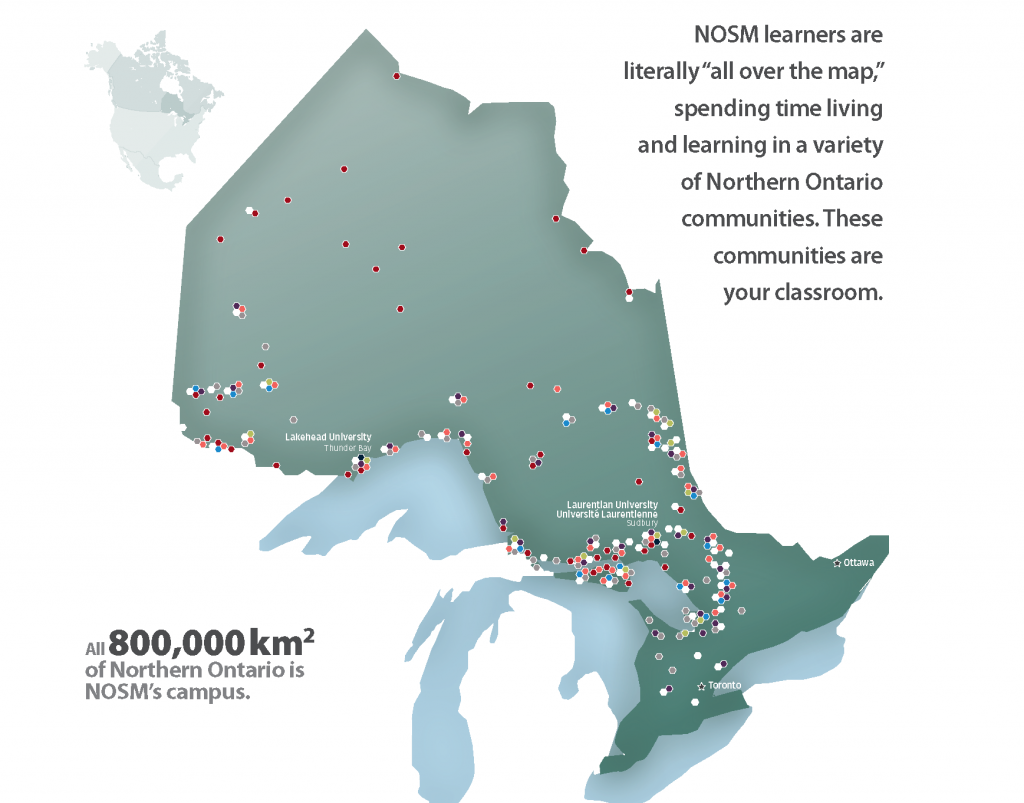 NOSM's education is quite literally "all over the map," taking learners out of traditional classrooms and into your community.
NOSM learners are educated in your community about the local culture, economic realities, and social determinants of health that are relevant here in the North with the hope that their experiences will win over their hearts and minds, and encourage them to return to practise in the North upon completion of their education. And it's working. The majority of NOSM learners do remain to practise in the North.
The walls of the Northern Ontario School of Medicine are the boundaries of Northern Ontario and span 800,000 km2 that include Indigenous, Francophone, remote/rural communities, and urban centres.  Below are 63 profiles of the more than 90 communities where NOSM students live and learn.
View Larger Map: Mapping NOSM's Distributed Model


Atikokan
Barrie
Black River-Matheson
Blind River
Bracebridge
Bruce Mines
Burk's Falls
Chapleau
Cobalt
Cochrane
Collingwood
Dryden
Ear Falls
Elliot Lake
Emo
Englehart
Espanola
Fort Frances
French River / Rivière des Français
Gravenhurst
Greater Sudbury
Greenstone
Hearst
Hornepayne
Huntsville
Ignace
Iroquois Falls
Kapuskasing
Kenora
Kirkland Lake
Latchford
Machin
Manitoulin Island
Manitouwadge
Marathon
Mattawa
Midland
Nairn and Hyman
Nipigon
North Bay
Orillia
Parry Sound
Red Lake
Sault Ste. Marie
Schreiber
Seguin
Sioux Lookout
Smooth Rock Falls
South River
St. Joseph
Sundridge
Temagami
Temiskaming Shores
Terrace Bay
Thessalon
Thunder Bay
Timmins
Wasaga Beach
Wawa
West Nipissing / Nipissing Ouest