"We must eliminate the gaps in Northern Ontario health human resources in order to achieve equitable and sustainable access to quality health care."
Dr. Sarah Newbery
Associate Dean, Physician Workforce Strategy
physicianworkforce@nosm.ca
@NOSMMDworkforce
---
The health and wellbeing of Northern Ontarians depends on having timely access to physicians and other healthcare providers, to meet the diverse needs of the people.
NOSM University's latest Strategic Plan, The NOSM Challenge 2025, had set the first strategic direction as the "Transformation of Human Health Resources in Northern Ontario" with the following goal: To link human health resources (HHR) to Northern Ontario's needs (Francophone, Indigenous, rural and urban) with a focus on specialist and subspecialist physician training.
The aspiration is that NOSM University's transformative approach to the planning and delivery of workforce supply eliminates the gaps in Northern Ontario human resources
Four Outcomes will be measured as NOSM University moves forward with achieving this priority:
An integrated, customized and evidence-based approach to health human resources (HHR) for Northern Ontario
Integration of rural, remote and community needs into our education programs
Enhanced connectivity and communications for all NOSM University communities
A system to support clinical faculty in their academic work
Initial information on the measurable outcomes of in this work can be found here.
Other strategic priorities of Social Accountability, Innovation in Health Professional Education, and Strengthening Research Capacity in Northern Ontario are all linked to the first strategic direction.
---
What is NOSM University's role in the development of physician resources for Northern Ontario?
NOSM University's role falls broadly in four domains: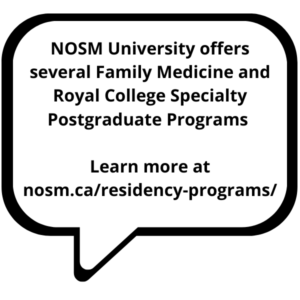 Education and training of future clinicians – both through NOSM University's programs and through elective and core rotation placements for learners from other schools
Facilitating the retention of skilled faculty through career and academic opportunities
Collaboration with health system partners for planning, advocacy and alignment
Collaboration through formal and informal agreements with other Ontario universities to increase clinical placements of core and elective learners in Northern Ontario
---
What do we know about our current needs?
As we embark on our goals, it is key that we know our starting point in terms of need
We are working closely with community based recruiters and hospital partners to understand the current need across the North for physicians. Every six months we work to collect the information that can help us to understand where our physicians resources needs are.
This data is imperfect, but it is the best we have available. To understand the data:
We need to keep in mind that it reflects only current contract vacancies and there are challenges about whether current funding allocations meaningfully reflect the need of the population.
The need reflected in the data for specialists in Northern Ontario's large centres is mainly hospital based need and does not completely reflect the need for specialists outside of the hospital setting. Examples are the need for allergy specialists, rheumatologists and respirologists.
The data does not include any forecasting information like anticipated retirements, nor the likely need to replace some experienced physicians with large practices with more than one new physician.
The current need also reflects only the clinical service requirements and does not include the expectations of participation in teaching or other scholarly work that is expected of physicians who are working with a medical university like NOSM  University.
The data also does not reflect the higher needs of our population, and in particular those communities that have had less access to care, including many Indigenous communities.

So the data is an UNDERESTIMATE of need and if we are truly to transform health care delivery to meet the needs of Northern Ontario, then we will need more physicians than is noted here. At present however, this is the best estimate for unmet need for physicians that we have.

As of June 2022, based on data gathered from community and hospital level recruiters, we know that:

The specialists we need in highest numbers are:

Psychiatrists
General Internists
Pediatricians
Anesthetists
Diagnostic imaging specialists
Emergency physicians (either CCFP EM or FRCPC)

Smaller numbers in key subspecialties like rheumatology, respirology, physiatry,  sleep medicine, interventional cardiology, dermatology, and several others are also needed. Although smaller numbers are needed, these subspecialists are critical to health care services in Northern Ontario.

Expand the heading below to view previously reported data.

Physician Human Health Resource Data- June 2021

In January 2021, based on data gathered from community and hospital level recruiters, we know that we needed at least 313 physicians across Northern Ontario.

 

In June 2021, that need 

increased to 325 physicians

, with an increase in the need for family physicians and rural generalists in particular.

 

Breakdown of the 325 physicians needed:

135

 family physicians, 

97

 of those in rural communities.

 

4

 enhanced skill FPs in care of the elderly, FPA, palliative care

 

166.5

 specialists, in a variety of disciplines,

18.5

 hospitalists and emergency medicine physicians (either FP or specialists)

 

The 

specialists we needed in highest numbers were

:

 

Psychiatrists

 

General Internists

 

Pediatricians

 

Anesthetists

 

Diagnostic imaging specialists

 

Emergency physicians (either CCFP EM or FRCPC)

For more information about working as a physician in Northern Ontario, please see the HFO jobs portal here or visit specific community listings at https://jobconnect.health/

---

What do we know about where NOSM grads are working?

---

Contact Information

Office of Physician Workforce Strategy
Email: physicianworkforce@nosm.ca