Chancellor
NOSM University's Inaugural Chancellor
 Dr. Cindy Blackstock named NOSM University's Chancellor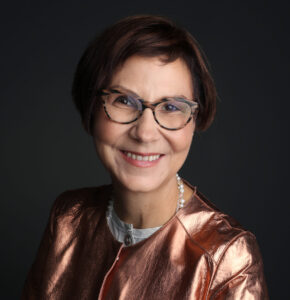 On Thursday, November 24, 2022, Dr. Cindy Blackstock, renowned Indigenous child and family rights activist and member of the Gitxsan, was named NOSM University's inaugural Chancellor.Dr. Blackstock embodies the values of social justice, respect, and integrity.
As Chancellor of NOSM University, her tenacious, inspirational leadership and steadfast moral courage will set the tone for us as Canada's first independent medical university, and the only such institution in the country established with an explicit social accountability mandate.Among her innumerable accomplishments, Dr. Blackstock is the co-founder and Executive Director of the First Nations Child and Family Caring Society, and a Professor at McGill University. She begins a four-year term as Chancellor and will be installed at NOSM University's first convocation ceremony being held on May 26, 2023.
Watch the virtual inauguration our
YouTube
 livestream.
---
Dr. Blackstock Biography
A member of the Gitxsan First Nation, Cindy is honoured to serve as the Executive Director of the First Nations Child and Family Caring Society and a professor at McGill University's School of Social Work. She has over 30 years of experience working in child welfare and Indigenous children's rights and has published more than 75 articles on topics relating to reconciliation, Indigenous theory, First Nations child welfare and human rights. Cindy was honoured to work with First Nations colleagues on a successful human rights challenge to Canada's inequitable provision of child and family services and failure to implement Jordan's Principle. This hard-fought litigation has resulted in hundreds of thousands of services being provided to First Nations children, youth and families.
She recently served on the Pan American Health Commission on Health Equity and Inequity and fundamentally believes that culturally-based equity is essential to meaningful reconciliation. Cindy is frequently sighted in the company of the Caring Society's reconciliation Am-bear-rister, Spirit Bear, engaging children in meaningful actions to implement the TRC Calls to Action.
The Chancellor is the ceremonial head of the University, and confers all degrees. An advisor and support to the President, the Chancellor is a public proponent of the goals and objectives of the University, and is an active participant in University activities and the University community. In particular, the Chancellor is present at Convocations to personally greet and grant degrees to graduating students.