About Us
The Northern Ontario Dietetic Internship Program (NODIP) is administered by NOSM University (NOSM U), in collaboration with multiple preceptors, communities, and facilities throughout Northern Ontario.  NODIP is a nationally accredited professional program that provides practical, hands-on dietetic experience that enables students to obtain the Integrated Competencies For Dietetic Education and Practice, required of an entry-level registered dietitian.
NOSM U's social accountability mandate and a commitment to community engaged and distributed learning is the foundation of NODIP.  
NOSM U's mission is to improve the health of Northern Ontarians by being socially accountable in our education and research programs and by advocating for health equity.  It is the intention of NOSM U to maximize the recruitment of students who have lived in Northern Ontario and/or students who have a strong interest in and aptitude for practicing in Northern urban, rural, and remote communities. We are also committed to recruiting Indigenous, Francophone, and Franco-Ontarian students.
Standing Tall: NODIP@NOSM
Since 2007, the Northern Ontario Dietetic Internship Program (NODIP) has demonstrated a commitment to improving the health of Northern communities. Graduates are trained by dedicated preceptors and committed organizations. Upon completion of their program, NODIP graduates work in diverse practice settings, serving their communities in different ways. To learn more about NODIP, view the video Standing Tall: NODIP@NOSM, created recently by Dr. Hoi Cheu, Professor of English and Film Studies at Laurentian University.
Achievement Report
Since 2007, NOSM U has offered the Northern Ontario Dietetic Internship Program, a 46-week internship that teaches dietetic interns the skills and knowledge they need for rural and Northern practice. In July of 2017, NODIP celebrated the tenth graduation of NODIP interns. Here are some of the many successes the program and its faculty, learners, and graduates have garnered over the years.
About the Program
NODIP provides practical experience for students to obtain the Integrated Competencies for Dietetic Education and Practice. The internship is a comprehensive 46-week program in which students are exposed to nutrition care, population and public health, and management roles in dietetics.
NODIP offers a wide range of challenging learning experiences in a variety of practice settings including:
Regional Hospitals
Family Health Teams
Public Health Units
Community Health Centres
Long-Term Care Facilities
Small Rural Hospitals
Indigenous Communities
This internship will help you develop the unique skills required to meet the growing demand for health professionals in Northern and rural communities.
Up to 12 successful applicants will be selected annually for this 46-week program which begins in early September. Interns will live and practice in one of three primary sites: Thunder Bay, Sault Ste. Marie, and Sudbury.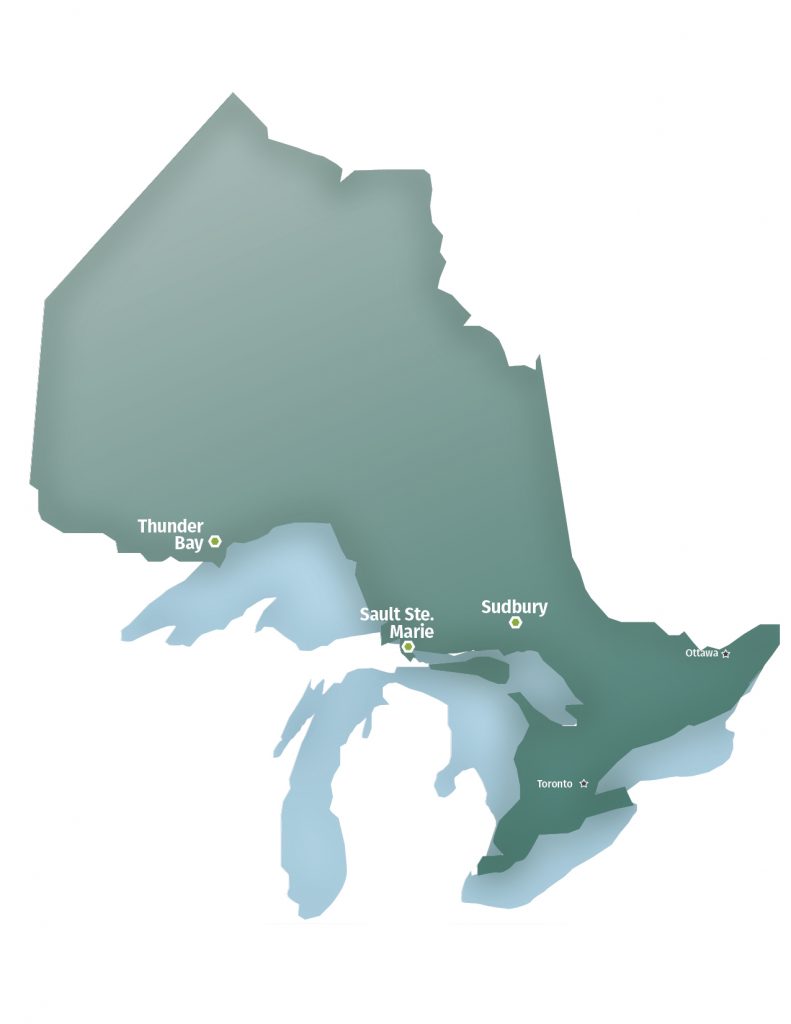 Applications for the 2024/25 NODIP will be submitted directly to NOSM U.  Please refer to Application & Selection Process for more details.
Program Outline
Orientation /Professional Development: 2 weeks
Food Provision and Management: 6 weeks
Nutrition Care: ~20 weeks
Population and Health Promotion: ~10 weeks
Practice-Based Project: 4 weeks
Consolidation: 3 weeks
Vacation: 2 weeks
Total (including vacation): 46 weeks
A minimum four to six-week rural placement is required for this program. NOSM U housing and mileage reimbursement are provided for placements outside of the intern's primary site.
Rotation Examples
Rotations/placements are available for each component of the program. Below are examples; exact placements cannot be guaranteed and may change year to year.
Food Service and Management
Food service operations in a  hospital or long term care facility
Human resources management
Working in a unionized environment
Project management
Outpatients
Regional bariatric assessment centres
Cancer centres
Cardiac rehabilitation
Diabetes programs
Family health teams
Inpatient Clinical
Medicine
Rehabilitation
Long-term care
Oncology
Surgery
Renal Care
Critical care
Pediatrics
Population and Public Health
Public health units
Aboriginal Health Access Centres
Indigenous Services Canada, First Nations and Inuit Health Branch
Family health teams
Community health centres
Professional Development and NODIP Resources
NODIP's professional development includes an annual calendar of workshops on topics including research and data analysis, program evaluation, health literacy and clear language, pediatrics, renal disease, food allergies, the International Dietetics and Nutrition Terminology and Nutrition Care Process. There may also be opportunities to attend events and workshops offered during some rotations and/or by organizations such as Dietitians of Canada.
NODIP SharePoint Site
As a distributed learning program, the learning SharePoint site is the primary tool for communication. The site includes:
All placement information, intern schedules and materials are online.
Common performance objectives and evaluation forms.
A Resource Centre of workshop materials, additional resources and references.
Shown below: NODIP's professional development opportunities include an annual calendar of workshops on topics including a Growth Assessment Workshop.