News and Events
If you would like to advertise an event with us, kindly submit the event details to Dana Walsh at dwalsh@nosm.ca. Please note, all event postings will be removed on a quarterly basis.
---
Rehabilitation Sciences News
Updates to Rehabilitation Professionals Incentive Grant Program (ICG)
NOTICE OF TEMPORARY EXCEPTION TO REHABILITATION PROFESSIONALS INCENTIVE GRANT PROGRAM (IGS) ELIGIBILITY CRITERIA
The Ministry of Health (the "ministry") has recently learned of ongoing credentialing delays being experienced by physiotherapists wishing to complete their clinical examinations at the College of Physiotherapists of Ontario (the "college"). This credentialing delay may be impacting potential applicants to the ministry's Rehabilitation Professionals Incentive Grant Program (IGS) program.
IGS eligibility criteria state that IGS program applicants must "be registered with the applicable College; temporary license does not qualify". The ministry does not typically accept applicants with provisional licenses to this program; however, we wish to continue supporting potential IGS program applicants in recognition of their contribution to the provision of health care to the residents of northern Ontario – despite new challenges being faced during the pandemic period.
Therefore, we are happy to advise that the ministry has reviewed this matter and concluded that, given the unprecedented circumstances surrounding the COVID-19 pandemic and its impact on the College's ability to conduct clinical examinations, the ministry will temporarily permit physiotherapist applicants with a "provisional license" to receive the IGS grant, provided that they commenced their employment within the pandemic period (i.e., with employment start dates between March 2020 and March 2022). Program applications and all eligibility criteria can be found on the ministry's website:
www.health.gov.on.ca/en/pro/programs/northernhealth/rehabilitation.aspx
The IGS program's service standard is to process properly completed applications within six weeks of receipt. If you have questions about completing an application to the Rehabilitation Professionals Incentive Grant program with all required documentation, please contact lynda.braithwaite@ontario.ca.
Please note that this program is not accepting paper applications at this time and only pdf applications to this email address NHP@ontario.ca or via fax at 705-564-7493 will be accepted.
Please share this notice with other potential IGS applicants or facilities you think could benefit.
Northern Health Programs | Primary Health Care Branch
Physician and Provider Services
OHIP, Pharmaceuticals and Devices Division | Ministry of Health
159 Cedar Street, Suite 402 | Sudbury | ON | P3E 6A5
p: 705-564-7280 | Toll Free: 866-727-9959 | Fax: 705-564-7493
---
Health Sciences Preceptor Development Series
General Information About the Series
We are happy to announce our new NOSM Health Sciences Preceptor Development Series!
This will be a twelve part series offered throughout the year with different monthly topics to help you develop your knowledge and skill as a preceptor to our learners. This new series will replace the Preceptor 101 sessions that have been offered in the past.
Sessions will initially be offered in live, virtual, small groups facilitated by our Clinical Learning Liaisons. In time, self-directed sessions for each topic will be available to complete at your own pace. In-person sessions will also be available once we are on the other side of the current pandemic and able to resume site visits.
Each session is designed to be completed in 60 minutes and enrollment for each session is capped at 15 participants. Each month we will initially offer two sessions and will add sessions based on enrollment demand. Where there are between 6 and 15 people interested in a particular session at one site, private virtual sessions can be scheduled.
After completing each session, you will receive a certificate for your professional development records.
For more information, please contact Dr. Mike Ravenek, Health Sciences Manager, at mravenek@nosm.ca or 705-662-7015
2021 Live Virtual Session Calendar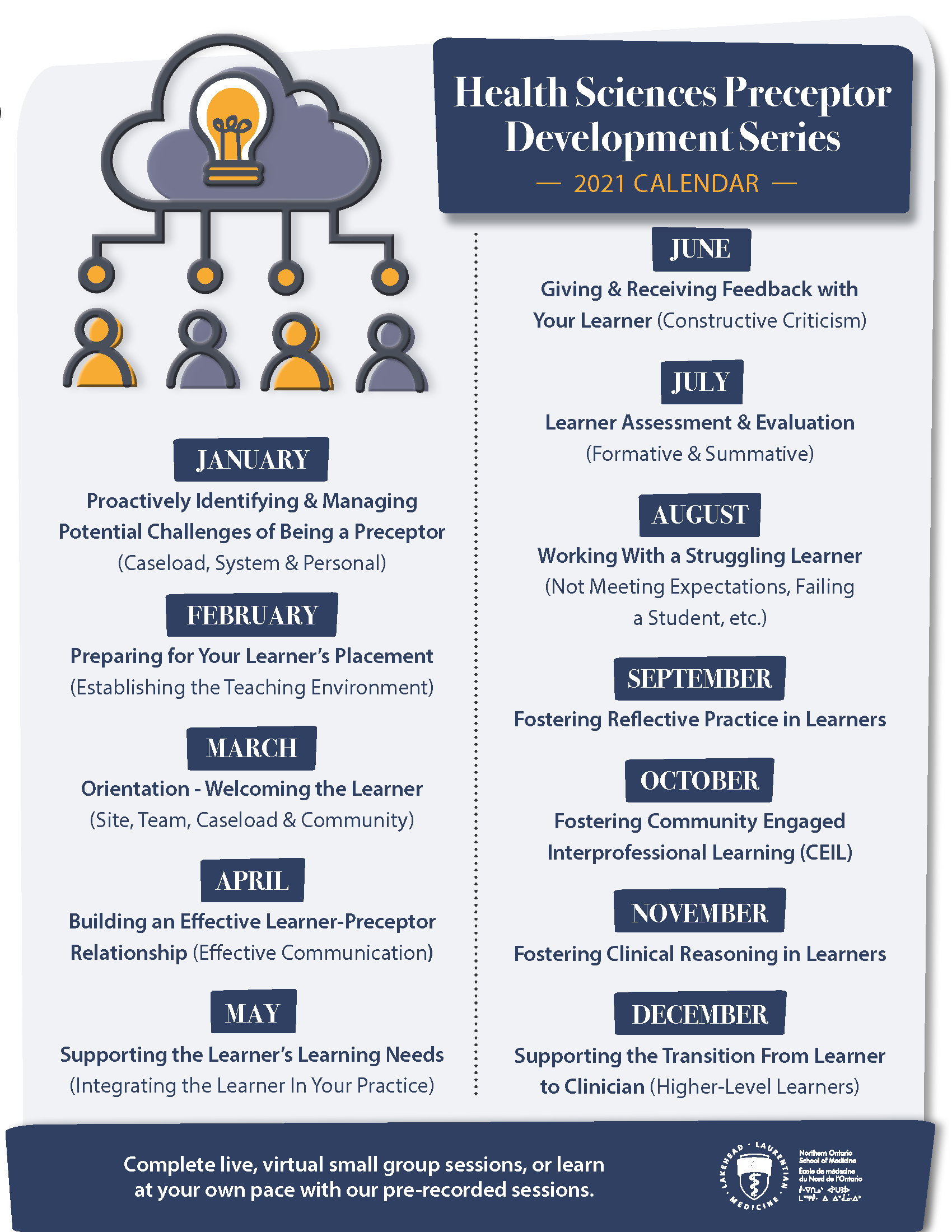 December 2021 – RSVP – Supporting the Transition from Learner to Entry-Level Clinician (Higher-Level Learners)
Self-Directed Preceptor Development Series (Complete at Your Own Pace)
---
Health Sciences Webinars
---