News and Events
If you would like to advertise an event with us, kindly submit the event details to Gina Rocca at vrocca@nosm.ca. Please note, all event postings will be removed on a quarterly basis.
---
Health Sciences Preceptor Development Series
General Information About the Series
We are happy to announce our new NOSM Health Sciences Preceptor Development Series!
This will be a twelve part series offered throughout the year with different monthly topics to help you develop your knowledge and skill as a preceptor to our learners. This new series will replace the Preceptor 101 sessions that have been offered in the past.
Sessions will initially be offered in live, virtual, small groups facilitated by our Clinical Learning Liaisons. In time, self-directed sessions for each topic will be available to complete at your own pace. In-person sessions will also be available once we are on the other side of the current pandemic and able to resume site visits.
Each session is designed to be completed in 60 minutes and enrollment for each session is capped at 15 participants. Each month we will initially offer two sessions and will add sessions based on enrollment demand. Where there are between 6 and 15 people interested in a particular session at one site, private virtual sessions can be scheduled.
After completing each session, you will receive a certificate for your professional development records.
For more information, please contact Dr. Mike Ravenek, Health Sciences Manager, at mravenek@nosm.ca or 705-662-7015
2021 Live Virtual Session Calendar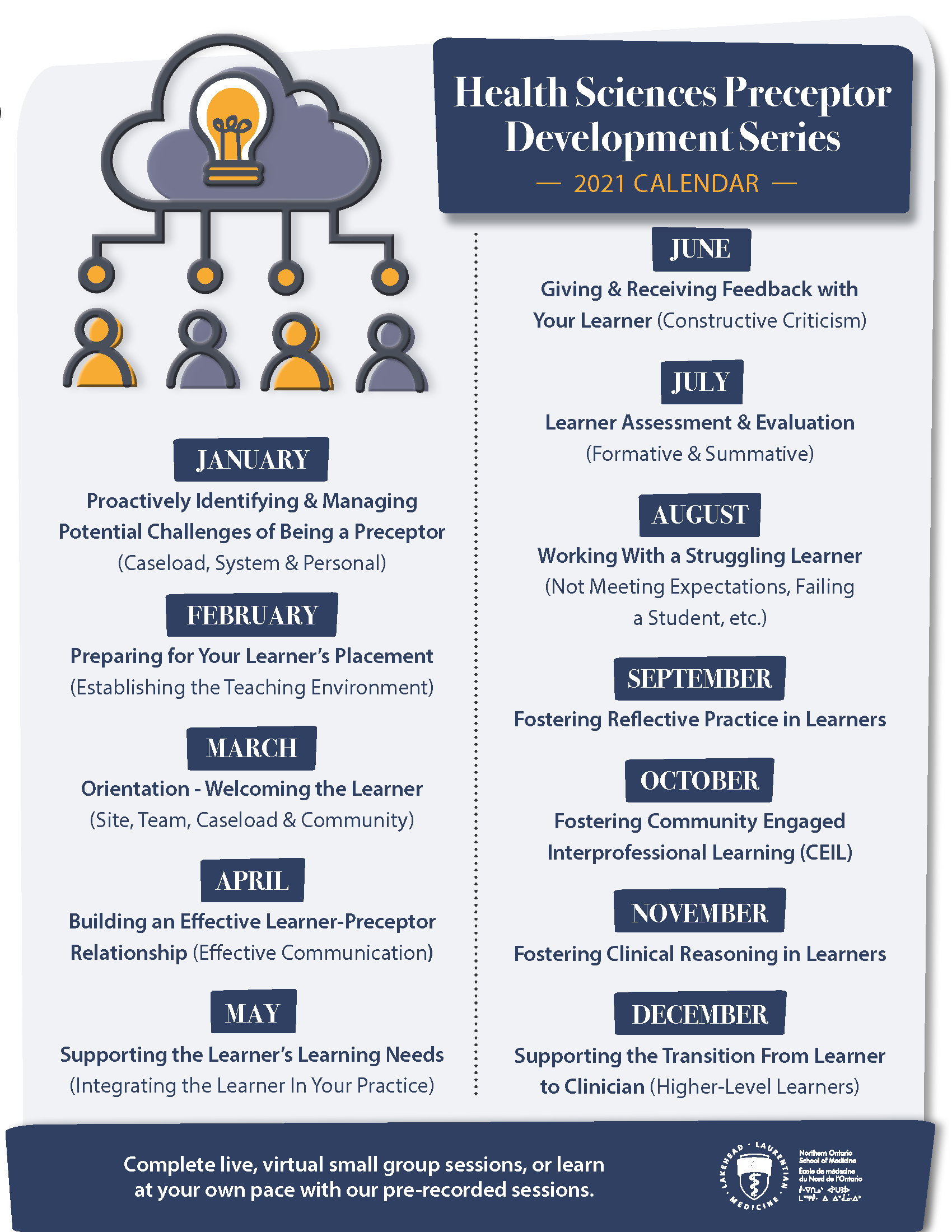 May 2021 – RSVP – Supporting the Learner's Learning Needs (Integrating the Learner In Your Practice)
Self-Directed Preceptor Development Series (Complete at Your Own Pace)
---
Health Sciences Webinars
April 21, 2021 (12-1pm Eastern) – Telesupervision in the Health Sciences Professions – How to Adapt to Our New Realities
---
Rehabilitation Sciences News & Events
Pilot Project at Anishnawbe-Mushkiki Aboriginal Health Access Centre Speech-Language Pathology Presentation
Thank you to McMaster University students Lea, Kennedi and Shana for a great presentation on their Speech-Language Pathology role-emerging placements in Thunder Bay! The students were the first to complete the new placement opportunity through the Northern Ontario School of Medicine.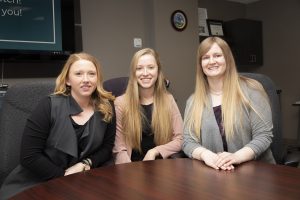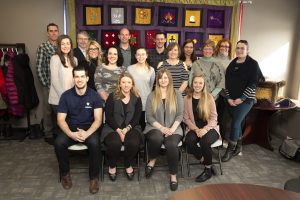 New Pilot Project at Anishnawbe-Mushkiki Aboriginal Health Access Centre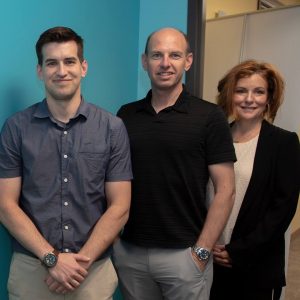 A new placement is bringing occupational therapy and physiotherapy students to the Anishnawbe-Mushkiki Aboriginal Health Access Centre in Thunder Bay, where they will focus on addressing the needs of Indigenous clients. Read the full story here.
FIREFLY Children & Youth Development services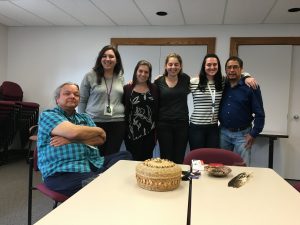 The Northern Ontario School of Medicine collaborates with FIREFLY Child and Youth Development Services to fill new Speech-Language Pathologist clinical education opportunities in Keewatin-Patricia District FIREFLY and Kenora Chiefs Advisory have partnered to fill five new full-time Speech-Language Pathology positions through Jordan's Principal funding. The Northern Ontario School of Medicine in turn partnered with FIREFLY to facilitate clinical externships for Speech-Language Pathology graduate level students.  FIREFLY Children and Youth Development Services, located in Kenora, Ontario, provides services to children and families living in the district of Kenora and area as well as multiple far north, fly-in communities. Through the collaboration, FIREFLY and NOSM are hoping to expand service to better serve children living in rural and remote areas, specifically Indigenous communities.
Learners from the University of Toronto and the University of Western Ontario are participating in two separate, eight-week placements from March to June 2018. The new placements offer a unique clinical education opportunity that will prepare learners for rural- remote clinical practice unique to the needs and service delivery models used in Northwestern Ontario, according to Jackie Hummelbrunner, a Speech-Language Pathologist who will supervise the learners on their placements. "This initiative is strongly focused on providing learners with the experiences necessary to develop clinical and management skills specific to serving our most remote and unique communities," said Hummelbrunner. "While supporting student clinicians to develop their skills, our community benefits from 'extra hands and minds' that help us address the needs of those waiting on waitlists for service while we work to staff these newly funded positions. The additional benefit is hopeful recruitment of these bright clinicians who answered the call to train in the North."
Over the course of their placement, learners will have the opportunity to gain the experience and training in: cultural competency/awareness; interprofessional collaboration; telepractice;
developmental speech and language formal assessment and intervention; intervention planning, community & client specific goal setting and delivery; and community travel to local and far north
communities.  Learners will have also had the opportunity to work with professionals unique to Indigenous communities to understand roles and gain skills to work collaboratively with a wide variety of professionals.
Northern Passages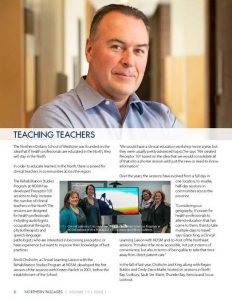 The Rehabilitation Sciences Program at NOSM has developed Preceptor 101 sessions to help increase the number of clinical teachers in the North. The sessions are designed for health professionals including audiologists, occupational therapists, physiotherapists and speech-language pathologists who are interested in becoming preceptors, or have experience but want to improve their knowledge of best practices.
Northern Passages is a quarterly publication which conveys news about NOSM's multi-faceted activities. Its broad coverage informs and entertains with detailed commentary on program development, conferences, profiles, and other information germane to the School and its Northern stakeholders.
Read the latest issue of Northern Passages here.