Application Instructions
Have you received approval from your Home University Coordinator to apply for an Out of Catchment Placement in Northern Ontario? If so, please follow the instructions below to ensure that your PaNDa application is correctly completed. This will help us facilitate a successful placement match for you in Northern Ontario
Review Prior to Starting Application
The application may take up to 20 minutes to complete. Please ensure you have adequate time to complete the application as you will NOT be able to access the application after exiting. If any of the information on your submitted application changes, notify hsplacements@nosm.ca with these changes immediately.
You need the following information to complete the online application
Full name, FULL address ( including apt #) permanent address
Clinical Requirements
Access to personal vehicle
Clinical History
Community, housing and or personal accommodations (cultural/religious/physical/learning).
Community Preferences. While all communities are listed, specific health care practitioners or practice areas may not be available in all areas. Please refer to the NOSM Community Profiles or your respective college website when you are making your community choices.
Start Application
Follow this Link to access the PaNDA Application. Select the program that you are applying for, and click Start Application
Step 1 – Personal Information
Enter your Personal Information. You
must
use your home school email address.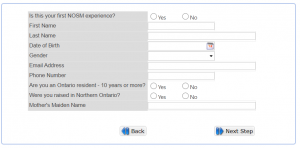 Step 2 – Contact Information
Please complete your address fully. It is highly important that your current address is accurate. Should you require housing, your keys may be mailed to this address.

Step 3 – Education Background
Please complete this section pertaining to your current degree program. In the
Year of Study when placement/rotation requested 
section, please put the year you will be in when the placement you are applying for will occur.

Step 4 – Educational Institution Contact
Please supply the contact information for your Home University Placement Coordinator.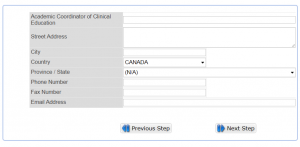 Step 5 – Rotation/Placement Preferences
Click the Green + to start
For your Rotation/Placement, please select the appropriate placement type.
Select your Start Date and number of Weeks over which your placement will occur
Select the Community you would like to complete your placement in. If the only option under Community is 'Any', please write the location you are interested in, in the comments section below.
If you have a specific Clinical Facilitator you are interested in completing your placement with, please put their name in the Clinical Facilitator Section
If you require housing in your preferred community, please select yes. Please select your mode of travel to and from placement.
Note: Some placements require learners to have access to a vehicle.
Complete the Comments Section and Rank your Order of Preference for this placement.
Once you have done this, hit the green check-mark to save. Now you have completed your first placement preference. You can add up to 3 in total.

Step 6 – Additional Information
Please complete this section in full. We ask that you include the following details:
Learner Clinical Placement Objectives: Information on what you would like to gain from your Clinical Placement Experience. Please include your required hours, placement type, etc.
Placement History: Provide your placement details. If you have an upcoming placement and are unsure of your practice area/hours you will obtain, please note that here.
Special Request: note any special requests – ie. housing, culture experiences, etc.

Step 7- Confirmation
In order to submit your application fully, you must click 
Submit Application. 
If you do not click this, your application will not be submitted as complete and will not be processed. Once you submit your application, you will receive an automated response from nosmpanda@nosm.ca, stating that your application was successfully submitted.