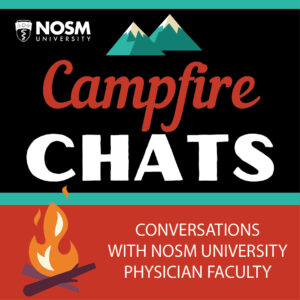 In the clinic or on the ward, we talk about symptoms and diagnoses and management. But what would we talk about around the campfire? Our stories!
The Office of Physician Workforce Strategy, in partnership with Faculty Affairs, invite learners and residents to join us for a virtual campfire. Let's chat…about the "back story" of our faculty – who they are, what they do, and why they do it.
What brought them to Northern Ontario? Why do they stay? What do they love about their work?
Bring your hot chocolate, toque, and cozy blanket.
Pull up a chair, rock, or log. Bring your "device" and join us in virtual conversation.
---
Upcoming Chats: 
Date: October 26, 2022 from 8-9 p.m.
Featured Faculty: Dr. Rob Ohle,  Emergency Physician – Health Sciences North, Assistant Professor NOSM U
Vice President, Academic and Research Impact – Health Sciences North and HSN Research Institute
Host: Dr. Sarah Newbery, MD- Associate Dean, Physician Workforce Strategy
Register here: https://event.fourwaves.com/campfirechats
---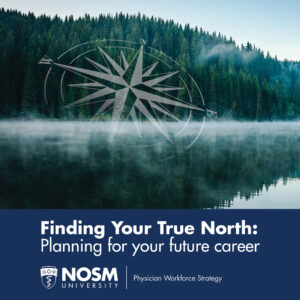 We look forward to welcoming learners, residents and their families from across Ontario to our 2nd Annual Practice Management and Community Exploration conference. The Finding Your True North: Planning for Your Future Career virtual conference will be held on October 21st & 22nd, 2022 and has a focus on planning:
For undergraduate learners: planning electives
For postgraduate learners: planning future work and locuming
For partners and families: what to plan for as your partner/family member moves through their education
For all- financial planning, including debt management, investment, incentives, and how to think through family planning in the context of medical education and career.
Join us for an in-person Community Connection Event on October 22, 2022 from 1:00 p.m.- 5:00 p.m. at either the Sudbury or Thunder Bay campuses! Mix and mingle with community representatives to hear about what it's like to learn, live and work in the north. There will be a talk about the realities and joys on locuming in Northern Ontario and information shared on setting up practice. Enjoy great food and enter to win one of many prizes! Learners, residents and their families are welcome. Registration is required.
Note: there will be a virtual connection option for the presentation for those who are unable to attend in person.
Visit the event website for more details and to register!
Past Events
2021 was the inaugural year for our annual Get Ready to Go & Make a Difference practice management and community exploration conference and job fair. This conference aims to help connect learners and residents with future learning and work opportunities. Recruiters and physicians from a number of communities across Northern Ontario attend to share employment opportunities and information about their respective communities and work places. During the first conference, there were virtual opportunities to network in chatrooms and hear about the unique experiences communities and practices have to offer.
Learn about communities and what they have to offer under Community Visit Rooms
See what opportunities were highlighted
View presentation materials
Get Ready to Go & Make a Difference 2021 Agenda
COMING SOON! We look forward to hosting our second annual practice management and community exploration conference and job fair in 2022. Stay tuned to this site for more information.