Each year on September 30 we recognized the National Day of Truth and Reconciliation.
On Sept 29, 2023, NOSM University hosted an event acknowledging National Day for Truth and Reconciliation and Orange Shirt Day. It was an event of healing and reflection. This year featured Elder Gene Nowegejick and a group of Indigenous Learners at NOSM University.
Click here to listen and learn about this year's event.
Wearing Orange
On September 30, people wear orange shirts to honour the children who survived Canada's Indian Residential Schools and to remember children who did not survive. Orange Shirt Day is based on a story told by Phyllis Webstad about having her new orange shirt taken from her on the first day of residential school. The tradition started in William Lake in 2013 and has since spread to schools and communities across the country.
The purposes of the Orange Shirt Society are to support Indian Residential School Reconciliation, to create awareness of the individual, family and community inter-generational impacts of the Indian Residential Schools through Orange Shirt Society activities and finally to create awareness of the concept of "Every Child Matters".
Find out more about The Story of Orange Shirt Day at the Orange Shirt Society.
What can you do to mark this important day?
Wear an orange shirt or something orange (if you're buying a shirt, make sure the proceeds support Indigenous groups)
Take time to learn more about Canada's Indian Residential Schools
Register for the online Indigenous Canada course
Register for the online course Hearing Our Voices with CEPD Learning Hub https://cepd.nosm.ca
Talk to children about residential schools and their impact
Support Indigenous-led organizations in their continuing work on this and other work.
If you are NOSM University learner, staff, or faculty, plan an event with the guided support of the Indigenous Affairs Unit.
NOSM University Truth Award
Donations can be made in support of the Truth Award for an Indigenous medical student at NOSM University or to the Indigenous Educational Initiatives fund.
The first 48 people to donate $100 or more to the NOSM University Truth Award will receive a limited-edition orange NOSM ᐃᐢᐱᑭᑭᓄᐦᐊᒪᑫᐃᐧᑲᒥᐠ X Ocean Bottle.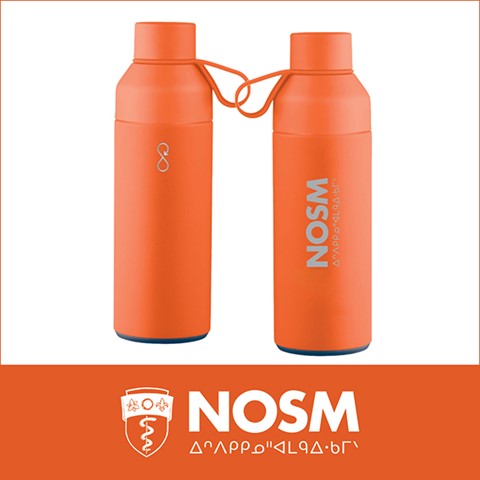 This reusable water bottle, created by Ocean Bottle, is sustainably designed. In addition to supporting future Indigenous physicians, your purchase pays for 1,000 ocean-bound plastic bottles to be collected before they reach the ocean!
Retains temperature for 6 hours; hot and cold insulation
Dual opening for easy fill; holds 500 ml (about 16.91 oz)
Made from recycled stainless steel
Leak-proof seal
Dishwasher safe
Use it all year round!
Learn more about advancing reconciliation, the story of Orange Shirt Day, or donate to Indigenous education initiatives or bursaries at nosm.ca/ndtr.
Bonus Special Discount
All donors will receive a promo code for 25% off all in-stock Orange Shirts at nosmstore.ca.
Charitable donation receipts will be issued for all gifts over $25. 

NOSM University Orange Shirts
NOSM University has created four T-shirts honouring the National Day of Truth and Reconciliation and the orange shirt movement.
All proceeds will go to the Truth Award; an Indigenous medical student bursary.

Learning Resources
2022 National Day for Truth and Reconciliation Event
Listen, learn, and reflect on the impacts of residential schools and the uncovered truths of the unmarked burial sites of Indigenous children at and near Residential Schools locations across Canada.
Health Sciences Library Resources
Indigenous Affairs Resources
NOSM Indigenous Affairs has provided links to key resources, organizations and services for your information. 
We invite you to take a closer look at the learning opportunities in the suggested resources books, podcasts, websites, and more.
Community Events 2023
City of Thunder Bay
Fort William First Nation
Sudbury
September 27, 11:00 a.m. to 3:00 p.m. at 110 Elm Street, Sudbury
September 30, 9:30 a.m. to 3:00 p.m. at NNFC Sacred Land. For more information, please call Anne-Marie 705-674-2128.
 Wahnapitae First Nation
North Bay
Sault Ste Marie
Treaty 3 Area
Other
Miigwetch, maarsii, merci, thank you.
Past NOSM U Orange Shirt Designs
Bring The Children Home. It's Time. (2021)
Bring The Children Home. It's Time. The artist, Isaac Murdoch, said it is a rendering of what is believed to be hundreds of years old pictograph discovered near the site of the old residential schools in Spanish, west of Sudbury. "Years ago, it was prophesized that a man was going to come to our lands, and he was going to steal our children. He was going to have two serpents living in his body, one in each arm," said Murdoch. "Each serpent represented a government. It was told that if we tied feathers in the child's hair, the children would find their way back home." The pictograph, Murdoch added, was created using white paint – a departure from the red clay paint that is typically seen. "Hundreds of years ago, they actually foretold what was going to happen there. The pictograph is so unique and incredible. Unfortunately, it comes with a sad story," he said. Murdoch originally created the image used in The Honour Project about three years ago. "It was a friend of mine who wanted to start a project where they would make moccasins to send to the little babies that were taken from their mothers and placed in foster care," he said. "She asked for an image and I said, I will make an image, but it has to be used for everybody. I took some historical context and kind of contemporized the image, and it took on a life of its own." The rendering is being used by the Bring Our Children Home initiative that aims to end the pain, suffering, and death that Indigenous children have experienced as a result of their involvement with the Canadian child welfare system. Read more here. 
Truth (2020)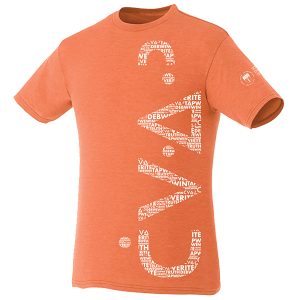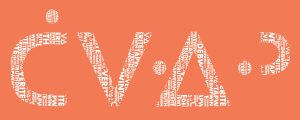 This Truth design in support of the Orange Shirt Day campaign was a collaborative creation in house with community consultation of 6 different languages in Northern Ontario of the word Truth. The whole planning group is very please to share this new design. Both designs are available to purchase this year and we have added more sizing options also in response to feedback received that youth sizes are of interest to purchase as well.
The 6 languages used in this year new second NOSM Orange Shirt Day design:
ᑖᐯᐎᐧᐣ – Cree syllabics
Debwewin – Anishinaabemowin
Tâpwewin – Cree
Tapwe – Michif
Vérité – French
Truth – English
Survived. Still Here. (2019)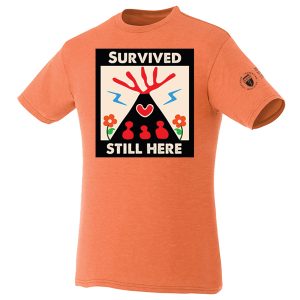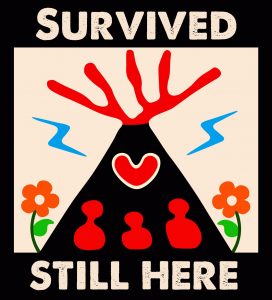 The artwork created for NOSM's Orange Shirt Day campaign comes from Isaac Murdoch and says in bold lettering: Survived. Still here. The Orange Shirt Day champions at NOSM hope that the strong statement will give you pause to consider how you can work towards reconciliation in your own life and through your work at NOSM. The art statement, graciously provided by Isaac, explains his vision for the artwork:
It's no secret the devastating effects the Residential Schools continue to have on individuals, families, and communities. This image is to commemorate the absolute resilience of Indigenous people as they navigate through healing and resurgence for lands.  The Lodge shown is filled with a family. It is to show that we have full autonomy as Nations over our children, and when we do, we stop the genocide against Indigenous people. The Heart is Love. The flowers represent growth and traditional medicine. These are both needed on our healing journeys. The lightning bolts signify the power of our lodges and the families that sit in them. When people, lodges, and spirit connect, magic happens. As Indigenous people, we survived and are still here casting medicine across the earth for healing. Isaac Murdoch, Anishinaabe artist and activist.