Dr. Mazen Saleh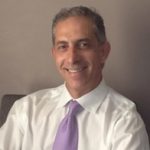 ---
Dr. Saleh is currently seeking graduate students. Students interested in working with Dr. Saleh should email him with their CV, writing sample, and a summary briefly indicating the ways in which they believe their research interests align.
---
Relevant Publications
Mazen T. Saleh (Editor). Molecular Aspects of Infectious Diseases. Nova Science Publishers Inc., Hauppauge, New York. ISBN 978-1-61728-690-2
Kinkar, E, Kinkar, A, Saleh, M. (2019) The Multicopper Oxidase of Mycobacterium tuberculosis (MmcO) Exhibits Ferroxidase Activity and Scavenges Reactive Oxygen Species in Activated THP-1 Cells. Int'l J. Med. Microbiol. In press.
Taylor, E., St. Amant, K., Kinkar, E., and Mazen Saleh (2018) Zika Virus: Transmission and Infectivity". Acta Scientific Microbiology 1.5: 66-74.
Alkhoury R, Kinkar E, Nokhbeh R, Saleh MT (2018) Monotherapy Versus Combination Therapy for the Treatment of Pseudomonas Aeruginosa in Cystic Fibrosis Patients. J Antibio Res 2(1): 105
Ybazeta G, Graham J, Trifkovic J, Giroux L, Saleh M, Sattar S, and Nokhbeh R. (2018) Complete genome sequences of a diverse group of thirteen Propionibacterium acnes bacteriophages isolated from urban raw sewage. Genome Announc.
---
Funded Projects
2018 Natural Science and Engineering Research Council (NSERC) Connecting with Northernchem Inc. $1,740 (2018)
2018 Canadian Network of Centres of Excellence – Mitacs Detection of THC using aptamer technology. $30,000 (2018-2019)
2017 Ministry of Northern Development and Mines – Northern Ontario Heritage Foundation Corporation Bacterial production of magnetic nanoparticles in iron contaminated water. $36,000 (2018-2019)
---