Current Funding Opportunities
The Research Office is pleased to provide a listing of current funding opportunities for learners and faculty, with a focus on opportunities related to NOSM University's Research Priorities. Scroll below to access these opportunities.
Learners and faculty are reminded of these additional resources:
• UME Student Research Resources
• Resident Research Resources
• Internal Research Awards at NOSM University
• Biweekly research newsletter, Research Matters
• Contact research@nosm.ca for any questions, or to request a consult with a coordinator
• NOAMA Grant Match Funding – see below
---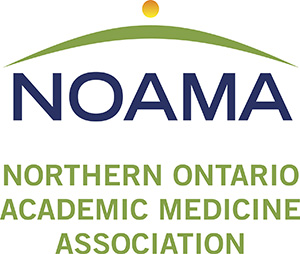 The NOAMA Board, with the support of the Physician Clinical Teachers' Association (PCTA), has designated a portion of the Alternate Funding Plan to a NOAMA Grant Match Fund.
This funding intends to increase the ability of NOSM University PCTA researchers to grow programs of research and attract research dollars from outside of Northern Ontario. NOAMA will provide match funding to qualifying PCTA researchers and research teams who are applying to other research competitions that require applicants to source match funding as a condition of the application.
The NOAMA Grant Match Funding (GMF) is an ongoing competition and the GMF Sub-Committee manages the GMF process and recommends approval of GMF projects to the NOAMA Board. NOAMA invites all AFP participating physicians to submit an application for grant match funding. Learn more here.
---
AMS Healthcare 
Closing Soon! Compassion and Artificial Intelligence Small Grant: Due April 17, 2023
Brain Canada/ALS Society of Canada
Closing Soon! ALS Canada-Brain Canada Trainee Program 2023: Due April 11, 2023
Brain Canada/Heart & Stroke/CIHR Institute of Circulatory and Respiratory Health
Personnel Awards for Black Scholars: Due May 1, 2023
Burroughs Wellcome Fund
Closing Soon! Climate Change and Human Health Seed Grants: Due April 12, 2023
Canadian Cancer Society
NEW! CCS Awards for Excellence in Cancer Research: Due May 1, 2023
Closing Soon! CCS Research Training Awards: Master's and PhD students: Abstract due April 6, 2023
CCS Research Training Awards: Postdoctoral Fellows: Abstract due May 1, 2023
Closing Soon! Emerging Scholar Research Grants: Due April 5, 2023
CIHR
NEW! Catalyst Grant : SPOR Innovative Clinical Trials (iCT): Due July 19, 2023
NEW! Catalyst Grant : NWHRI: Innovation Fund – Biomedical Discovery Grants (National Women's Health Research Initiative: Innovation Fund – Biomedical Discovery Grants): Due June 21, 2023
Operating Grant: Brain Health and Reduction of Risk for Age-related Cognitive Impairment – Knowledge Synthesis and Mobilization Grants: Due May 25, 2023
Operating Grant: Mechanisms in Brain Aging and Dementia: Registration due June 13, 2023
Closing Soon! Operating Grant : New Investigator Research Grants in Child and Youth Health (2023): Due April 20, 2023
New Investigator Salary Award : Health System Impact Embedded Early Career Researcher Award: Due May 17, 2023
Catalyst Grant : STBBI Research in Canada: Beyond HIV/AIDS and Hepatitis C: Due May 16, 2023
Catalyst Grant : HIV/AIDS and STBBI Community-Based Research: Due May 2, 2023
Operating Grant : HIV/AIDS and STBBI Community-Based Research: Due May 2, 2023
Operating Grant : STBBI Research in Canada: Beyond HIV/AIDS and Hepatitis C: Due May 16, 2023
Chair: Applied Public Health: LOI due May 2, 2023
Team Grant: Transforming Health with Integrated Care (THINC) Knowledge Mobilization & Impact Hub: Due May 16, 2023
Closing Soon! Operating Grant : Human Frontier Science Program – Research Grants: LOI Due March 30, 2023
CIHR REDI Early Career Transition Award: May 3, 2023
Closing Soon! Other: IYS-Net Phase 1: Building Learning Health System Networks: Due April 4, 2023
Canadian Internet Registry Authority (CIRA)
Closing Soon! Research Grant: 2023: Due April 12, 2023
CANSSI Ontario
Closing Soon! Collaborative Research Teams: Due April 30, 2023
CANSSI Ontario Data Access Grants 
Celiac Canada
NEW! Grants in Aid of Research in Celiac Disease and Gluten Sensitivity in Canada: Due April 30, 2023
Chan Zuckerberg Initiative
NEW! Ben Barres Early Career Acceleration Award (Cycle 2): Due April 20, 2023
Department of Defense (US)
NEW! Congressionally Directed Medical Research Programs (CDMRP) Ovarian Cancer Research Program Funding Opportunities for Fiscal Year 2023 (FY23): LOI due May 26, 2023
Closing Soon! Congressionally Directed Medical Research Programs (CDMRP) Autism Research Program (ARP) Funding Opportunities for Fiscal Year 2023 (FY23): Preproposal due April 19, 2023
Closing Soon! Breast Cancer Research Program (BCRP) Funding Opportunity for Fiscal Year 2023 (FY23): Due March 28, 2023
Closing Soon! Congressionally Directed Medical Research Programs (CDMRP) Amyotrophic Lateral Sclerosis Research Program Funding Opportunities for Fiscal Year 2023 (FY23): Preproposals due April 13, 2023
Congressionally Directed Medical Research Programs (CDMRP) Epilepsy Research Program Funding Opportunities for Fiscal Year 2023 (FY23): LOI due May 19, 2023
Environmental Research and Education Foundation
General Request for Proposals: Pre-application Due May 1, 2023
Genome Canada/Ontario Genomics
Closing Soon! Genomic Applications Partnership Program (GAPP): Due April 4, 2023
Government of Canada
NEW! Stage 2 Canada Biomedical Research Fund and Biosciences Research Infrastructure Fund: Due June 8, 2023
Harrington Discovery Institute 
Closing Soon! Harrington Scholar-Innovator: Due March 28, 2023
Human Frontier Science Program
Postdoctoral Fellowships: LOI due May 11, 2023
Lotte and John Hecht Memorial Foundation
Innovative Medical Research and Practices: Accepted at any time
Ministry of Transportation of Ontario
Closing Soon! Road Safety Research Partnership Program (RSRPP): Call for Proposals: Due March 31, 2023
Mitacs
NEW! Scotiabank Economic Resilience Research Fund: EOI due April 5, 2023
Closing Soon!  GRA – Chile Partnership – Call for Applications: Due April 30, 2023
Closing Soon! JDRF Canada-Mitacs Postdoctoral Fellowship Program in Type 1 Diabetes: LOI Due March 24, 2023
National Research Council for Canada (NRC)
Canada–Japan Corporate Co-innovation Program: Due June 1, 2023
Killam Prize: Due June 2, 2023
Dorothy Killam Fellowship: Due June 16, 2023
Closing Soon! Canada – Israel 2023-2024 Collaborative Industrial Research and Development Call for Proposals: Due April 17, 2023
Natural Resources Canada
Closing Soon! Call for Expressions of Interest: Energy Innovation Program – Carbon capture, utilization and storage RD&D Call – Storage & Transportation Focus Area: Due April 17, 2023
NSERC
NEW! Collaborative Research and Training Experience program: LOI due May 8, 2023
NEW! NSERC-SSHRC Sustainable Agriculture Research Initiative: Due May 8, 2023
Closing Soon! Research on Small Modular Reactors: April 11, 2023
Closing Soon! Idea to Innovation Grants: Due March 27, 2023
Idea to Innovation Grants: Due June 19, 2023
Idea to Innovation Grants: Due September 18, 2023
Alliance Quantum grants: Open
National Science Foundation Global Centres
NSF Global Centres: Due May 10, 2023
New Frontiers in Research Fund
2023 International Initiative for Research on Climate Change Adaptation and Mitigation Competition: Due May 2, 2023
Ontario Centre of Innovation
COLLABORATE 2 COMMERCIALIZE
Quebec Consortium for Drug Discovery (CQDM)
NEW! Quantum Leap Pharma-led Funding Program for Drug Discovery Research: Due June 1, 2023
SickKids Foundation/CIHR
Closing Soon! Operating Grant : New Investigator Research Grants in Child and Youth Health (2023): Due April 20, 2023
SSHRC
NEW! Imagining Canada's Future Ideas Lab: Global Health and Wellness for the 21st Century: Due May 25, 2023
Closing Soon! Impact Awards: Nomination Due April 1, 2023
Connection Grants: Due August 1, 2023
Partnership Engage Grants: Due June 15, 2023
Connection Grants: Due May 1, 2023
Reconciliation Network in Response to Call to Action 65:  Due May 15, 2023
Spencer Foundation
Racial Equity Research Grants: Due May 16, 2023
Mental Health Award: Finding the right treatment, for the right people, at the right time for anxiety and depression: Due June 7, 2023
The Research for Indigenous Social Action and Equity (RISE) Center 
Closing Soon! The Research for Indigenous Social Action and Equity (RISE) Center Research Grants: Due March 31, 2023
The Steacie Prize
The Steacie Prize: Nomination due June 30, 2023 Please inform the Research Office by June 1 if you are interested in this award
Universities Canada
Closing Soon! L'Oréal Canada For Women in Science Research Excellence Fellowships: Due April 18, 2023