International Social Accountability and Accreditation Steering Committee (ISAASC)
International Social Accountability and Accreditation Steering Committee (ISAASC)
International Congress on Academic Medicine (ICAM) 2023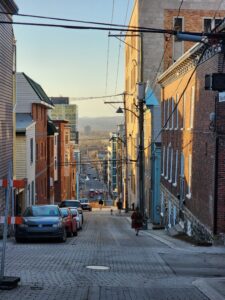 In mid-April 2023, the International Social Accountability and Accreditation Steering Committee (ISAASC) hosted a workshop at the International Congress on Academic Medicine (ICAM) in Quebec City. 
The interactive session focused on the relationship between social accountability and accreditation standards, advocacy, and capacity building. Accreditation is an essential area of growth for the social accountability movement, and this event represents a major step forward in the discussion on socially accountable medical education and health professionals education. Hosted by Drs. Erin Cameron and David Marsh (NOSM University), the workshop featured international social accountability leaders and champions Charles Boelen, Bob Woollard, Nick Torres, Titi Savitri, and Jacques E. Girard.
Advancing Accreditation
Social accountability is not only found in medical schools and academic institutions, but is also increasingly being integrated into health service delivery. It is critical that this movement consider the different social, economic, cultural, and political determinants that influence the health status of citizens and society. The COVID-19 pandemic has been a harsh confirmation for the need for deep health system reforms. It is imperative that medical schools consider how their education, research, and service missions are best delivered to improve person-centered care, equity, and quality within the health sector. While remarkable progress has been made in some schools in different parts of the world, there is still much work to be done. Accreditation systems can be a powerful lever for change and can support change within educational and health system institutions. While there are many influencers of health policies and practices, it is our firm conviction that the adoption of new standards by medical schools will have a ripple effect on other academic institutions and on many health actors in decision making capacity. 
Started as a Think Tank
In 2021, the AFMC International Social Accountability and Accreditation Think Tank (ISAATT) hosted three virtual discussions with over 100 participants from 30 countries. Participants included learners, policy makers, faculty, clinicians, community members, advocates, and leaders in social accountability. The goal was to create momentum towards a global initiative to ensure accreditation systems of medical schools are designed and used to better respond to priority health needs and challenges of societies today and in the future.  This collective group of more than 100 international participants identified key directions and actions, which were consolidated into a report that was shared widely. Spearheaded by Drs. Bob Woollard and Charles Boelen, this work helped to establish key directions for long-term sustainability and key recommendations and actions. 
Creating Sustainability and Action
In 2022, ISAATT supported the launch of an International Steering Committee to continue to direct this work and to achieve synergy and impact around the world. In the fall of 2022, the International Social Accountability and Accreditation Steering Committee (ISAASC) was established. It is housed within the Dr. Gilles Arcand Centre for Health Equity at NOSM University. The membership of ISAASC consists of the action group co-chairs and additional regional, professional, gender, and equity representation. 
ISAASC is focused on the role of accreditation in advancing positive change towards social accountability. The primary task of ISAASC is coordination and communication of the three action groups (advocacy, capacity building, and standards) and their work with emphasis on participatory management. This is to nurture both efficiency and impact in a complex global undertaking. The spirit of the ISAATT process and work is to be applicable broadly to any academic institution, any health professional school, any health profession, and by extension to any healthcare delivery system in its quest to improve its contribution to people's wellbeing. 
In early 2023, researchers at the Dr. Gilles Arcand Centre for Health Equity, led by Dr. Erin Cameron, were awarded a SSHRC Connections grant, titled "Leveraging Innovation in Accreditation through Social Accountability & Equity (LIASE): Transforming Health Education."
The funding will support the synthesis of key findings from the think tank and disseminate the knowledge through a timely seminar series over the summer of 2023, while engaging trainees in contributing to a growing field of accreditation scholarship. The project will continue to build the growing network of international health education leaders committed to bringing together social accountability and accreditation. The seminar series will be led by members of the newly formed International Social Accountability and Accreditation Steering Committee (ISAASC) and will engage past think tank participants and others in Canada and internationally who are engaged in accreditation processes and scholarship. While the focus will be on medical education, there is interest in expanding beyond medicine into other accredited health professions. 
Activities
Objectives
Outcome
Forthcoming Project Outputs
Activities

2023 Symposium Series (5 Sessions)

Building a common future for accreditation innovation, locally and globally

Standards setting

Building Capacity

Advocating for Change 

Identifying Next Steps

To enrich accreditation discourses and scholarship, and disseminate knowledge already gathered through the global think tanks on social accountability and accreditation.

Videos from each of the five seminars. 

Written summaries from each of the five seminars. 

Virtual Planning Meeting #1 

Virtual Planning Meeting #2 

In-person Seminar in Quebec City; Led by Project Leads, Advisors and Group Leads 

Virtual Seminar; led by Standards Group

Virtual Seminar; led by Capacity Group

Virtual Seminar; Led by Advocacy Group

Virtual Seminar; Led by coordinators

Co-develop a Social Accountability Fellowship

To enhance engagement with social accountability and accreditation scholarship

2023-2024 Fellowship Cohort

Promotion of the Fellowship Program 

Review and Selection of Applications 

Develop and adapt

tools from the Seminars to support accreditation innovation

for different audiences 

To support accreditation decision-making in higher education 

Develop a new website 

Develop and translate Info-graphics

Webpage repository, to be launched in 2024

Develop and translate infographics after each Seminar (using the written summaries)
Key Documents