Message from our Program Director
Message from our Program Director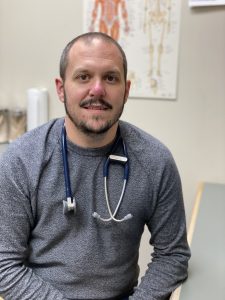 Our program's goal is to train excellent, skilled and competent Family Physicians in the North, for the North!
From the very beginning of their residency, our residents are immersed in communities across northern Ontario. From our larger urban site to smaller rural communities, including remote First Nations communities, we train residents across the North – wherever the need for care may be! Residents are part of the health care team and help deliver care to Northerners while learning and solidifying their skills.
Family Physicians have been training in the North long before NOSM's inception. Partnerships with the University of Ottawa and McMaster University provided a space for family medicine training. Our teachers have a long history of offering hands-on, one-on-one teaching to our trainees.
In recent years, our program has seen significant retention of our graduates. These represent the newest group of teachers. The embody the vision of NOSM everyday. They help form strong relationships between residents, preceptors and community partners.
Our program has a variety of training sites as major hubs, with a range of curriculum style depending on the Stream. This affords some options to our residents when selecting their training site. From traditional block-style curriculum to fully integrated longitudinal learning – we have something for every style!
Training in Family Medicine residency is a challenging endeavour fraught with hard work and long hours. We encourage our residents to maintain a healthy balance with their work and leisure activities, taking advantage of the wonderful recreational opportunities throughout Northern Ontario. I would like to invite you to explore our various sites and streams, and discover what opportunities exist for you!
Dr. Paul Miron
Program Director, NOSM Family Medicine