Overcoming Barriers to Safe Opioid Prescribing

This program has been put on hold.
We are note accepting registrants at this time.
Please Read Important Information About Registration
This online learning module requires a myNOSM username and password.
If you have forgotten your username and/or password:
Please contact the NOSM IT department directly during regular business hours
Business Hours: Monday to Friday 9 am–4 pm, excluding statutory holidays
Toll free: 1 800 461 8777, Select Option 1, Option 7, Option 1 or 2

If you do not have a myNOSM username and password: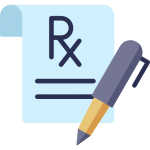 This program* is designed to change the opioid prescribing habits of primary care providers in Northern Ontario where health and socioeconomic issues often differ from those seen in urban centres and access to multidisciplinary programs is limited. Registration fees are currently being WAIVED.
*Funding originally provided by Health Canada's Substance Use and Addictions Program (SUAP). The views expressed herein do not necessarily represent the views of Health Canada.

An Overview of the Program
Learning Objectives

Recognize the growing importance and magnitude of the opioid crisis and how it relates to your practice. (

Expert/Health Advocate)

Reflect on prescribing habits and identify areas for change or improvement. (Expert/Communicator/Collaborator)

Introduce tools and strategies that will make opioid prescribing and tapering safer and easier to manage. (Expert/Communicator)
Online Module Details
Access the module from any device, at any time
Receive information and evidence-based resources to enhance competencies in assessment and management
'Manage' situations through guided questions
Up to four hours in length
Please note that the Community of Practice workshop option previously available is no longer being offered. 
Accreditation/Certification
This one-credit-per-hour Group Learning program meets the certification criteria of the College of Family Physicians of Canada and has been certified by the Continuing Education and Professional Development Office at the Northern Ontario School of Medicine for up to 4 Mainpro+ credit(s).
This activity is an Accredited Self-Assessment Program (Section 1) as defined by the Maintenance of Certification Program of the Royal College of Physicians and Surgeons of Canada, and approved by the Continuing Education and Professional Development Office at the Northern Ontario School of Medicine. You may claim a maximum of 4 hours (credits are automatically calculated).
FAQs
Have questions?
Consult the following document to find answers.
Can't find what you need?
Email us at safeopioidrx@nosm.ca.