How one NOSM alumna is supporting the next generation of physicians in Iroquois Falls
How one NOSM alumna is supporting the next generation of physicians in Iroquois Falls
Posted on November 15, 2021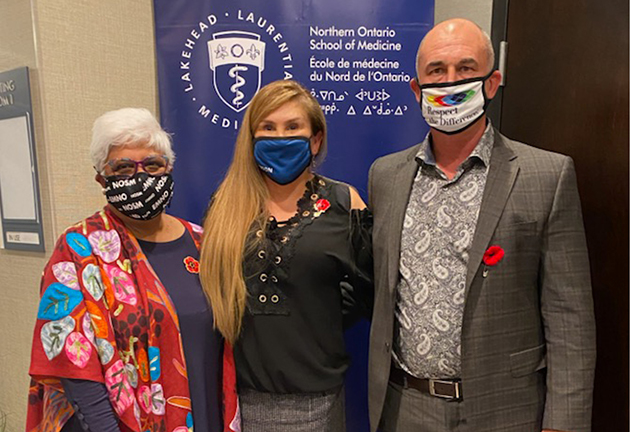 Dr. Auri Bruno-Petrina (Dr. Bruno) says Iroquois Falls reminds her of the small town in Brazil where she grew up. An alumna of NOSM (Family Medicine 2017), she is now an Assistant Professor and a busy family physician at Iroquois Falls Family Health Team and Anson General Hospital. With very few physicians in the community, Dr. Bruno understands the importance of encouraging and supporting current health professionals and prospective students to apply to medical school in an effort to recruit more doctors to the community.
She and her husband Mike Petrina are very generously contributing $10,000 per year to NOSM over the next 10 years. She is the first NOSM Alumna to contribute to a NOSM student bursary that is earmarked specifically for learners from the Porcupine Health Unit region. Dr. Bruno's hope is to increase physician recruitment and retention in partnership with NOSM by offering direct financial student support.
"It feels good to help a NOSM medical student who will hopefully return to practice medicine in our community," says Dr. Bruno. "It's an investment in the student, but also in our health system. If I can convince one health-care provider or student from our area to pursue medicine at NOSM, then I will have achieved my goal."
In Iroquois Falls—similar to many towns across Northern Ontario—two barriers to medical school exist: the extreme competitiveness of getting accepted and the financial burden of four years of medical school. "These factors are keeping many people from applying and I hope I can somehow help alleviate that stress for students," Dr. Bruno says.
Recent challenges in the midst of the COVID-19 pandemic have also amplified the need for recruitment. The South Porcupine Health Unit responded to high numbers of COVID-19 cases in the area over the spring and summer, during a time when resources were already stretched thin.
"It has been a demanding year for rural physicians and health-care providers in our area," says Dr. Bruno. "The pandemic really exposed the areas of need and highlighted the shortages here. I feel for the patients who continuously end up relying on emergency services for acute care because they do not have access to family physicians."
As much as she loves her small town, Dr. Bruno acknowledges that it's a difficult place to recruit and retain doctors. "When a physician retires or relocates, there isn't anyone to replace them. For the remaining physicians it means we are more likely to care for sick patients on top of our busy schedules and oversized roster of patients."
Dr. Bruno says her experience at NOSM and her joy of small-town life are the reasons she's inspired to help and she speaks fondly of those who inspired her path to family medicine.
"I remember the warm welcome I received as a NOSM resident. I was approached by Drs. Glenna Stirrett and Cathy Cervin who made me feel extremely welcome to the program and thanked me personally for choosing NOSM. Dr. Cervin noted my past experience as a physiatrist, and highlighted how it would benefit my family medicine residency training."
"What also stood out about NOSM was the friendliness of the residents and faculty who welcomed me throughout my training," says Dr. Bruno. "I made life-long friends and I was able to speak with the Dean in the same friendly way I would speak with my fellow residents."
To this day, she brings that sense of camaraderie and friendship to her practice and looks forward to expanding the physician team in Iroquois Falls. She encourages her fellow NOSM Alumni to consider making a personal contribution.