Gallery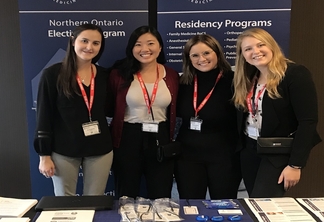 NOSM learners attend OMSW
First-year medical students Brooke Mathias, Zoey Yao, Morgan Lafontaine and Emma Goddard (pictured left to right) were among several MD students from the Northern Ontario School of Medicine (NOSM) who took part in this year's Ontario Medical Students' Weekend, hosted by the Ontario Medical Students Association (OMSA). The Ontario Medical Students' Weekend is an annual event that brings together medical students from all Ontario medical schools to learn about various topics related to medicine.  The 2018: "Legacies of Leadership" conference was held on November 2 and 3 in Ottawa, with approximately 600 Ontario medical students in ...
Read more

Turning over a new leaf
Research at the Northern Ontario School of Medicine plays an integral role in the School's mandate to be socially accountable to the population we serve. In 2013, the School created the role of Assistant Dean, Research, with the goal of supporting Dr. Penny Moody Corbett, Associate Dean of Research, and the School's senior leadership in their efforts to address strategic plan priorities, as well as promote research in the North. This summer, Dr. TC Tai took over the role of Assistant Dean, Research from Dr. David MacLean. We'd like to thank Dr. MacLean for his contributions to research at NOSM, and welcome Dr. Tai to his new lea...
read more on research leadership at NOSM.
ECHO: Ontario firsts in Thunder Bay
From Oct 26-28, the ECHO SJGC Chronic Pain & Opioid Stewardship Hub hosted a three-day conference on paediatric and adult pain management at St. Joseph's Care Group in Thunder Bay. Participants in the Project ECHO Boot Camp: Pain Across the Lifespan received hands-on training in workshops on topics including pain neurophysiology, pharmacology for paediatrics, mindfulness, transition from acute to chronic pain, medical marijuana, motivational interviewing, guided injections for common peripheral joint/soft tissue, de-prescribing opioids, and more. The training was accredited by the Continuing Education and Professional Developmen...
Read more about the bootcamp