Launch of NORTHH—Northern Ontario's first primary health-care database and network
Launch of NORTHH—Northern Ontario's first primary health-care database and network
Posted on November 4, 2021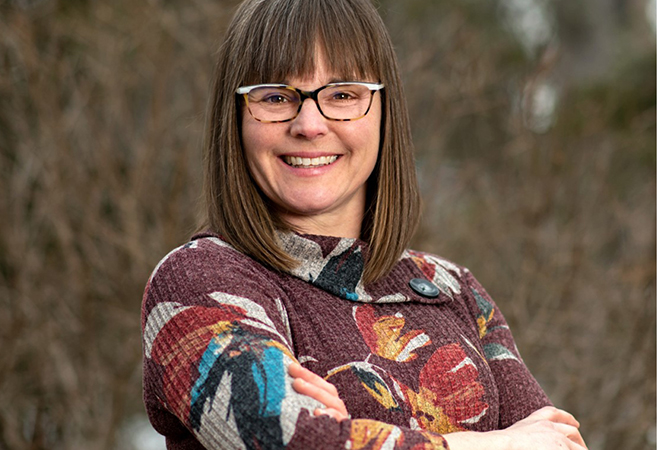 A team at the Northern Ontario School of Medicine (NOSM) is building Northern Ontario's first primary-care health research database. Using de-identified electronic medical record data, community and population data from Northern Ontario will be made available to Northern primary-care researchers, clinicians and organisations. The data will be used to help identify the prevalent health concerns and make improvements in care.
The project is being coordinated by NORTHH, NOSM's Research Toward Health Hub, housed within the School's new Centre for Social Accountability. A combined total of over $223,000 in funding was received to support NORTHH including contributions from the Northern Ontario Academic Medicine Association Alternate Funding Plan, Inspire Primary Health Care, and the Public Health Agency of Canada.
NORTHH is the first practice-based learning and research network to offer unique Northern Ontario health primary-care, population-based datasets. It will also prioritize Indigenous data sovereignty.
"The goal is to ensure Indigenous data sovereignty principles are upheld in partnership with communities, and to increase inclusive, equitable primary care research capacity at NOSM," says Dr. Barb Zelek, founder of NORTHH, NOSM's Division Head of Clinical Sciences, and rural generalist family physician practising in Marathon.
"For Northern doctors and primary-care researchers, it means accessing a Northern primary care database to help answer your clinical and research questions and an opportunity to do applicable Northern-focused research to improve health outcomes in the North," says Dr. Zelek.
Doctors and primary-care providers are encouraged to join the NORTHH network to both contribute to and access the database to support their own practices in Northern Ontario.
"NORTHH's database will be valuable to doctors and researchers because communities experience different health issues that vary widely from place to place. This research will help doctors and primary-care providers make informed decisions to improve care for the people they serve," says Dr. Erin Cameron, Director of the NOSM Centre for Social Accountability.
"At NOSM, we will also be able to inform medical education by using the data to know what health conditions patients are presenting with in primary care and to better prepare our medical students to identify and treat those conditions," says Dr. Zelek.
– 30 –
About the NOSM Centre for Social Accountability 
The Centre for Social Accountability (C4SA) is the first of its kind in Canada. It is a model for multidisciplinary, community-led, and community-prioritised health and public health multidisciplinary research. The NOSM C4SA is advancing social accountability research globally and locally by working and collaborating with diverse stakeholders in the broad areas of health professional education, health system transformation, health human resources, social and population health, and social determinants of health. The Centre is home to two research networks, NORTHH and MERLIN, which focus on building capacity and providing tools for change.
About the Northern Ontario School of Medicine 
The Northern Ontario School of Medicine (NOSM) is an award-winning socially accountable medical school renowned for its innovative model of distributed, community-engaged education and research. With a focus on diversity, inclusion, and advocacy for health equity, NOSM relies on the commitment and expertise of the peoples and communities of Northern Ontario to educate health-care professionals to practise in Indigenous, Francophone, rural, remote and underserved communities. NOSM's graduates, faculty, learners and staff are changemakers who lead health-system transformation in Northern Ontario. The School is a recipient of the Charles Boelen International Social Accountability Award from the Association of Faculties of Medicine of Canada and the prestigious ASPIRE award, which recognize international excellence in social accountability and medical education.
For further information, please contact: communication@nosm.ca

Photo: Dr. Barb Zelek, founder of NORTHH, NOSM's Division Head of Clinical Sciences, and a rural generalist family physician practising in Marathon.
NORTHH information session coming up:
Join a presentation about the NORTHH Network: A learning health system for Northern Ontario
November 16 at 4:00 p.m. to 5:30 p.m.
Add to Google Calendar
Presented by Dr. Brianne Wood, Director of NOSM Research Toward Health Hub (NORTHH) and Associate Scientist in Social Accountability and Learning Health Systems. Join the conversation! Come talk about practice-based and clinical research, quality improvement, implementation science, learning health systems, evaluation and impact measurement in Northern Ontario.
Get involved in monthly journal clubs, peer review groups, seminars and presentations, interactive workshops, and more. Contact northh@nosm.ca for more details.