Northern Ontario School of Medicine Research Toward Health Hub (NORTHH)
Northern Ontario School of Medicine Research Toward Health Hub (NORTHH)
What is NORTHH?
NORTHH is a practice-based research network that will support quality improvement and community research in primary care. It can help communities, physicians and practices, and policy-makers learn more about primary care in Northern Ontario.
NORTHH – the Northern Ontario School of Medicine (NOSM) Research Toward Health Hub – is working with UTOPIAN at the University of Toronto to create Northern Ontario databases.
Did you know?
Electronic Medical Record (EMR) data can be used to understand health problems seen in family practices to build a better health care system . There are many important health questions that can only be answered in family practices. Your family doctor/nurse practitioner at this clinic recognize the value and need for these data to improve your care and the care of others like you . As part of this, EMR data are transferred to a "Data Safe Haven" while protecting your privacy. Learn more about the NORTHH.
See below for a brief introduction to our work, and a more detailed presentation:
Reasons to participate in NORTHH
What is the POPLAR Data Platform?
The POPLAR Data Platform is used to securely collect EMR data in family practices and primary care sites across Ontario. This is being coordinated by the University of Toronto Practice-Based Research Network (UTOPIAN). The data undergoes standardization and de-identification processes, which means that information such as names or phone numbers is not included in the database.
We store de-identified EMR data for research and quality improvement. For example:
Measure how common some chronic conditions are; these include high blood pressure and diabetes
Understand more about how these conditions are managed today
Discover what could be done to improve care for patients in the future
NORTHH Data Flow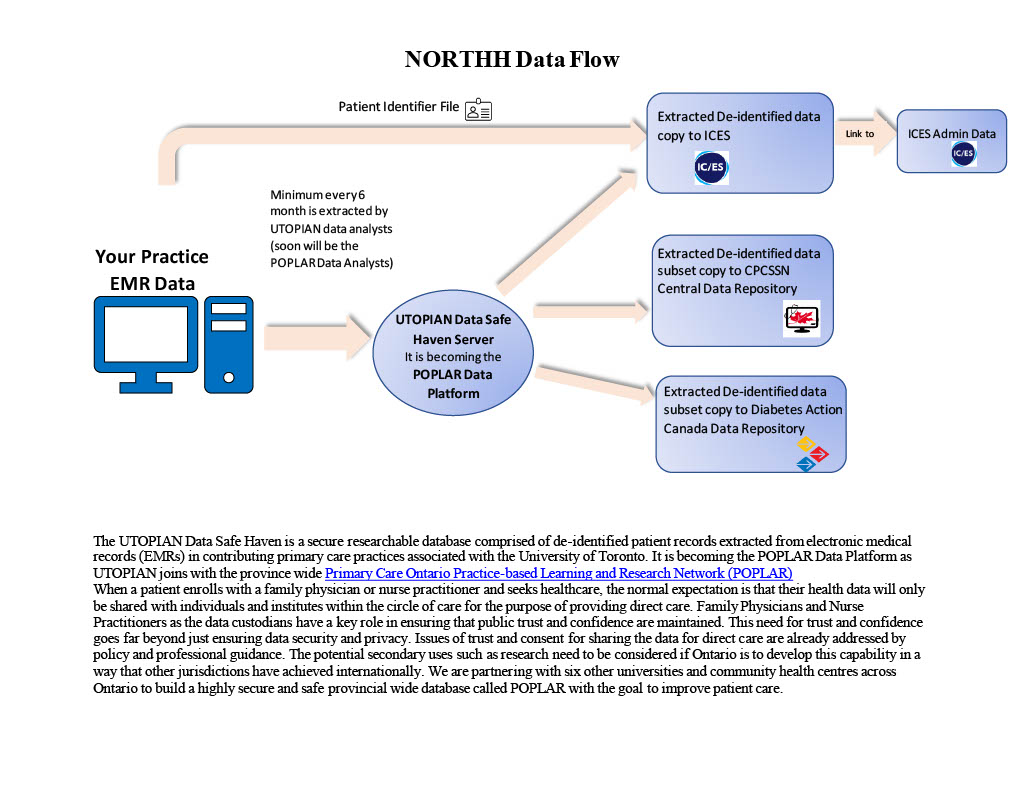 What type of information is collected?
NORTHH collects information about health and care, including how illnesses are diagnosed, treated and managed. In addition to clinical information, the database also includes demographic information such as postal code and gender. Data that can identify people such as names or addresses are not a part of the Data Platform. These will be collected to link, with privacy safeguards, to other heath databases for the study of health conditions. To improve the removal of identifiers, they are encrypted, safeguarded and stored separately from the Data Platform.
A copy of the NORTHH data may be forwarded to authorized organizations such as: the Canadian Primary Care Sentinel Surveillance Network (www.cpcssn.ca), the Institute for Clinical Evaluative Studies (www.ices.on.ca) or other prescribed entity and Diabetes Action Canada (diabetesaction.ca). This will be done to support important research projects with full ethics approval and privacy safeguards. With NORTHH, we want to make sure that communities and practices in Northern Ontario can make their own decisions about how their data is used.
What about privacy?
Privacy is important to us. We are committed to keeping personal health information safe and confidential at all times. Information collected from the EMR is stored in a secure central electronic system with strong safeguards to protect privacy.
Indigenous Data Sovereignty at NORTHH
We are working on establishing NORTHH operations and governance that respect Indigenous data sovereignty and follow OCAP® Principles.
Joining NORTHH
Instructions for joining NORTHH
Thank you for your interest in joining NORTHH.
Please complete the following steps to become a clinician participant in NORTHH.
Please read the following:
Please sign the following forms:
NORTHH Clinic Intake Form (please us one for your entire clinic)
EMAIL or FAX the signed forms to: NORTHH@nosm.ca / 807-229-2672 Attn: Dr. Barb Zelek
FAQs for Practices Joining NORTHH (pending)
Ongoing Projects and Successes
(pending)
Newsletters, Presentations & Communications
Questions ?
For more information, please contact the NORTHH group at NORTHH@nosm.ca.