Our Residents
PGY-1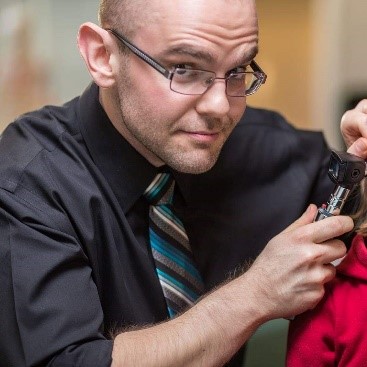 Dr. Lyall Pacey
Dr. Lyall Pacey completed medical school at the University of Saskatchewan.  He grew up in Yorkton, Saskatchewan and worked for several years as a pediatric speech-language pathologist in rural and regional settings.  His experiences affirmed the importance of community-based care and influencing others at a population level, and drove his interest in PHPM at NOSM U.  Outside of medicine, Lyall spends time at the gym, running, or on a bike.
Dr. Chidubem Okechukwu
Dr. Chidubem Okechukwu is an Indigenous Nigerian who obtained her MBBS from the first Indigenous and independent University in Nigeria, and a Master of Public Health degree from UBC. Having grown up in a rural region where she saw firsthand how her own family and relatives were adversely affected by lack of quality and accessible healthcare services, she was inspired to study medicine and to give back. Her personal and lived experiences led her to acquire a wealth of international experience including as a volunteer in many rural and remote underserved communities in Nigeria where she organized and led outreach primary and preventive care services and advocated for populations and communities at risk. Recognized for her dedication and determination, she was awarded a Mastercard Foundation Scholarship to attend UBC in order to follow her passion for additional public health knowledge and to continue her career as a public health specialist in Canada.
---
PGY-2
Dr. Christina Hao
Dr. Christina Hao is originally from Montreal and completed medical school at Université de Montréal. She has always been inspired by the vast fields of communicable disease, health prevention and promotion, health inequities, and mental health.  Christina looks forward to developing skills as a medical officer of health, and making a positive difference in communities and society.  So far, she has found that the Northern Ontario School of Medicine University provides great experience in training, diversified practice, great support and working environment.
Dr. Blessing Odia
Dr. Blessing Odia completed her Bachelors in Medicine and Surgery (MBBS) in Nigeria and is a fellow of the West Africa College of Physicians and Post Graduate College of Nigeria.  She recently completed her Masters in Public Health, and has significant experience in monitoring and evaluation, logistic management of health commodities (supply chain a management), and adolescent health in Sub-Saharan Africa.  She is particularly interested in health promotion and adolescent health.  Her goal is to support closing the gap of inequity between the poor and rich.
---
PGY-3
Dr. Emma Pillsworth
Dr. Emma Pillsworth completed a Master of Public Health degree at Queen's University and worked as a Health Promoter prior to obtaining her medical education at the University of Calgary. Her public health interests are diverse and include generalist public health and preventive medicine, rural and remote medicine, child health, mental health and addictions, and sexual health. On days off, she can be found camping, hiking, playing board games, crafting, or snuggling up with her cats.
Dr. Chelsey Bertrand
Dr. Chelsey Bertrand completed her BSc in Biomedical Biology and a BA in Indigenous Studies concurrently at Laurentian University. She then attended medical school at the University of Ottawa, with the goal of coming back to Northern Ontario to complete residency training through NOSM University.  PHPM intrigues her because of the ability to look at health holistically, explore health equity, and work to improve the health status of specific populations, such as Indigenous health.  In addition to her work as a resident, Chelsey is a mom to two toddlers.  She enjoys being outdoors, doing activities such as swimming and paddle boarding in local lakes, going on hikes, visiting different parks, and hunting in the Fall.
---
PGY-4
Dr. Stone Li
Dr. Stone Li's prior education includes a double major in biological and physical sciences, a master of public health in biostatistics, and a doctor of medicine at the University of Alberta.  He was drawn to the NOSM U PHPM program by its social accountability mandate, focusing on giving back to the community and addressing factors that affect population health. His public health interests include public health education, communicable disease control, public health research and knowledge translation, environmental health, and supporting vulnerable populations. His clinical interests involve addictions medicine, inner city medicine, infectious disease, and mental health support.
Dr. Emil Azuma Prikryl
Dr. Emil Azuma Prikryl completed undergraduate degrees in piano performance at the University of Toronto and physics at Carleton University before obtaining his MD from the University of Ottawa. He is currently pursuing an MSc in Public Health (Environment and Health stream) at the London School of Hygiene and Tropical Medicine. Emil was drawn to NOSM's position as a catalyst for the change we need to see in the health system, serving as a bridge between North and South, between cultures and communities, and between knowledge and creativity. Beyond his pursuits in public health, Emil maintains broad interests in basic and applied sciences. He can also be frequently seen re-connecting with nature through various outdoor activities such as trail running, climbing and skiing.
Dr. Urvashi Beruar
Dr. Urvashi Beruar is currently completing her Master of Public Health at Queen's University in Kingston, Ontario. She is an International Medical Graduate and completed medical school in the Caribbean. Northern Ontario had been home to Urvashi ever since her family moved to Canada, leading to her choosing residency at NOSM U.  Her public health interests include Indigenous Health, Global Health as well as Nutrition studies. Outside of residency, Urvashi loves to travel, and to drink good coffee.
---