The safety of the NOSM University community is our top priority as we closely monitor COVID-19. Following safety measures and restrictions NOSM University has decided to deliver CampMed 2023 in-person (COVID-19 restrictions permitting). 
---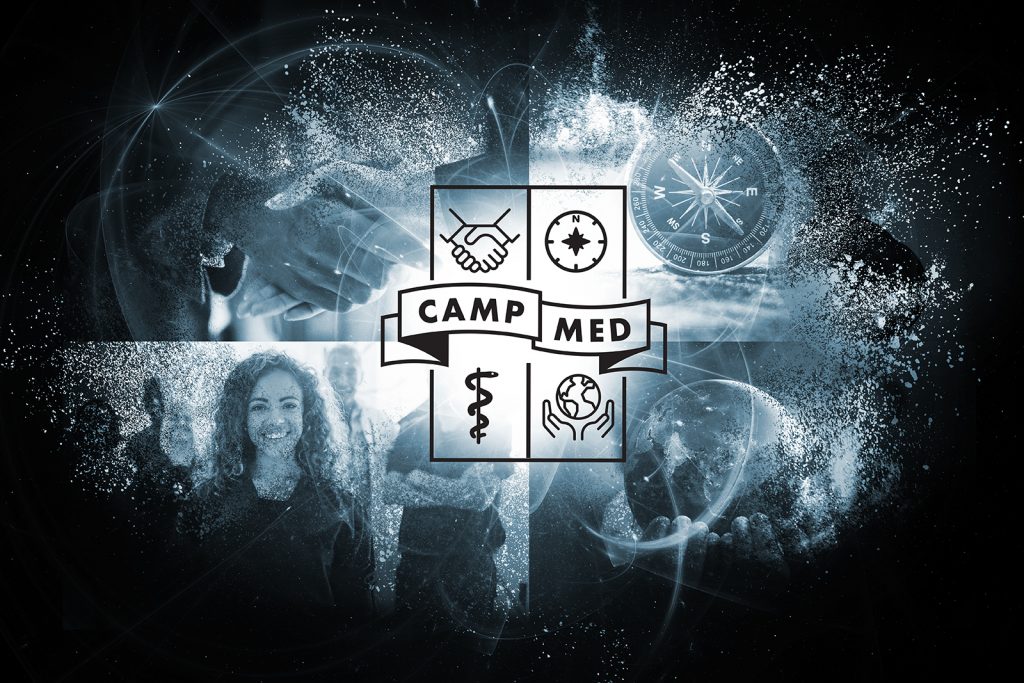 CampMed is NOSM University's annual summer camp that provides high school students with a unique opportunity to be inspired to consider a future as a healthcare professional. CampMed provides Northern Ontario and rural and remote students of Canada with an opportunity to explore Indigenous and Francophone culture, health and traditions, health-care careers, obtain hands-on experience, and find a mentor.
CampMed 2022 was a huge success last year with excellent participation throughout Northern Ontario. We look forward to another great summer with our campers!
For CampMed 2023, students will have the opportunity to participate in-person (COVID-19 restrictions permitting).
CampMed 2023 Dates & Registration Fee
Sudbury: July 10-14, 2023 (24 spots available)
Thunder Bay: July 17-21, 2023 (24 spots available)
Registration Fee: $450 (non-refundable)
NOTE: For those selected to participate, the registration fee includes lunches, snacks, interactive workshops, prize bag, and a t-shirt.
Information regarding payment method options will be provided to those selected to participate in their CampMed Registration Package.
Travel/Accommodations Information
Campers who must travel to Sudbury or Thunder Bay to participate in CampMed are required to have a chaperone.
Transportation, accommodation and all other costs are the responsibility of the camper and their chaperone.
Scholarship Opportunities
NOSM University has several CampMed scholarships available to support families who might not otherwise be able to afford the cost of attending CampMed.
These scholarships are in place to help campers and their families mitigate the cost of attending CampMed. These scholarships will not cover the entire cost of attending CampMed.
Available scholarships:
Registration Scholarship
Travel Scholarship
Accommodations Scholarship
Scholarship Donors: Kenny Family Foundation Fund and Aubrey & Marla Dan Foundation
Donate to CampMed
CampMed has been a successful pathway to medicine at NOSM University:
674 Total Campers – 23 who have since been admitted to NOSM University
75 University student volunteers since 2016 – 10 who have since been admitted to NOSM
167 Indigenous Campers
238 Francophone Campers
245 Campers from over 48 different communities in Northern Ontario
NOTE: The above statistics are based on the available data for CampMed from 2006-2019.
We hope that you will consider contributing to this important work of inspiring the youth of Northern Ontario to see themselves as the health care professionals of our tomorrow.
Read about the impact/influence CampMed can have on the career path of a student here.
Application Information
The CampMed application is now closed.
There are 24 spots available for Sudbury CampMed, and there are 24 spots available for Thunder Bay CampMed.
The deadline to submit an application is May 2, 2023.
Eligibility
CampMed accepts applications from high school students who:
Live in Northern Ontario or other rural and remote parts of Canada
Submit a completed application form with all required documentation by the application deadline
Are currently in Grade 10 or Grade 11*
*High school students currently in Grade 10 or Grade 11 will be given priority in the selection process; however, high school students from other grades may also apply.
How to Apply
To apply, submit the application form, including a short 250 word essay explaining why you are interested in Health Sciences by May 2, 2023.
---
Four Pillars of CampMed
CampMed is founded on four pillars of learning. From top left and going clock wise, the icons in the new branding represent interprofessionalism, leadership, culture, and clinical skills—the knowledge and skills that participants gain from attending CampMed.
---
Interprofessional
Participants attending CampMed learn the importance of interprofessionalism in health-care settings by learning about various health careers and how those professionals work together to ensure the well-being and health of patients. The majority of the interprofessional learning at CampMed is provided by the health-care professionals who participate in the career fair as well as their mentors who are the NOSM's students and undergraduate student volunteers from Northern Ontario.
---
Leadership
Throughout the week, the CampMed participants are provided with opportunities to observe the leadership skills of their mentors to build on their own leadership skills set as they are placed in situations that give them a safe setting to step out of their comfort zone and challenge themselves to lead.
---
Cultural
At CampMed, participants will learn about Francophone and Indigenous health and culture in ways that will broaden their understanding of health needs of Northern Ontario. In simple terms they learn what it means to be a socially accountable health professional. These cultural competencies are woven throughout the week-long curriculum.
---
Clinical Skills
CampMed offers participants a unique opportunity to get hands-on experience by learning medical and health sciences clinical skills, such as casting, inserting an NG tube, suturing, etc.
CampMed Coordinator Contact Information
If you have any questions regarding CampMed, please contact:
Lindsay Lemieux
CampMed Coordinator
campmed@nosm.ca
1-800-461-8777 ext. 7025
To stay up to date, follow our medical student-led Instagram NOSM_FutureMD's for event information, advice, and to experience a day in the life of a medical student!
We want to give a special thank you to our generous donors! Without you, this annual camp would not be possible.
Kenny Family Foundation Fund
Aubrey & Marla Dan Foundation
---
Connect with NOSM University on the following social media platforms: