Science North and NOSM University
Science North and NOSM University
Indigenous youth across Northern Ontario are being invited to learn more about Science, Technology, Engineering and Math (STEM) concepts with the goal of inspiring a career in health care. NOSM University and Science North have partnered on the delivery of health, life and human sciences related programming to Indigenous youth across Northern Ontario. Our Science Day virtual program reached over 15 schools over the 2020 – 2021 school year. Our summer STEM Kits were shipped out to 22 communities spread out over NOSMs 800, 000 km campus!
In School Science Days
NOSM University and Science North bring
 a
one-hour
 virtual session to youth in 
N
orthern Ontario with the help from your teachers and education leaders! The interactive session
provides
an opportunity for youth to explore health sciences and gain a better understanding of careers in the health field while learning about both Science North and the NOSM University
. Dave takes youth through an interactive journey learning the science of pain! Through the 2020-2021 school year, our in school Science Days reached 15 schools with over 350 students participating. 
Summer STEM Kits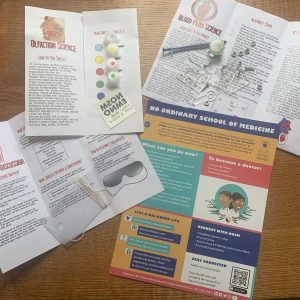 NOSM University and Science North continue to promote Health Sciences in rural, remote and Indigenous communities by supplying community contacts with STEM boxes filled with different STEM kits made up of hands-on activities for different age groups. The boxes include three different kits:  
Junior (4/5/6): Olfactory System & Scents

 

Intermediate (6/7/8/9): Concussion Goggles

 

Senior (9/10): Circulatory System
Our summer 2021 project reached 22 communities, delivering STEM kits to over 1500 youth. Youth were able to complete a hands on activity to enhance their learning in the Health Sciences.  
Meet the Team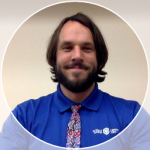 David Bates, Science North is a Métis former voyageur and molecular biologist who decided to hang up his paddle and micropipette to teach about the fascinating world of everyday science. When not rallying students like a carnival barker, Dave can be found tapping maple trees and occasionally unwisely poking at vastly powerful artificial intelligence models to see what they do. His favourite part of outreach is the lightbulb moment when a student of any age realizes the connection between a science demonstration and something they do every day… and how it might not actually be working the way they thought!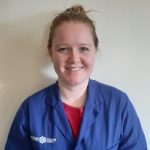 Sabrina Morrison, Science North is a Canadian settler; she was born in Central Ontario and grew up along the shores of Georgian Bay. Sabrina currently works within the Outreach Team at Science North in Thunder Bay booking virtual and in-person workshops/activities/events and all the logistics that come with it. She has a Master's Degree in Climate Change and a Bachelor of Education. She loves outdoor activities such as hiking, kayaking, and cross-country skiing. Her favourite part of working in outreach is getting to travel to so many communities in Northern Ontario and experiencing everything they have to offer!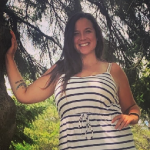 Ash Laframboise, NOSM U Indigenous Affairs Team is an Anishinaabekwe from Opwaaganisiniing (Red Rock Indian Band), born and raised in her home community on the shores of Lake Helen about an hour east of Thunder Bay. Ash moved to Thunder Bay to go to Lakehead University to become a teacher.  Ash enjoys camping, hiking, biking, paddling, playing hockey and dancing Jingle dress style. She is passionate about sharing in academics, culture and land-based activities. Ash brings a sense of humor, strong connection to community and a passion for Indigenous youth engagement. Ash works closely with the Admissions and Learner Recruitment team and is responsible for learner recruitment and retention at various ages and stages. 
To learn more about NOSM youth initiatives such as Science Days, STEM kits, Discovery Day, CampMed or in school presentations, contact  Indigenous@nosm.ca