2013 Community-Based Emergency Care
2013 Community-Based Emergency Care
This interdisciplinary working group focuses on Community-Based Emergency Care (CBEC), an innovative strategy to delivery first response emergency care to ill and injured patients in remote First Nation communities without formal paramedical services.  Our vision is that "People in remote and isolated First Nation communities should have access to excellent community-based first response emergency care."
This webpage provides links to a selection of this group's published works and knowledge translation products. These works have emerged from two initiatives:
The CBEC Roundtable
A multi-jurisdictional meeting held in October 2013 in Sioux Lookout, Ontario. The purpose of this meeting was to discuss and address pre-nursing station emergency care needs in remote and isolated communities of the Nishnawbe Aski Nation. Representatives of First Nations' governance and community organizations, Ontario Provincial and Canadian Federal governments, nursing and paramedical services, and non-governmental organizations joined together to develop shared understandings and a vision for the future of emergency care in remote and isolated settings.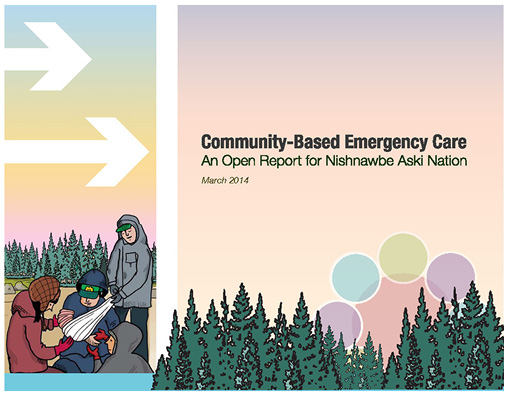 Community-Based Emergency Care: An Open Report for Nishnawbe Aski Nation
Graphic Facilitation Murals Created at Roundtable, October 29-30, 2013
The Sachigo Lake Wilderness Emergency Response Education Initiative (SLWEREI)
A unique community-based program that involved the development, delivery, and evaluation of intensive first response training courses for lay community members in Sachigo Lake First Nation between 2009 and 2013. Training centered on delivering essential life-support in emergency situations, with a focus on patient transport, evidence-based interventions, and the provision of adaptive care in low-resource settings. Course curriculum and pedagogy were based on community priorities, needs, and feedback received through community consultation.
Knowledge Translation Tools

Peer-Reviewed Publications

Academic Conference Poster Presentations
For more  information please contact:
Aaron Orkin, MD, MSc, MPH, CCFP
Email: aorkin@nosm.ca
David VanderBurgh, MD, CCFP(EM)
Email: david.vanderburgh@nosm.ca
Stephen Ritchie, PhD
Email: sritchie@laurentian.ca