NOSM University receives $100,000 gift toward Nicolas Michael Farkouh Bursary
NOSM University receives $100,000 gift toward Nicolas Michael Farkouh Bursary
Posted on February 21, 2023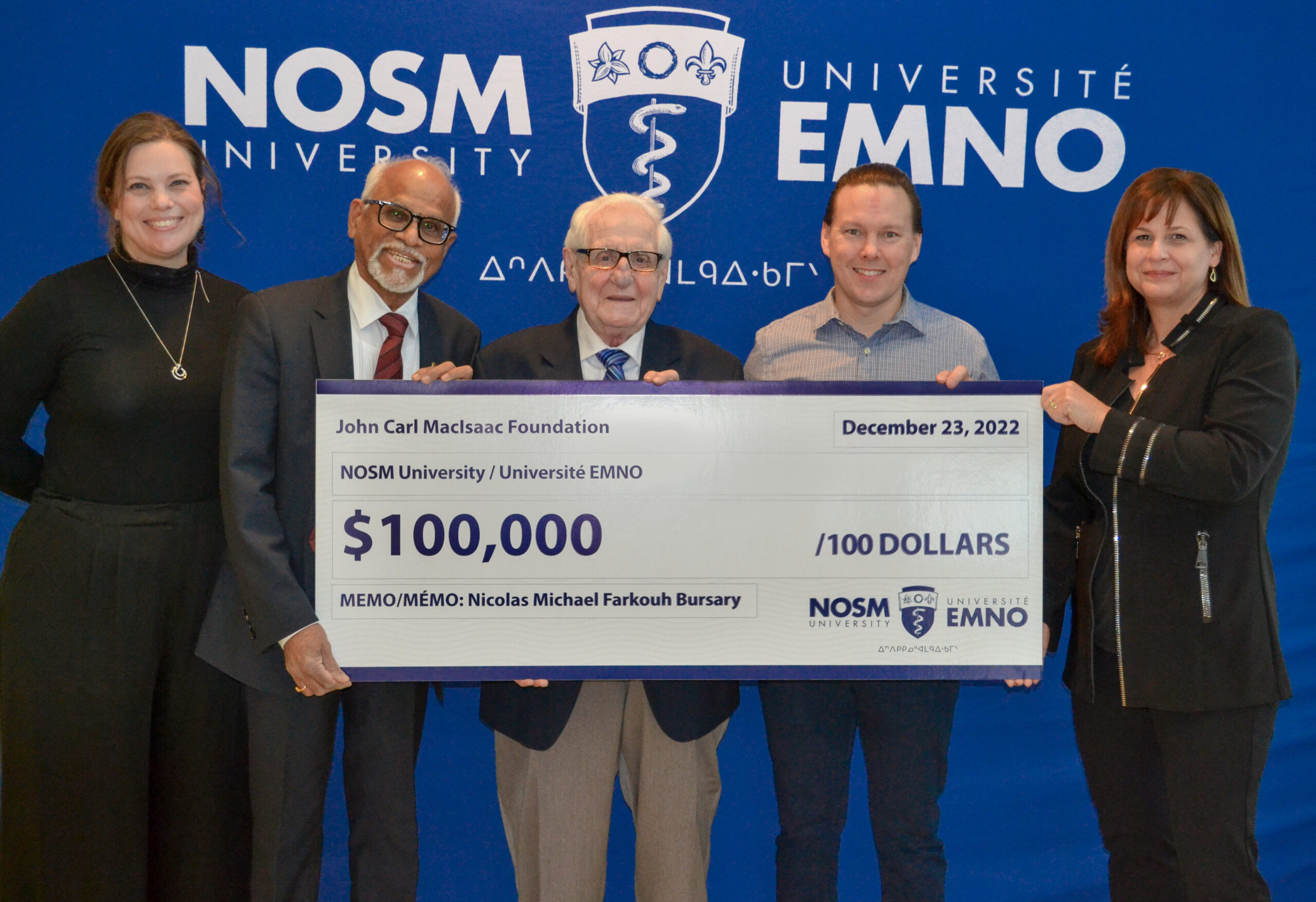 Gift to be matched by FDC Foundation, creating $200,000 endowment
NOSM University students will enjoy some financial help thanks to the Nicolas Michael Farkouh Bursary, funded by the John Carl MacIsaac Foundation of Greater Sudbury.
With this family foundation's generous gift of $100,000, and a matching gift of $100,000 from the FDC Foundation through their $10 million matching commitment, a $200,000 endowment will be established. Each year, the Nicolas Michael Farkouh Bursary will support a student in need with a gift of up to $5,000.
"We are grateful to the John Carl MacIsaac Foundation for investing in NOSM University students," says Dr. Sarita Verma, President, Vice-Chancellor, Dean and CEO of NOSM University. "Helping to offset the cost of tuition is the best way to recruit the most diverse and motivated future physicians for Northern Ontario. The Nicolas Michael Farkouh Bursary will afford students some peace of mind to focus on their education."
"Nick Farkouh immigrated to Canada as a Palestinian refugee in 1956," says Andrew MacIsaac, Trustee of the John Carl MacIsaac Foundation. "It is a great honour to recognize Nick and his life-long contributions to the community of Greater Sudbury."
Trained as an accountant, Mr. Farkouh began his career with Denison Mines in Elliot Lake. He moved to Sudbury in 1967 when he joined the MacIsaac Group of Companies. As the Chief Financial Officer of MacIsaac Industries, Mr. Farkouh became a founding Trustee of the John Carl MacIsaac Foundation. Upon his retirement, Mr. Farkouh served on the board of Laurentian University and helped to inspire and energize the early efforts to establish the Northern Ontario School of Medicine, now NOSM University.
Since 2005, NOSM University has been delivering on its mandate. It has graduated 838 MDs, 65 of whom are Indigenous, and 171 of whom are Francophone. More than half of NOSM graduates have stayed in Northern Ontario. NOSM University estimates that about 400,000 people have been helped so far by a graduate.
NOSM University has embarked upon a mission to raise the first $50 million for its Student Endowment Fund. Read more about that effort here.
(Photo: Jennifer McGillivray, Dr. Rayuda Koka, Nicolas Michael Farkouh, Andrew MacIsaac, and Joanne Musico.)
– 30 –
NOSM University is Canada's first independent medical university and one of the greatest education and physician workforce strategy success stories of Northern Ontario. More than just a medical university, it was purpose-built to address the health needs of the region. While advocating for equitable access to care, the university contributes to the economic development of Northern Ontario. NOSM University relies on the commitment and expertise of the peoples of Northern Ontario to educate health-care professionals to practise in Indigenous, Francophone, rural, remote and underserved communities. With a focus on diversity, inclusion and advocacy, NOSM University is an award-winning, socially-accountable organization renowned for its innovative model of distributed, community-engaged education and research.
For further information, please contact: news@nosm.ca