FDC Foundation makes historic $10 million gift to support NOSM University students
FDC Foundation makes historic $10 million gift to support NOSM University students
Posted on October 18, 2022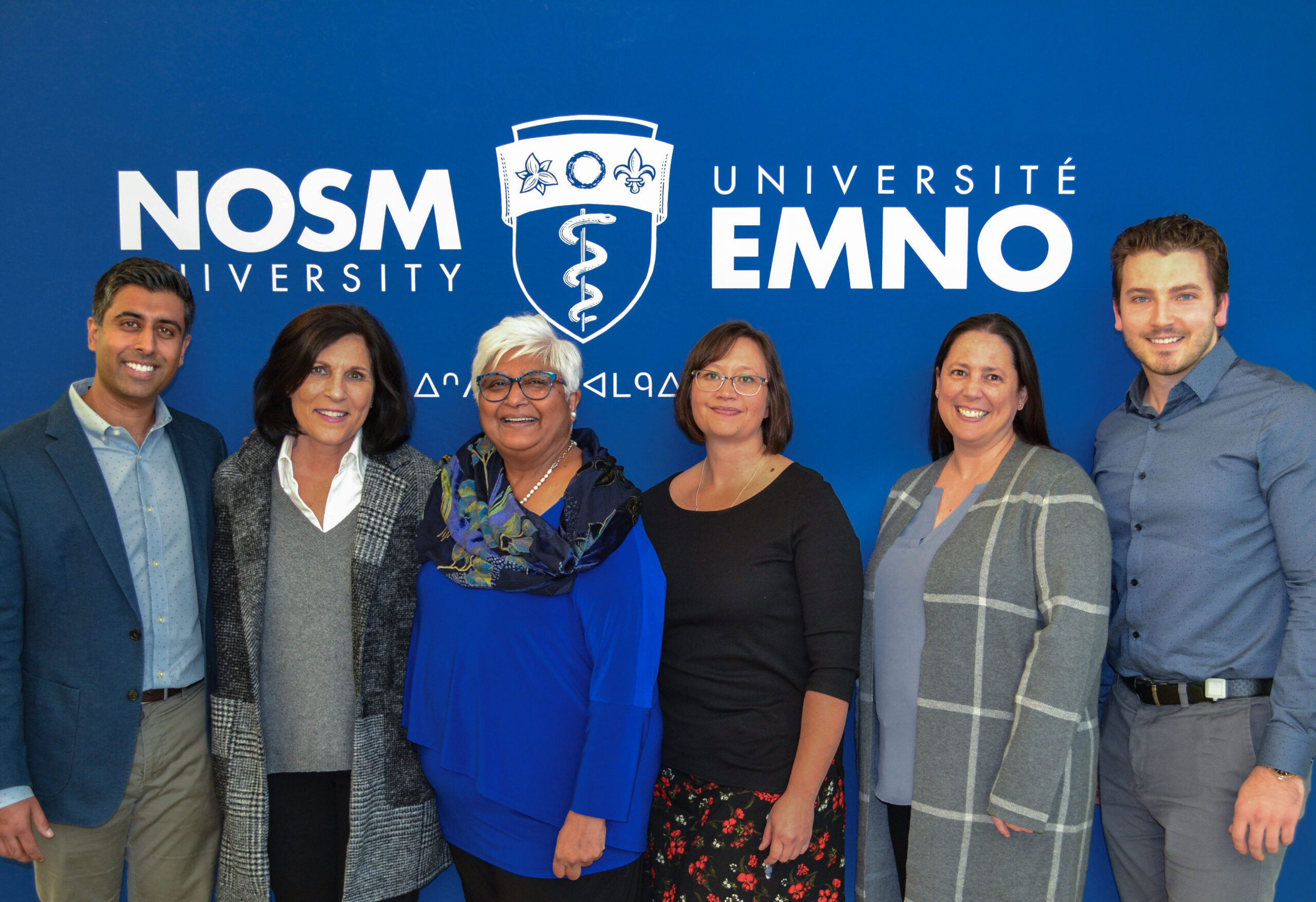 Transformational gift gives rise to $50 Million Student Endowment Fund initiative 
Canada's first independent medical university is driving forward a bold, transformative plan that will change the future of health care in Northern Ontario—and it has a visionary partner to thank.Mississauga based FDC Foundation will change the lives of NOSM University learners, while challenging like-minded philanthropists to do the same. Dollar for dollar, every gift made to NOSM University for student financial aid will be matched up to $10 million. The family foundation supports health care and education and is dramatically strengthening the impact of NOSM University's philanthropic efforts, which leads to more doctors in the North and better access to health care close to home for the 800,000 people who live in the region.
"We are hoping this gift will ignite support from other donors to alleviate student debt and encourage more students to pursue careers as future health-care professionals in Northern Ontario," says the FDC Foundation.
"We know that our MD students carry nearly double the debt load of other medical school graduates across the country," says Dr. Sarita Verma, President, Vice-Chancellor, Dean and CEO of NOSM University. "Our primary goal is to help students access careers and education regardless of socio-economic status."
"Through the generosity of the FDC Foundation, we're on our way to building our first 50-million-dollar endowment," Dr. Verma continues. "With their initial contribution NOSM University will be raising funds to double their impact, seeking an additional match of another $10 million. That means up to $20 million could be immediately invested in the Student Endowment Fund to start paying dividends for our MD students. That's transformative."
Northern Ontario is currently short more than 350 physicians, and that number does not reflect anticipated retirements. The health human resource crisis is underway and NOSM University is one solution to this issue.
"Alleviating our student debt burden is our best shot at recruiting the most diverse and motivated future physicians for Northern Ontario. At NOSM University, integrity is the foundation of everything we do. Social accountability is in our DNA; equity, diversity and inclusion have been our aim. Raising funds for our students is proof of our commitment to social justice," says Dr. Verma.
Since 2005, NOSM University has been delivering on its mandate. It has graduated 838 MDs, 65 of whom are Indigenous, and 171 of whom are Francophone. More than half of NOSM graduates have stayed in Northern Ontario. NOSM University estimates suggest that about 340,000 people have been helped by a graduate.
Now that NOSM University has the green light from the province to add another 30 medical degrees and 41 residency spots over the next five years, building a robust Student Endowment Fund is all the more urgent.
"This is an all-hands-on-deck issue. Everyone has to get involved and every penny counts," says Dr. Verma. "The future of Northern health care is going to depend on this initiative."
Read The NOSM Challenge 2025 to learn more about NOSM University's strategy for bringing health—and wealth—to Northern Ontario.
Pictured are representatives from the FDC Foundation with Dr. Sarita Verma, President, Vice Chancellor, Dean and CEO NOSM University, and fourth-year MD students.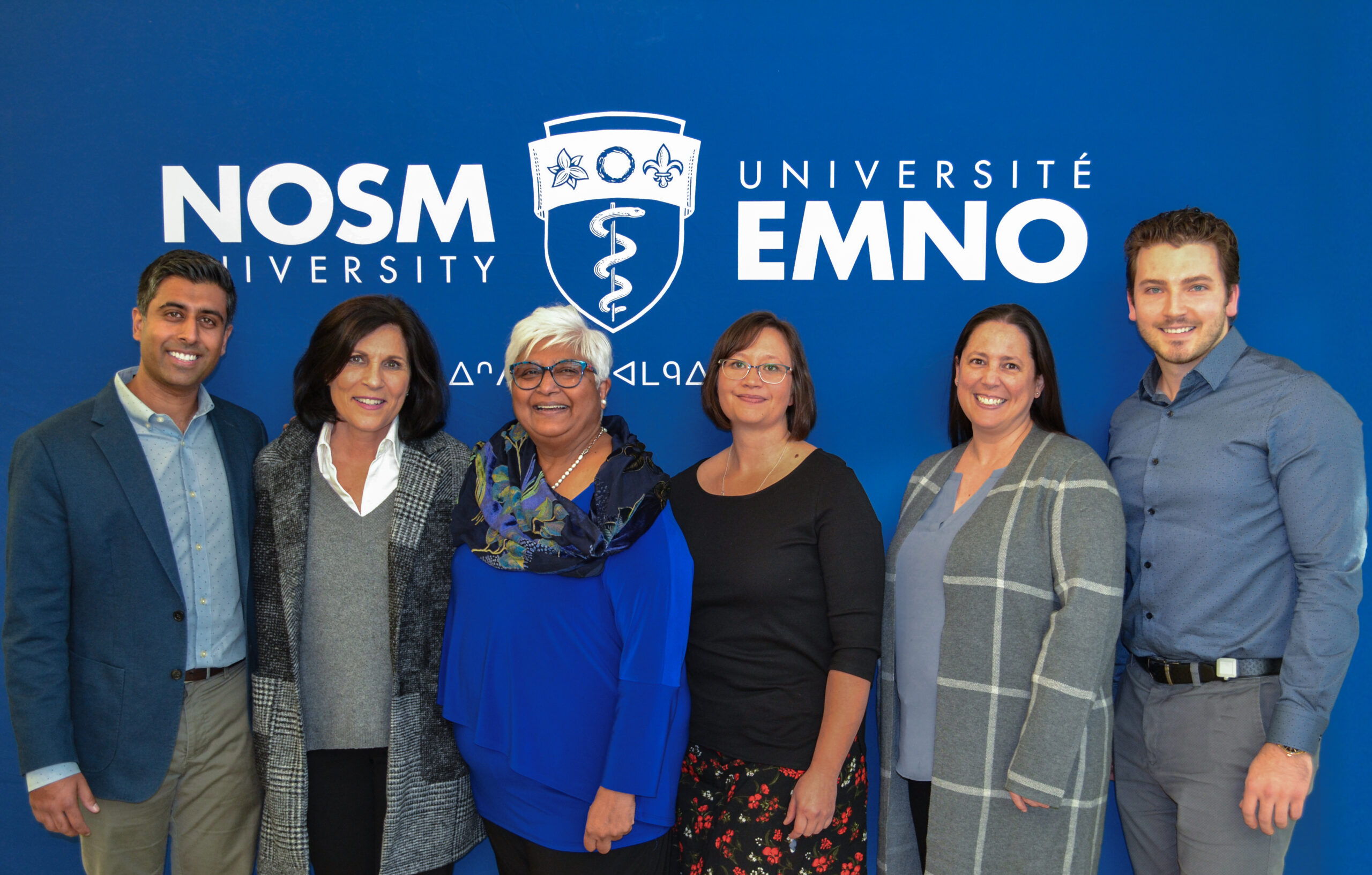 – 30 –
NOSM University
 is Canada's first independent medical university and one of the greatest education and physician workforce strategy success stories of Northern Ontario. More than just a medical university, it was purpose built to address the health needs of the region. While advocating for equitable access to care, the university contributes to the economic development of Northern Ontario. NOSM University relies on the commitment and expertise of the peoples of Northern Ontario to educate health-care professionals to practise in Indigenous, Francophone, rural, remote and underserved communities. With a focus on diversity, inclusion and advocacy, NOSM University is an award-winning, socially accountable organization renowned for its innovative model of distributed, community-engaged education and research. NOSM University connects researchers, learners, teams and their findings to research entities, provincial health teams, research institutes, academic health sciences centres and health-care organizations. The university strengthens research capacity in Northern Ontario, improving performance and measurable outcomes in health services, quality health care, health and biomedical research and knowledge translation.