Perseverance and Compassion From Uganda to Eabametoong First Nation
Perseverance and Compassion From Uganda to Eabametoong First Nation
Posted on March 9, 2022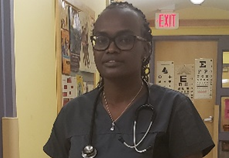 When Dr. Jacinta Oyella was 10 years old, Uganda was experiencing deadly political unrest caused by a group who committed crimes against humanity. She recalls it as a time that inspired her to find meaning in the suffering around her and to see the good in the hearts of those with the perseverance to care for those in despair.
Dr. Jacinta Oyella believes that there are no coincidences in life. Following a harrowing childhood in civil war-torn Uganda, Jacinta immigrated to Canada and eventually joined the Remote First Nations Family Medicine Residency Stream at the Northern Ontario School of Medicine (NOSM).
"The program was extremely supportive and the Site Director and Program Director were always accessible. I had excellent preceptors," Jacinta says. Her NOSM residency in Eabametoong First Nation provided foundational experiences delivering health care in remote First Nations—a population she now cares for in her daily medical practice.
Dr. Claudette Chase, Site Director of NOSM's Remote First Nations Family Medicine Residency Stream, says Jacinta is keen to learn, has deep compassion, and truly developed in the program. In addition to her core Family Medicine training, Jacinta learned about Indigenous health competencies and traditional healing and medicine from Elders and community members.
Childhood in Uganda
Jacinta grew up in a rural town of 42,000 people in Northern Uganda. Her community was affected by war for nearly three decades.
"We all enter this world on a path set before us, we stumble and we fall but each time we rise like a phoenix and take flight," she says, explaining how we fall forward not backward when we give of our time and our hearts to combat human suffering. Her life experiences led her to become a family physician.
With the support, resiliency and dedication of her parents, she was able to pursue her education. The region where Jacinta lived experienced a high prevalence of post-traumatic stress disorder (PTSD), mental health issues, alcohol addiction, HIV/AIDS, poverty, and high rates of illiteracy. In 1991, Jacinta describes nearly being abducted from her boarding school by the militia at age of 15. During the attack, 42 students were abducted—two were murdered. Fortunately, Jacinta's dormitory was spared.
In the wake of this experience, Jacinta felt compelled to do something to combat these atrocities. She says she was drawn to serve the people around her who were displaced, homeless, and trapped in the cycle of poverty.
Becoming a physician
Jacinta found encouragement and support in her uncle, a physician who inspired and influenced her career path. She recalls his tireless efforts and time spent treating gunshot wounds during Uganda's decades of political unrest.
She and her family took refuge in the urban capital city of Kampala, in search of better education and safety. Jacinta says the experience taught her "a deep sense of compassion." In Kampala, she took on the responsibility of mobilizing volunteer medical students. During her academic breaks, Jacinta traveled and helped out at local hospitals, relying on the military for security, and meanwhile, continuing her medical training. In 2010, she completed her Master of Medicine in Internal Medicine at Makerere University in Kampala.
During her time in medical school, Jacinta recognized that many of the illnesses she encountered or read about were preventable. With a desire to advocate on behalf of her community, she focused her subspecialty training on populations in areas of devastation. At that time in Uganda, the average adult life expectancy was age 58 and the child mortality rate before age five was 5.5 per cent. More than three million people were infected with HIV and the leading cause of death was communicable disease, including malaria. There was a significant lack of adequate health-care human resources and infrastructure in the communities where she learned and worked.
Immigrating to Canada
In 2011, while pregnant with her third child, Jacinta immigrated to Canada to join her husband. She began volunteering with the Royal Inland Hospital in Kamloops, British Columbia. Two years later, she was practicing as a child and youth mental health and wellness coordinator with Kamloops Aboriginal Friendship where she learned from—and collaborated with—Elders, residential school Survivors and 17 bands of Secwe̓pemc Nations.
Jacinta recalls embracing First Nations cultural practices, including: the medicine wheel, "wellbriety," smudging, roles of Elders, drumming, and drum making. Above all, she embraced the importance of relationship-building based on trust.
Before she arrived at NOSM, Jacinta published a number of peer-reviewed articles, and was recognized by The Women Deliver International Scholarship as a leading global advocate for girls and women's health, rights and wellbeing. She was awarded the prestigious international scholarship for her work in the field of prevention of mother to child transmission of HIV in Uganda.
Jacinta was also awarded an HIV/AIDS research grant by the American National Institute of Health's Fogarty International Center to conduct a cross-sectional study investigating the prevalence and factors associated with a deadly opportunistic fungal infection, cryptococcosis; predominantly seen in HIV/AIDS patients with severe immunosuppression. She is working on the study alongside researchers from Case Western Reserve University in Ohio.
Completing NOSM Residency
Having graduated from the NOSM Family Medicine Program's Remote First Nations Stream in 2021, Jacinta was immediately employed by Matawa Health Cooperative (MHC) where she continues to practise as a community physician delivering comprehensive rural/remote First Nations primary health care. She says her clinical training exposed her to health inequities experienced by many Indigenous patients and inspired her drive to pursue her current career.
"Her ongoing work with the MHC, to provide health care services to achieve long-term health and wellbeing for all members within the nine Matawa First Nations, is not only testament to her dedication and desire to serve First Nation populations in Northern Ontario, but also to her training and her remarkable ethics as a human being," says David Booth, Program Coordinator for the NOSM Remote First Nations Family Medicine Residency Stream.
About NOSM's Remote First Nations Family Medicine Residency Stream
In 2017, Northern Ontario School of Medicine, Eabametoong First Nation and Matawa First Nations Management (MFNM) entered into a Tripartite Partnership Agreement (supported by the Ministry of Health) with the goal of preparing future family physicians to practise in First Nation communities in Northern Ontario. The agreement has been very successful with the Remote First Nations Family Medicine Residency Stream, as it reflects the School's social accountability mandate teaching residents skills in comprehensive rural and remote family practice at various distributive learning sites, and in urban centres including Dryden Regional Health Centre, Sioux Lookout Meno Ya Win Health Centre and Thunder Bay Regional Health Sciences.
The NOSM Remote First Nations Family Medicine Residency Stream is focused on First Nation Primary Care and is the first of its kind in Ontario. It is one of only two national Family Medicine residency programs to focus entirely on the health of First Nation communities. In Canada, between 2006 and 2016, the Indigenous population grew by 42.5 per cent—at a rate four times greater than the non-Indigenous population—and is Ontario's largest and fastest-growing population.