NOSM and Science North inspire Northern Ontario Indigenous youth to pursue careers in health care
NOSM and Science North inspire Northern Ontario Indigenous youth to pursue careers in health care
Posted on June 1, 2021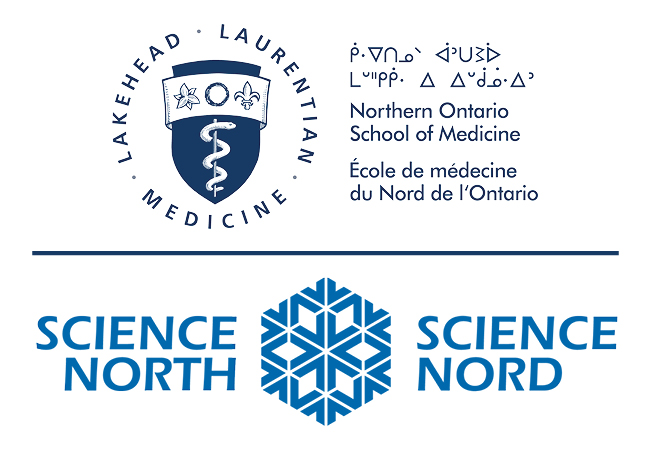 Indigenous youth across Northern Ontario are being invited to learn more about STEM concepts with the goal of inspiring a career in health care. The Northern Ontario School of Medicine (NOSM) and Science North signed a collaboration agreement on April 20, 2021 to partner on the delivery of health, life and human sciences related programming to Indigenous youth across Northern Ontario.
"Science North is very excited to be partnering with NOSM to deliver health sciences related educational programming to youth in First Nation communities. The programs developed will excite youth about the science in their everyday lives that relates to their bodies and deepen the understanding of the educational pathways possible to work in a health sciences field," says Ryan Land, Director of Education and Northern Programs at Science North. "We're delighted to work with NOSM professionals in designing the curriculum and developing take home STEM kits for youth in First Nation communities. This partnership contributes to our strategic goal of deepening our engagement with Indigenous audiences and being Science North in all of Northern Ontario."
Science North and NOSM have identified 10 rural and remote schools and five schools in city centres across Northern Ontario at which the Science Day programming will be delivered. Programming will include the virtual delivery of the At Home STEM – Health Connections program for youth ages 8-13, as well as the virtual delivery of Science Days for youth ages 15-18. In addition, Ashlie Laframboise, Learner Recruitment and Support Coordinator at NOSM, will speak with youth about pathways to education.
"With communities spread apart across an expanse of over 800,000 square kilometres, and many of them lacking consistent access to essential services, Indigenous youth in Northern Ontario often find themselves isolated and disproportionately affected by the social determinants of health," says Yolanda Wanakamik, Director of Indigenous Affairs at NOSM. "By combining human resources, existing relationships with communities and schools, we can and will make an impact."
This partnership is made possible through the generous donation of founding supporters RBC, with a funding commitment of $195,000 through RBC Future Launch, and a $20,000 donation from the Aubrey and Marla Dan Foundation.
–30–
About Science North 
Science North is Northern Ontario's most popular tourist attraction and an educational resource for children and adults across the province. Science North maintains the second – and eighth- largest science centres in Canada. Science North's attractions include a science centre, IMAX® theatre, digital Planetarium, butterfly gallery, special exhibits hall, and Dynamic Earth: Home of the Big Nickel. Science North, in partnership with Laurentian University, have developed North America's first and only comprehensive Science Communication program, a joint graduate diploma program. As part of its mandate, Science North provides science experiences throughout Northern Ontario including outreach to schools and festivals, summer science camps and more, and has a permanent base in Thunder Bay providing outreach to the Northwest. Science North is an agency of the Government of Ontario. For more information, please visit sciencenorth.ca.
About the Northern Ontario School of Medicine
The Northern Ontario School of Medicine (NOSM) is an award-winning socially accountable medical school renowned for its innovative model of distributed, community-engaged education and research. With a focus on diversity, inclusion, and advocacy for health equity, NOSM relies on the commitment and expertise of the peoples and communities of Northern Ontario to educate health-care professionals to practise in Indigenous, Francophone, rural, remote and underserved communities. NOSM's graduates, faculty, learners and staff are changemakers who lead health-system transformation in Northern Ontario. The School is a recipient of the Charles Boelen International Social Accountability Award from the Association of Faculties of Medicine of Canada and the prestigious ASPIRE award, which recognize international excellence in social accountability and medical education.
For further information, please contact:
Emily Kerton
Senior Scientist
Outreach and Indigenous Initiatives, Science North
Phone: 807-631-4076
Email:  kerton@sciencenorth.ca
Kim Latimer
Communications and External Relations
Northern Ontario School of Medicine
Cell:     807-621-4303
Office: 807-621-4303
Email:  klatimer@nosm.ca