Medical school announces new five-year strategic plan and officially launches The NOSM Challenge
Medical school announces new five-year strategic plan and officially launches The NOSM Challenge
Posted on November 10, 2020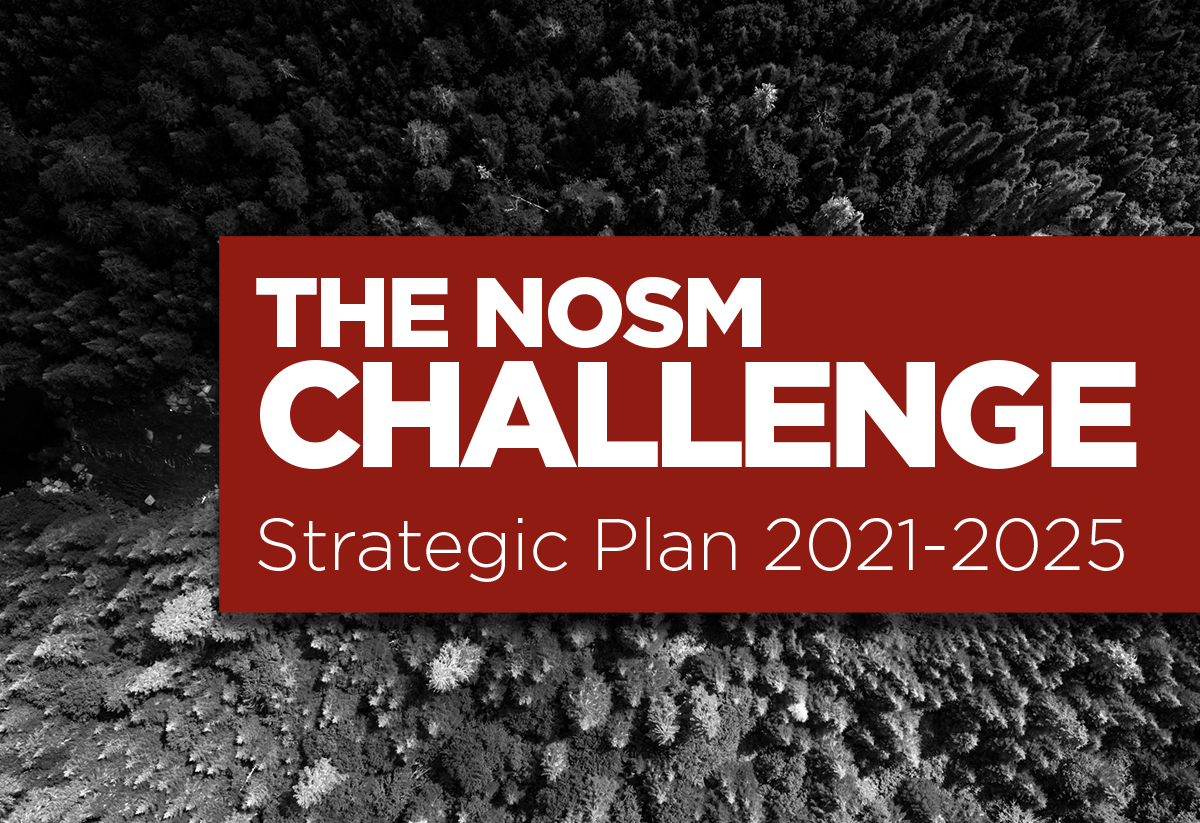 The Northern Ontario School of Medicine (NOSM) today launched its 2021-2025 strategic plan titled The NOSM Challenge. The five-year plan sets out the School's goals, aspirations and outcomes by 2025.
Dr. Sarita Verma, NOSM Dean, President and CEO, says, "The Challenge theme reflects the need to challenge ourselves, our communities, our ideas, and our commitment to social accountability in order to drive change and improve access to quality health care in Northern Ontario."
With an updated mission statement "to improve the health of Northern Ontarians by being socially accountable in its education and research programs and by advocating for health equity", NOSM's new plan identifies four strategic directions:
1. Transform Health Human Resource Planning
2. Advance Social Accountability
3. Innovate Health Professions Education
4. Strengthen Research Capacity in Northern Ontario
As well, to ensure the successful implementation of its strategy, The NOSM Challenge identifies the following four enablers:
1. Valuing Our People
2. Managing Our Resources
3. Investing in Our Infrastructure
4. Sustaining Our Resilience
"NOSM has achieved many milestones since it officially opened its doors 15 years ago, and we have just begun to garner impact as Canada's newest medical school," says Dr. Verma. "It's time to build on our past and pivot for the future in health professions and medical education." We must train the physicians of the future so they can work in an increasingly uncertain and volatile world."
In this ambitious plan, NOSM has identified the need to promote innovation, discovery, and academic and clinical excellence while building a culture of diversity, inclusion, integrity, and empowerment.
"NOSM has built a solid foundation upon which it will grow over the next five years," says Dr. Robert Haché, Chair of NOSM's Board of Directors. "Much of the work has already started and we look forward to seeing important developments as we continue to work with our community partners across Northern Ontario."
The NOSM Challenge is the third strategic plan in the School's short history and is grounded in input from nearly 2,000 stakeholders including learners, faculty, staff, alumni, NOSM's Francophone Reference Group and Indigenous Reference Group, health sector partners, as well as community members from across Northern Ontario.
The plan was unanimously approved by the NOSM Board of Directors at its September 30, 2020 meeting.
To inform and engage communities, the School is launching the NOSM Trivia Challenge. Participants will have the chance to play to win $1,000 as well as play for a $10,000 donation to a Northern Ontario hospital or local health-care centre.  This contest is sponsored by TD Insurance.
To test your knowledge about Northern Ontario and NOSM—and a chance to win—visit: thenosmchallenge.ca. The contest begins on November 10, 2020 at 10:00 a.m. EST and closes January 12, 2021 at 11:59 p.m. EST.
– 30 –
The Northern Ontario School of Medicine (NOSM) is an award-winning socially accountable medical school renowned for its innovative model of distributed, community-engaged education and research. With a focus on diversity, inclusion, and advocacy for health equity, NOSM relies on the commitment and expertise of the peoples and communities of Northern Ontario to educate health-care professionals to practise in Indigenous, Francophone, rural, remote and underserved communities.
For further information, please contact:
Kim Latimer
Communications
Northern Ontario School of Medicine
Cell: 807-621-4303
Email: klatimer@nosm.ca