Get ready for the future. It starts here.
Get ready for the future. It starts here.
Posted on November 15, 2022
Today is National Philanthropy Day. It's a day dedicated to celebrating you and the many generous philanthropic contributions that have been made by NOSM University donors, faculty, learners, staff, and volunteers.
'Philanthrōpos' is a Greek word that means love of humankind. That love brings people together and has the power to unite groups, inspiring improvements based on social accountability.
In many ways, this is NOSM University's aspiration for the future.
Support for us, and our learners, staff and faculty, has come in all forms, from the many people and communities who have embraced NOSM University learners, to those who advocate for improved health services in the region and the thousands of donors and philanthropists who have placed their trust in NOSM University. Thank you to everyone.
Philanthropic investments have a powerful effect on the performance of your medical university. You've not only helped NOSM University educate future health professionals, but you've also positioned us to continuously outperform in delivering our strategic plan, The NOSM University Challenge.
A big part of this plan is to raise funds for student financial aid, starting with the landmark donation by FDC Corporation of $10 million. This generous donation is utterly transformational. Because it is a matching gift, every dollar has the potential to make two, and that means—with some more fundraising—NOSM University could ultimately have $20 million towards student financial aid.
I cannot overstate the impact: with this gift, we are well on our way to a $50 million Student Endowment Fund. This will make a significant difference in our students' lives. Covering as much of their tuition as possible will incentivize those same students to follow their passion for health care at NOSM University, and then perhaps, to follow their hearts back home to practise.
Raising funds for student bursaries is our priority. As one student recently shared with me, without these bursaries, medical school would be completely out of reach for her.
Our students graduate with nearly twice the debt of students at other medical schools in Canada. It's not because we're more expensive: it's because we recruit from the North, for the North, and typically, people in the region don't have access to the same financial and social means as students in the south.
NOSM University has a plan. We need your help.
We need to lighten the tuition load for our students, and even the playing field for Northern learners. Contributing to this fund will tell 800,000 Northern Ontarians that their health matters by:
Championing Indigenous and Francophone health equity;
Backing future health-care workers who are more likely to stay in the North;
Investing in a lean and fiscally accountable non-profit university;
Establishing an endowment that will benefit students in perpetuity;
Supporting a world-class medical and research university; and,
Leading in equity and diversity for people working toward health justice for Northern Ontario.
No matter where you live, you deserve the dignity of equitable access to culturally competent health care from someone who understands your unique circumstances. That includes people who live in the North.
Thank you for your support and for making it clear that we are a world-class medical university deserving of investment, growth, and a thriving future.
Together, we will raise the first $50 million for NOSM University's Student Endowment Fund.
I hope we can count you in. We are on the cusp of making some amazing announcements. We will be revealing our new Board of Governors and our inaugural Chancellor on November 24, 2022. To join us for this historic moment, we will be livestreaming the announcement on YouTube. Meanwhile, we are also running important elections for our first NOSM University Senate.
We are making history and headed for a momentous future as a new university.
Miigwetch, thank you, marsi, merci,
Dr. Sarita Verma
President, Vice Chancellor, Dean and CEO
NOSM University
If you have any feedback or comments, please reach out at president@nosm.caand follow me on Twitter @ddsv3.
---
You're Invited
Ms. Joy Warkentin, Chair, Board of Governors and Dr. Sarita Verma President, Vice-Chancellor, Dean and CEO
invite you to attend a special event. Join us as we introduce NOSM University's inaugural
Board and announce our first Chancellor.
Thursday, November 24, 2022
1:00 p.m. – 2:00 p.m.
Please join virtually via our 
YouTube
 livestream.
---
Committee on Climate Change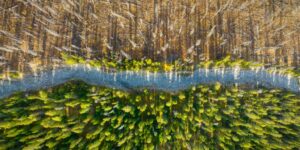 Dr. Elaine Blacklock is the new Chair of the NOSM University Action Committee on Climate Change (NACCC). Dr. Blacklock, who began in this role on September 13, 2022, is a paediatrician and science writer, actively involved with educating medical learners about the climate-health emergency. She's a regular columnist with The Sudbury Star and is currently writing a book about climate change from the perspective of human health. Under her leadership, NOSM University will become an institutional Member of the Global Consortium on Climate and Health Education. In May 2022, NOSM University launched the $10K Social Accountability Challenge. Hosted by the Centre for Social Accountability in partnership with the NACCC, the awards aimed to support projects in Northern Ontario responding to climate change, social determinants of health, and building community and youth resilience. NOSM University is now developing principles and low-carbon strategies that are simple, inclusive, self-guided, open, and transparent remembering that 'the greenest mile is the mile not travelled.'