Mr. Joey McColeman named NOSM University's new Senior Director of Postgraduate Medical Education
Mr. Joey McColeman named NOSM University's new Senior Director of Postgraduate Medical Education
Posted on September 14, 2022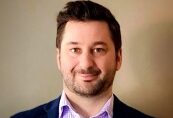 NOSM University is pleased to announce Mr. Joey McColeman as the incoming Senior Director of Postgraduate Medical Education (PGME), effective September 6, 2022. Joey has been a part of NOSM University since its inception in 2005. He has spent the last two years as the Director of NOSM University's Continuing Education and Professional Development (CEPD) unit and will continue supporting the team through this transition.
Prior to his role with CEPD, Joey served as Education Manager in PGME, and took on the rotating role of Acting Director for PGME. His tenure at NOSM University has provided him with experience in change management, focusing on foundational re-development of adult learning principles and approaches within residency training; structural repositioning of how health care is delivered and supported regionally, provincially, and nationally; and adapting leadership style and strategies to align with industry and evidence-based best practices. He has demonstrated his leadership skills with focus on quality improvement and faculty engagement which is evident in the continued growth of the respective residency programs and increased number of faculty and site participation.
Joey is an advocate for lifelong learning. He completed his Executive Master of Business Administration (MBA) in 2020 and was previously Chair of NOSM University's Management Group. He completed the University of Toronto's Leading and Influencing Change in CPD course, as well as the San'yas Indigenous Cultural Safety training course en route to leading a co-developed NOSM University cultural training program.
With his commitment to, and understanding of, learning in Northern Ontario, Joey is warmly welcomed to his new role!
On behalf of NOSM University, we extend our thanks to Ms. Jennifer Fawcett, outgoing Senior Director, who will remain in a supportive role during this transition until September 16, 2022. Jennifer's commitment to the residents, dedication to NOSM University, and major contributions to advancing the profession are sincerely appreciated.