$1 million CIHR grant supports University-City Partnerships
$1 million CIHR grant supports University-City Partnerships
Posted on May 31, 2022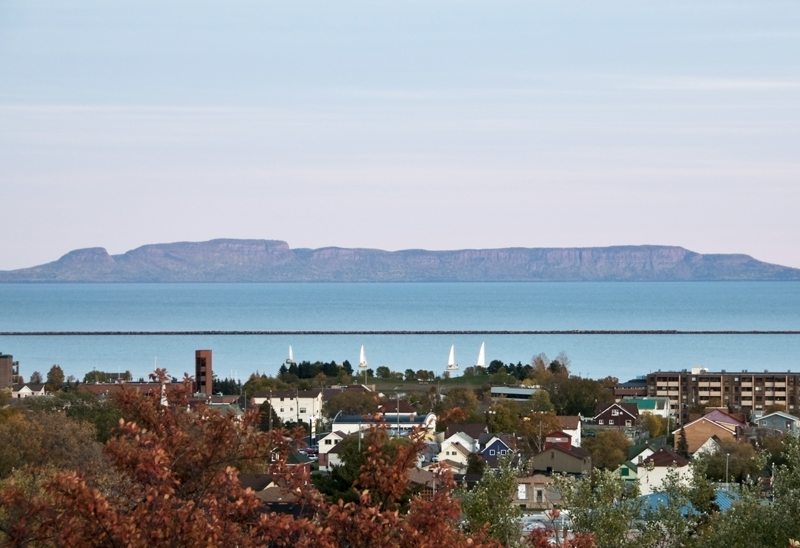 A $1 million grant from the Canadian Institutes of Health Research (CIHR) aims to improve local health outcomes for residents of Thunder Bay and Ottawa through partnership between academic researchers, universities, and municipalities.
NOSM University, City of Thunder Bay, and Lakehead University are collaborating with the University of Ottawa and the City of Ottawa, to address locally identified health and safety priorities. Recognized globally, the CityStudio framework of city-campus collaboration encourages post-secondary students to be agents of change for social accountability in their communities.
"CityStudio is internationally recognized for helping municipalities and academic institutions collaborate to create bridges across municipal government, academic institutions and the community in a concerted effort to address the unique challenges they face," says Dr. Erin Cameron, Director of the Centre for Social Accountability at NOSM University and a Principal Investigator on the grant.
In collaboration with a team out of the University of Ottawa, led by Dr. Claire Kendall, Associate Dean of Social Accountability in the Faculty of Medicine and senior investigator at the Bruyère Research Institute, the project engages two municipalities, Ottawa and Thunder Bay, and a team of researchers who will use the CIHR funding to evaluate the impact of city-campus engagement on population health.
"One of the challenges in researching community engagement is that it's a very complex phenomenon," says Dr. Kendall. "Not only does it involve many different stakeholders, it also has components that interact and create feedback loops. Untangling all of these different aspects to see what's actually going on is a lengthy, and frankly, quite difficult process, which is why it hasn't been done before."
Thunder Bay will receive $370K over four years to implement the project, which includes the hiring of a research coordinator. The funding will also evaluate the reciprocal relationship between cities and academic institutions and their ability to improve population health outcomes.
"We are thrilled that CIHR recognises this as an opportunity to connect communities with the academic research of universities. It aligns with NOSM University's social accountability mandate to address the priority health concerns of communities and advocate for community engagement that is grounded in co-creation," says Dr. Cameron.
"The Thunder Bay community, through the Community Safety & Well-Being Plan, has identified priorities related to safety and well-being. This project will help harness university resources to implement projects aimed at addressing these priorities, and deepen understanding at the municipal level , to make Thunder Bay a safer, healthier and more equitable community," says Lee-Ann Chevrette, Community Safety and Well-Being Specialist at the City of Thunder Bay.
"This project brings together education, research, and community," says Dr. Cameron, "and brings together an amazing team of researchers from Thunder Bay, including Dr. Helle Moeller and Dr. Rebecca Schiff from Lakehead University." The CityStudio framework will be implemented and studied for three years while Thunder Bay and Ottawa identify their respective successes, challenges, and unique differences.
Thunder Bay and Ottawa share many challenges and factors closely linked to the social determinants of health in the areas of poverty, education, housing, racism, childhood experiences, and access to health services.
"Throughout the development of the Community Safety and Well-Being Plan for Thunder Bay, we engaged with community partners and citizens to identify local priorities that, if addressed, would have the greatest impacts on improving safety and well-being for those living in Thunder Bay," said Chevrette. "This grant will help determine how to most effectively engage our community and implement our plan."
– 30 –
NOSM University is Canada's first independent medical university and one of the greatest education and physician workforce strategy success stories of Northern Ontario. More than just a medical university, it was purpose built to address the health needs of the region. While advocating for equitable access to care, the university contributes to the economic development of Northern Ontario. NOSM University relies on the commitment and expertise of the peoples of Northern Ontario to educate health-care professionals to practise in Indigenous, Francophone, rural, remote and underserved communities. With a focus on diversity, inclusion and advocacy, NOSM University is an award-winning, socially accountable organization renowned for its innovative model of distributed, community-engaged education and research.
The City of Thunder Bay is the largest community in northwestern Ontario, located on the shore of Lake Superior. The city is situated on the traditional territory of Fort William First Nation, a signatory to the Robinson Superior Treaty of 1850. With a population of approximately 110,000 people, the city acts as a hub for northwestern Ontario.
Lakehead University is a fully comprehensive university with approximately 9,700 full-time equivalent students and over 2,000 faculty and staff at two campuses in Orillia and Thunder Bay, Ontario. Lakehead has nine faculties, including Business Administration, Education, Engineering, Graduate Studies, Health & Behavioural Sciences, Law, Natural Resources Management, Science & Environmental Studies, and Social Sciences & Humanities. Lakehead University's achievements have been recognized nationally and internationally, including being ranked, once again, among Canada's Top 10 primarily undergraduate universities in Maclean's 2021 University Rankings; as well as included in the top half of Times Higher Education's 2022 World Universities Rankings for the third consecutive year, and the number one university in the world with fewer than 10,000 students in THE's 2022 Impact Rankings (which assesses institutions against the United Nations' 17 Sustainable Development Goals). Visit www.lakeheadu.ca.
CityStudio is a proven model of experiential learning and civic engagement that works by harnessing university resources, such as faculty expertise and student hours, to work on community-oriented projects identified by the municipality. CityStudio has been implemented successfully in 15 cities worldwide to date.
For Media requests please contact: communication@nosm.ca
For further information about the City Studio Model, please contact:
Dr. Erin Cameron, PhD.
Director, Centre for Social Accountability
NOSM University
Office: 807-766-7451
Cell: 807-631-1682
Email: ercameron@nosm.ca
Lee-Ann Chevrette
Community Safety & Well-Being Specialist
City of Thunder Bay
Phone: 807-631-4422
Email: lee-ann.chevrette@thunderbay.ca