Accomplishment in the height of the pandemic
Accomplishment in the height of the pandemic
Posted on June 2, 2021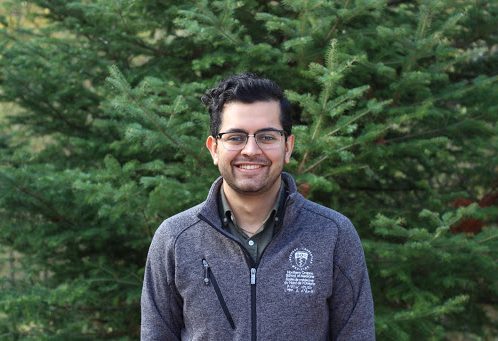 Dr. Jai Mashru is quietly celebrating a huge milestone. A graduate of NOSM's MD Class of 2021, Jai feels a great sense of accomplishment to graduate during one of the most challenging years of his medical education, a year which he also says was the most rewarding.
"I plan to give back to the community and give back to future learners in Northern Ontario. This is something that I want to do," says Jai, who is the valedictorian of his class in Sudbury and the former president of the NOSM student council. Raised in Dryden, and having lived in Sudbury and Parry Sound, Jai says being matched to an internal medicine residency in Toronto and moving to an urban environment is another opportunity to grow before he realises his final goal which is to return to the North where he hopes to establish his own practice.
"Being at NOSM has instilled in me and my classmates the idea of being socially accountable in the work we do. That may be one of the biggest things I take away from my time at NOSM. So many have helped me along the way, and giving back is important to me. Continuing with mentorship and other initiatives is definitely something that I want to continue moving forward."
Completing his final year of medical school during the COVID-19 pandemic meant being physically distanced from friends and family. Jai and his classmates found themselves challenged with changes to the normal MD program. Instead of experiencing a full rotation of electives offered across Canada, they were faced with uncertainties, more online instruction and rapid changes. Learning to adapt quickly is perhaps the greatest skill set this class will bring to their future residencies and practices.
"I feel a sense of accomplishment to have persevered. Moving to a new city, applying new skills, and making new connections—it's something that I accomplished really well," he says. "Forging new relationships and building everlasting connections with my classmates is something that will last."
Jai says the community rotations he was able to experience had a lasting impact. Working with patients and preceptors in communities in the North helped him overcome feelings of imposter syndrome, helping him develop his resilience.
"It's incredibly satisfying to reflect back on all of the work I've put in over the last four years, and it's so much more than clinical knowledge and medical knowledge, there's all the advocacy and different initiatives that have kept us all very busy," says Jai. "This year really gave me the sense that I'm making a difference and that I belong. It's gratifying."