Keep a positive outlook and look for silver linings.
Keep a positive outlook and look for silver linings.
Posted on October 20, 2020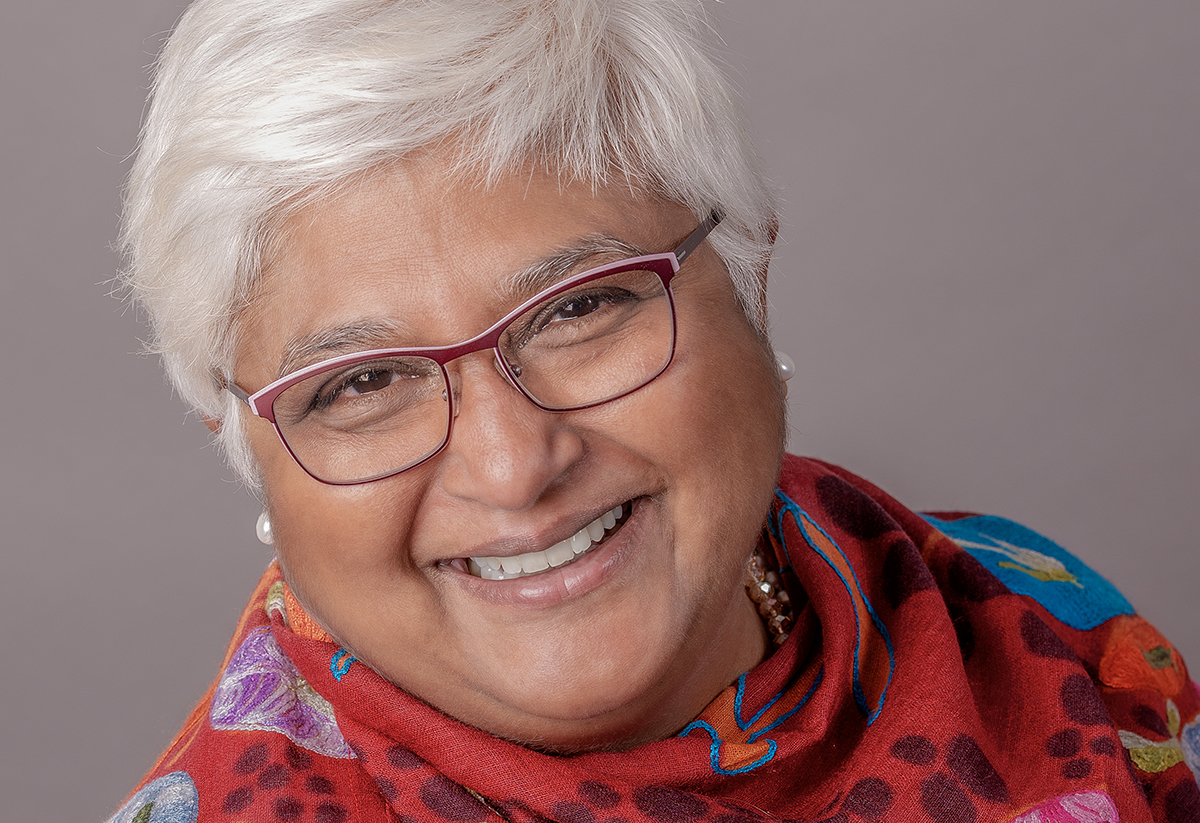 Hello, Aanin, Boozhoo, Bonjour!
The sun is setting much earlier here in Northern Ontario. The tamaracks are now ablaze in gold and with the second wave of the pandemic upon us, what keeps you up at night?
Here's what's on my mind and what keeps me, as your Dean, up at night.
1. Getting through an unpredictable and volatile pandemic.
COVID-19 has caused many Canadians to change their everyday lives to help "flatten the curve" and avoid a spike in cases that would overwhelm our health services. For some of you, that will mean you must self-isolate for two weeks, for others, it will mean that you are now working from home for the foreseeable future. For family and friends, it could be the prospect of job losses.
We, at NOSM have been really lucky to be able to be flexible and to keep the School going, however it comes at a compromise as we all cope with lengthier time apart and a pandemic that will last well into winter.
These are all difficult situations, and everyone has their own response to stress. This is a good time to remember, however, that you have resiliency skills and you can cope. Remind yourself of the core components of staying healthy to help manage your stress and help others.
Keep in mind that we are all consuming a constant stream of information and news every day. The sheer amount of information can be overwhelming; every news channel and website is filled with data on the number of cases, number of deaths, number of ICU admissions, and number of government restrictions and guidelines. It's a lot to process. It's healthy to set personal limits on how much news you consume.
Then factor in all of the everyday physical distancing and stay-at-home orders that can feel isolating and sometimes overwhelming. Fortunately, an incredible number of resources have been made available to help us during this crisis, such as virtual counseling services, free online workouts, ideas for new hobbies to take up, or options for holding virtual gatherings. The current limitations have also given us the opportunity to cherish connections with our family and friends. Take advantage of these resources.
I am also immensely proud of my colleagues and other health-care workers who exemplify resilience. They go to work, day in and day out, to keep us all safe despite being presented with unknown challenges. Our staff, faculty and administrators have kept up the regular work plus the additional workload of a pandemic and you have been tolerant and kind.
Our students have adapted, persevered, and shown incredible grit. I am proud of you for your incredible patience as you pivot into a new reality.
2. The UME accreditation visit. 
The Undergraduate Medical Education (UME) team led by Dr. Brian Ross, John Friesen and assisted by Cathy Powell, have diligently been working on our upcoming virtual accreditation visit by the Committee on Accreditation of Canadian Medical Schools (CACMS) and the Liaison Committee on Medical Education (LCME).
MD program accreditation has been compared to preparing for an invasive inspection. The parallels are rather striking:
Both require a tedious and attentive preparation.
Both require exposure of areas that might not be obvious.
There is always some factor of trepidation.
It can be unpredictable, complex and offer opportunities for significant CQI.
With a successful inspection, typically one emerges with a sense of great relief. That relief, in part, is simply related to having completed the process but that's also when the hard work begins—in responding to areas on non-compliance (which I hope will be only a few).
Our accreditation visit—the first ever virtual visit in Canada—is six days away. The virtual part is an experiment and is a new stressor for all concerned. We have put our best, and most honest, foot forward and we are hoping for the best outcome.
We are blessed with many dedicated and talented teachers, knowledgeable and committed faculty leaders in all key portfolios, committed and hardworking undergraduate administrative and educational support teams, and a receptive and engaged student body.
Since the 2012 Site Visit, NOSM has put significant efforts into the continuous quality improvement of its MD program with a focus on the integration of social accountability in admissions and curriculum; building processes, policies and procedures to enhance the clinical learning experiences in the Comprehensive Community Clerkship and the Academic Health Sciences Centres; the development of its Faculty Affairs Unit and continuing medical education; enhancing student support services; the expansion of Postgraduate Medical Education  programs, and the establishment of a research office.
Thank you to everyone who has done this critical work. Together, we will learn whether we are on the right track. This visit has required an enormous amount of time, preparation and commitment from the accreditation team, the MD program faculty and staff, and countless others across the School.
Other things that keep me up at night are legal issues, financial constraints and managing conflict…so I have turned to watching old chestnuts to induce sleep.
3. "Let me tell you a story. Picture it, Sicily…" – Sophia
And what a story NOSM has to tell. Navigating and steering the institutional portfolio can be pretty overwhelming, especially with no vacation in sight. I find personal ways to get past all the day's challenges. Lately, that includes watching reruns of The Golden Girls. It premiered 35 years ago, and to my delight, is now streaming on Netflix and Amazon Prime. It was my mother's favourite show. Watching it makes me feel like she is nearby again and that is comforting.
The show ran for seven seasons and I remember each week, tuning in to laugh along with the four female friends of a certain vintage as they shared their home and their lives together. Over the course of the show, the friends navigated life, love, aging, and endured endless stories about Sophia's life back in Sicily, Rose's childhood in St. Olaf, Blanche's many, many suitors, and Dorothy's zingers. Watching the Golden Girls as they get caught up in the most absurd shenanigans is a treat for a viewer of any age. And it offers a pleasant promise that life does get better with age. As Sophia says, "No matter how bad things get, remember these sage words: You're old, you sag, get over it."
The show is a reminder to find comfort in shared experiences, cherish the support from one another, decompress, and enjoy a good dose of humour. These things help me sleep a little easier.
There is no video today—in fact we will be reducing the number of vlogs to focus on special areas in the future. Meanwhile, enjoy some episodes of The Golden Girls!
---
Save the Date
Dr. Sarita Verma, Dean, President and CEO of the Northern Ontario School of Medicine, and the Board of Directors invite you to join in a Challenge like no other.

When: Tuesday, November 10, 2020 at 9:00 a.m.
What: Launch of NOSM's new Strategic Plan
Where: Online. Invitation to follow.
---
---

Mark your calendars for upcoming Health Sciences Webinars
Virtual Healthcare – Tools for Enhancing Your Practice to Support Patient-Centered Culturally Sensitive Health CareDate: Wednesday, October 21, 2020
Time: 6:00 p.m. – 7:00 p.m. Eastern
Speakers:
Lynne Kinuthia – Engagement Lead, OTN
Brittany Hannah – Provincial Lead, French Language Services, OTN
Rebecca Swick – Indigenous Communities Lead, OTN
Tentative schedule:
November 11, 2020 – Indigenous Traditional Perspective on Pain Management
November 25, 2020 – Out of the Comfort Zone: Giving the Traditional Student Placement a Virtual Makeover
December 16, 2020 – Francophone Health