Hurricanes, wildfires and the Opioid crisis: How one NOSM Resident won a national award for social accountability
Hurricanes, wildfires and the Opioid crisis: How one NOSM Resident won a national award for social accountability
Posted on September 23, 2019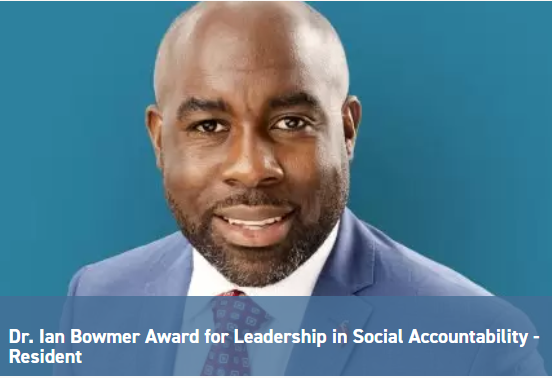 Dr. Lloyd Douglas was involved in public health before he was even old enough to realize it.
"In Jamaica—when I was just a teenager—when a hurricane came my way I was the guy running around bringing people out of the way."
What started as volunteer work, became real public health experience. At a young age, Dr. Douglas was assisting with emergency planning and response to Jamaica's hurricane season. The experience would lead him onto his path of becoming a doctor.
"That passion was always inside of me and I've always really wanted to help."
Fast forward to April 2019,and Dr. Douglas was the only medical resident in Canada to receive the Dr. Ian Bowman Award for Leadership in Social Accountability, presented on behalf of the Medical Council of Canada—an honour he earned along the way.
Dr. Douglas is an international medical graduate from Jamaica. In 2010, he immigrated to Ottawa with his wife and two young children. The plan was for Dr. Douglas to do his medical residency in Canada. He says he almost gave up trying to get into a program when a personal mentor convinced him to apply to the Northern Ontario School of Medicine; a School designed with the intent to help the underserviced North.
"I realized I could help fill the gaps in the North, so I came to NOSM and to the North with the clear intention to work with First Nation communities," he says. "I completed my residency in 2014, and I've postponed my last one-month residency rotation with NOSM's permission so that I can help with the wildfire evacuees right now."
And in this spirit, Douglas continues to work out of Sioux Lookout. When he first became a resident at NOSM, he specifically requested to go to Sioux Lookout to complete his rural placement. The community is located nearly 400 kilometers northwest of Thunder Bay and is considered a hub to the far North. Sioux Lookout services up to 33 First Nations communities. Nine years after coming to Canada, Dr. Douglas now calls Sioux Lookout—and Canada—home and says he intends to stay.
"When we moved to Sioux Lookout I called the Meno Ya Win Health Centre, and within a 24-hour period they told me they needed me there. My wife is a nurse and she was offered a temporary part-time job, there so she took it. There was no job security in coming to the North, but I would've come even if it was only to volunteer," Dr. Douglas recalls.
"I want to go where I'm needed," he says. "It's not about me; it's about being part of the solution to re-empower Indigenous communities. I only play a supporting role," Dr. Douglas explains metaphorically, "I hold the mic while they speak."
And Dr. Douglas has been playing that supporting role since childhood. He says his personal passion for helping people developed when he witnessed his grandfather recover from severe alcohol use, and his father from a gambling addiction. He credits his volunteer work with the church in Jamaica for instilling his dedication to public health.
The experience has led to his work today, helping address the regional opioid crisis. He was the first physician in the region to use the depot-naltrexone for severe alcohol use disorder through Health Canada's Special Access to Drugs and Health Products program.
In Cat Lake First Nation and Bearskin Lake First Nation, Dr. Douglas developed working relationships with Chiefs, Councils, and health directors, at their request to help make the case for a treatment centre, and find agency sponsorships for diabetes workshops.  He also worked with the nursing staff at the Meno Ya Win Health Centre's Outpatient Withdrawl Service to reinitiate an addictions medicine physician service that had previously lost dedicated physician support,  including offering naloxone treatments for substance use disorders for remote Indigenous communities and in Sioux Lookout.
Dr. Douglas has made personal connections to the community, and he affectionately refers to his friends and neighbours as his "Indigenous brothers and sisters" He says his Jamaican faith also offers a unique connection to the community. "I, too, believe in the creator and the higher power, and I don't believe I'm here by chance. I believe there's a reason as to why I ended up here."
He encourages others, including medical students, to think about how they too, can contribute to purposeful, meaningful change.
"I'd like to see people think outside of the box and get out there. It's all about relationship building, decolonization, re-empowering people, reconciliation, and listening to people in a meaningful way. The only way it's going to work is when medical residents come and spend time in communities and takes time to listen to the people. We really need to get out there and get involved, and move away from the individual-ness of it all. Let it be about helping and lifting up someone else."
About the Dr. Ian Bowmer Award for Leadership in Social Accountability
This national award is presented by the Medical Council of Canada. It is awarded to only one medical student and one resident in Canada who have demonstrated leadership in social accountability within the schools of medicine in Canada. The focus is on leaders who have conceived new approaches and inspired teams to respond to a community or population need by consultatively and collaboratively developing a relevant approach and vision in partnership with communities.
Dr. Douglas is a post-graduate fifth-year medical resident in the School's Public Health and Preventive Medicine (PHPM) Program who demonstrates an ongoing commitment to social accountability and the underserviced populations of Northern Ontario. Specifically, he has helped improve access to care for Indigenous peoples from his home-base in Sioux Lookout.