Dr. Elaine Hogard, NOSM Faculty Member,
Publishes Book on Quality Assurance in
University Teaching
Dr. Elaine Hogard, NOSM Faculty Member,
Publishes Book on Quality Assurance in
University Teaching
Posted on October 11, 2018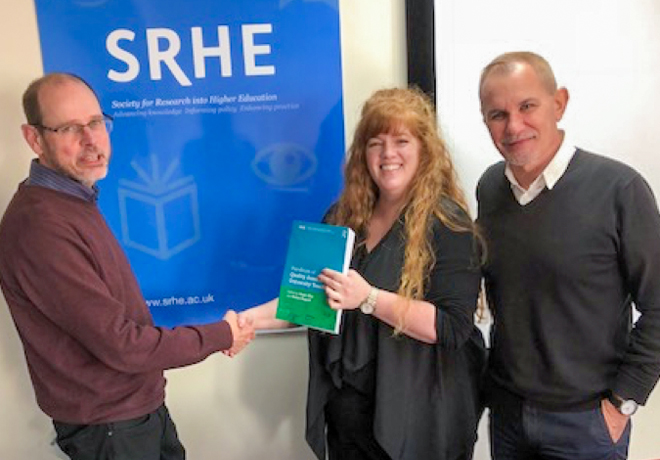 Dr. Elaine Hogard, Professor of Program Evaluation in the Human Sciences Division and Director of UME Assessment at the Northern Ontario School of Medicine, was presented with a copy of Handbook of Quality Assurance for University Teaching by the Society for Research in Higher Education (SRHE) while at the book's launch last week in London, England. The book was presented by Senior Officers of the SRHE, Rob Gresham and Franco Carta. The launch was attended by contributors and leading figures in Higher Education.
Handbook of Quality Assurance for University Teaching, an anticipated international bestseller, is published jointly by Routledge and the SRHE and is comprised of thirty-six chapters written by distinguished contributors from North America, Australia, Europe, and the United Kingdom.  It is organised into four sections, including: "What is Quality Assurance?"; "What is Effective Teaching?"; "How can Effective Teaching be Developed?"; and "Case Studies of Quality Assurance" in subjects including Medicine.
In addition to contributing three chapters to the book– including one on Medical Education and its Accreditation in the UK, Australia, Canada, and the U.S.A.– Dr. Hogard co-edited the book along with Professor Roger Ellis from the U.K.
Find out more about this authoritative and comprehensive text.