Dr. Sandra Cameron
appointed as Program Director
Dr. Sandra Cameron
appointed as Program Director
Posted on September 24, 2018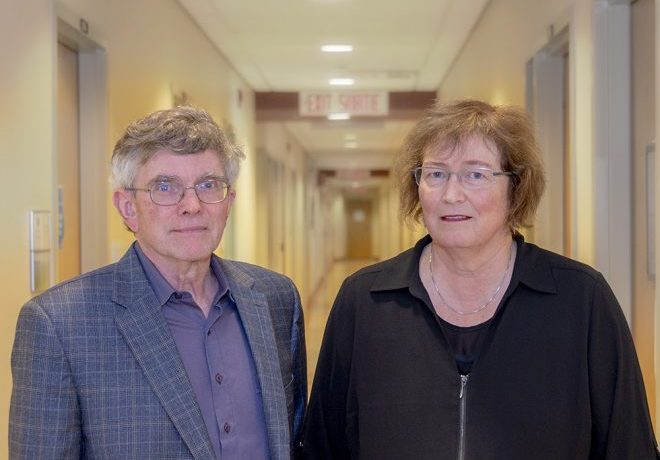 Dr. Sandra Cameron appointed as Program Director for NOSM Internal Medicine Residency Program, taking over for Dr. Kim Tilbe, the School's longest-serving active Program Director
The Northern Ontario School of Medicine (NOSM) is pleased to announce the appointment of Dr. Sandra Cameron as Program Director of the School's Internal Medicine Residency Program, effective September 1, 2018.
Dr. Sandra Cameron moves from her position as the program's Medicine Clinical Teaching Unit Director at Health Sciences North in Sudbury. Dr. Cameron brings a wealth of experience in structuring excellent clinical training opportunities for medical trainees, and has been a member of the Internal Medicine Residency Program Committee leadership since its inception.
NOSM would like to acknowledge the contributions of Dr. Kim Tilbe, the School's longest-serving active program director, having held the position of Program Director of the Internal Medicine Residency Program for the past eight years.
After having started as Regional Director of the University of Ottawa's Northern Stream program based in Northern Ontario, he took on the Program Director role for NOSM's own residency program in 2010, leading it to become the School's largest Royal College of Physicians and Surgeons of Canada training program, distributed across multiple Northern Ontario training sites.
"On behalf of the Northern Ontario School of Medicine, I would like to congratulate and thank Dr. Tilbe for all of his contributions to medical residency education, and welcome Dr. Cameron to her new leadership role," said Dr. Tom Crichton, NOSM's interim Associate Dean of Postgraduate Education.
– 30 –
The Northern Ontario School of Medicine
 is committed to the education of high-quality physicians and health professionals, and to international recognition as a leader in distributed, learning-centred, community-engaged education and research.
For media inquiries, please contact:
Kimberley Larkin                        
Communications Officer
Phone: 705-662-7243                  
Email:  
klarkin@nosm.ca