Uncategorized
A season of change and giving
As the fresh snow starts to fall, we get a glimpse of one of the important aspects of the season: change. And big changes have been taking place at NOSM University. Last Thursday was a monumental day. More than 400 individuals joined us in person and online as Ms. Joy Warkentin, incoming Chair, Board of Governors, and I introduced NOSM University's inaugural Chancellor and Board. It is an honour to have Dr. Cindy Blackstock, renowned Indigenous child and family rights activist and member of the Gitxsan, serve as NOSM University's inaugural Chancellor. Dr. Blackstock embodies the values of social justice, respect, and integri...
Read more.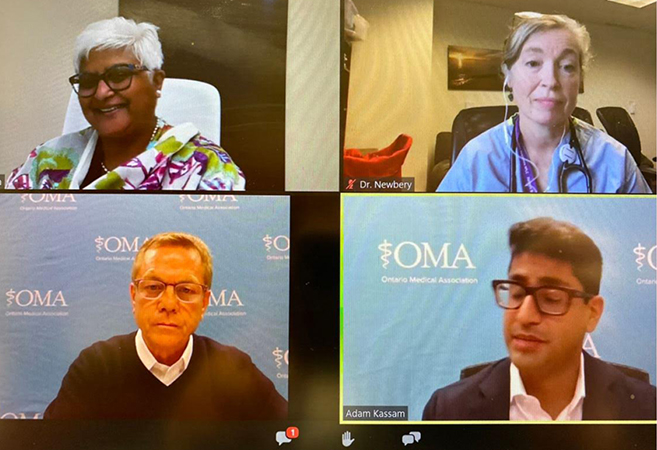 NOSM applauds OMA commitment to Northern Ontario health
The Northern Ontario School of Medicine (NOSM) hosted the Ontario Medical Association (OMA) in Sudbury on October 25, 2021 for the launch of the OMA's northern health-care recommendations called Prescription for Northern Ontario. "This is an unprecedented commitment from the OMA to health care in Northern Ontario," says Dr. Sarita Verma, NOSM Dean, President and CEO. "Our health-care system was fragile before the pandemic, now it is on the brink of a crisis. We are grateful to the OMA for listening to doctors and creating a plan that will assist in advocating and changing the landscape of health care in the North for deca...
Read more
NOSM Seeks Agency Applications for Summer Studentship Program
The Northern Ontario School of Medicine (NOSM) announces today that agencies may apply for funding to have health-care students work at their organization during the summer of 2022. This funding is available through NOSM's Summer Studentship Program, which was established by the Ministry of Health and Long-Term Care to allow a limited number of regulated health-care students an opportunity to gain relevant work experience in their field of study. The Summer Studentship Program provides funding to approved agencies located in Northern Ontario to hire students who were born and/or raised in Northern Ontario. Eligible health-care profe...
Read more