What a difference a year makes
What a difference a year makes
Posted on December 20, 2022
In the early 1950s, my mother moved from India to Cedar Rapids, Iowa with two kids in tow. Then I was born. My memories of Iowa are mostly winter ones. Yes, that's me in the white coat; the baby of the family. Snowfall in Iowa often piled up as high as small apartment buildings. My mother became a hardy Midwesterner, embracing the wildness of the new season she had never encountered in New Delhi. She made it a lot of fun to be a newcomer to America.
She was hard pressed to prepare for her first winter in Iowa and, later, in Ottawa. Because of this, she spent a good part of her later career setting up programs to help new immigrants and refugees for that first onslaught of winter in Canada. Here in Northern Ontario, we make winter preparations much like we did back then. We clean our yards, change to winter tires, and get the right gear to wear for the weather.
Winter, for some, is a time to hunker down indoors and to plan quiet activities. Not so in Northern Ontario. We are looking forward to the bright, crisp winter wonderland of our region, with cross country skiing, skating, and lots of fun. The best part is après outdoor activities, including me firing up my crock pot for soups and casseroles. I stock my shelves with the ingredients to make essential hot toddies during a week-long snowstorm.
And so begins the most spectacular time of the year and the beginning of more new adventures at NOSM University.
At this time last December, we were unsure of our future. Great things have happened since. In March, we received word of a significant expansion of our medical programs and a month later, we were proclaimed NOSM University—the first independent medical University in Canada. By the summer, we were well on our way to restoring new relationships with Laurentian University and Lakehead University, and we are going to continue that work in 2023.
Navigating through the Laurentian University CCAA process occupied much of our leadership energies during that time. I am very pleased to share with you that the endowments funds held in trust at Laurentian University—$14,250,861.68—have been transferred to NOSM University and will support our ongoing award and financial aid program. Solidifying real estate arrangements and re-establishing our research agreements are priorities as we move into 2023.
The transition to NOSM University has been transformative, and I am pleased to say that it has been a seamless experience for our students. We were, at times, uncertain about our long-term financial viability. We managed to partially resolve that concern with support from the government through transition funding and an increase to our base budget, although we need much more to be able to be sustainable. Importantly, our donors are incredible and have continued to support student financial aid.
Thanks to an astounding $10 million gift from the FDC Foundation, every dollar donated to NOSM University has the potential to make two. That means—with some more fundraising—we could ultimately have $20 million towards student financial aid. We are planning to garner $50 million for this cause by next year. Learn more about The Future Will See You Now at future.nosm.ca.
What a difference a year makes. It has been exciting and inspiring.
Of course, no December blog by me would be complete without writing about holiday movies. My secret guilty pleasure is watching movies on the Hallmark Channel; goopy, cheesy and often romance novel-type cookie cutter movies that are great for a lazy Sunday during the deep winter.
Did you know that many of these movies are actually filmed in Northern Ontario? I recently read that fifteen holiday pictures have been shot in and around North Bay in the past two years. Other favoured sites are Huntsville, Bracebridge and Parry Sound. I wonder if any NOSM University faculty or students made cameo appearances?
I have had the pleasure of being in some of these lovely spots and I have to admit, every small town has a "Christmas shoppe" or "North Pole/Santa boutiques" with handmade local tree décor, ornaments, kitschy lights, homemade fudge and knick knacks. I love it. I get swept away buying chachkas every year with a collection of reindeer and glitchy dinner napkins galore.
Enjoy the holidays. Come back safe, healthy and rested. 2023 is going to be a fantastic year!
Miigwetch, thank you, marsi, merci,
Dr. Sarita Verma
President, Vice Chancellor, Dean and CEO
NOSM University
If you have any feedback or comments, please reach out at president@nosm.caand follow me on Twitter @ddsv3.
---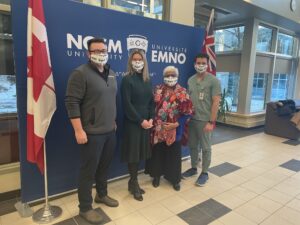 Visit by Minister of Colleges and Universities Jill Dunlop
We were pleased to host The Honourable Jill Dunlop, Minister of Colleges and Universities and Liz Tuomi, Communications Advisor and Press Secretary, on December 12, 2022 in Sudbury. Important discussions about the future of NOSM University and meetings with our students went very well. The continued support of the provincial government is critical to our success. Thank you to the Minister for coming to see us.
---
President's Lecture Series
Join us January 18 from 6:00 – 9:00 p.m. EST. for the President's Lecture Series about Choosing Wisely: Demystifying the Residency Match. From a program director, resident, and student perspective, medical students will get an overview of the CaRMS match and discuss the challenges with career choice and what supports are available. Please keep an eye on your email or NOSM University's social media for connection details.
---
Extension of Dr. James Goertzen as Associate Dean CEPD
I am delighted to announce that Dr. James Goertzen has extended his term as Associate Dean, Continuing Education and Professional Development until June 30, 2023. A search for his successor will be underway in January 2023. Please join me in thanking Dr. Goertzen for his continued dedication and service to NOSM University.
---
In Memoriam

It is with greatest sadness that we learned of the passing of three NOSM University community members who will be dearly missed.
Dr. Hermann Falter, an inaugural Board member and long standing faculty member, passed away on Sunday, November 27, at home, surrounded by his family.
Nancy Jacko, a Board of Governors member, passed away on November 30. Nancy was an important and vibrant member of our Board since 2016.
On December 1, Dr. Richard Morin, a NOSM alumnus, passed away. Dr. Morin completed his family practice anesthesia residency training at NOSM University.
Our thoughts are with the Falter, Jacko and Morin families.
---
Travel Health Pledge
In January, we will be approving a Travel Health Pledge to encourage conscientious travel arrangements within the University and to promote a work culture of sustainable practices that align with reducing our carbon footprint. This Pledge will allow the principles and tools of sustainability to be woven into travel and event approval processes at NOSM University.