Summer, sunshine, and adventure awaits
Summer, sunshine, and adventure awaits
Posted on July 6, 2022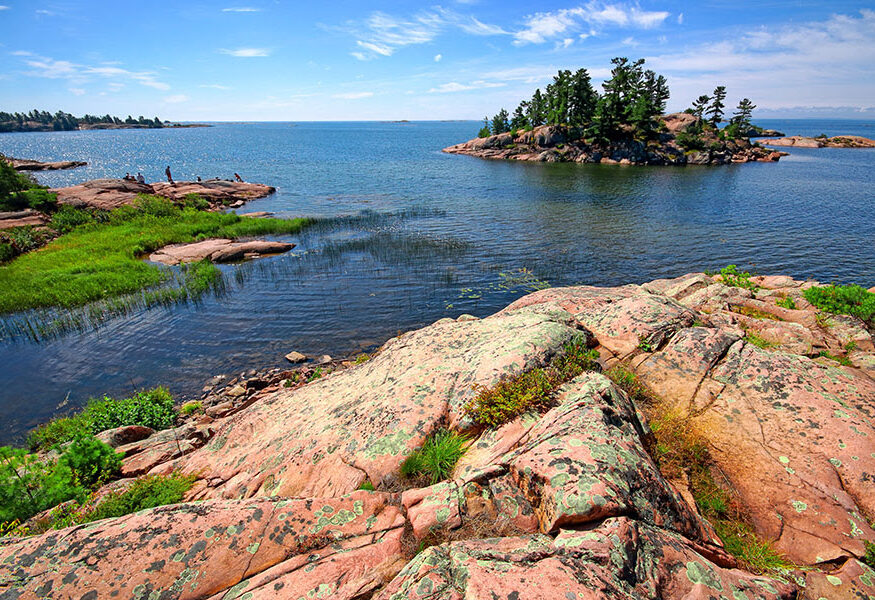 Summer is finally here! So, too, is the sunshine. It has really heated up in Northern Ontario over the past few weeks. After a winter of snow (way too much in Thunder Bay), sleet, the Omicron variant, boosters and tragedies, I am ready for summer and everything that it means to me.
Sunshine on my shoulder, muggy air, rain that sprinkles, long days with evenings that are red and pink, berries that can be picked just behind my office in Sudbury, a bear loping across the parking lot and deer everywhere. And the food! Salad is a totally sufficient meal. Fruit salad or fruity cheesecake (or anything fruity) is the ideal dessert. Of course, there must be a "Wimbledon" or two (strawberries and cream with a refreshing Pimm's Cup).
Best music: Summer Nights by John Travolta and Olivia Newton-John from Grease; Summertime (and the Living is Easy) by Ella Fitzgerald and Louis Armstrong; Under the Boardwalk by The Drifters; Surfin USA by the Beach Boys; Cruel Summer by Bananarama; and, Summer of 69 by Bryan Adams.
Best Barbeque recipes: pineapple and teriyaki grilled shrimp on skewers. Tandoori chicken or beef kebabs (tofu or tempeh work, too). My sister's watermelon, feta and mint salad—and a massive platter of grilled veggies (zucchini, peppers, portobello mushrooms, eggplant, onions and asparagus), all served with Sangria, with or without the wine.
No shoes required. Painted toenails. Beer on a patio. Fireworks, picnics, flowers, fresh produce, naps. And my very favourite—fireflies at night.
Although we at NOSM University don't stop in the summer (and as you'll soon learn, for some it is full steam ahead), I love it. Do you enjoy summer? If so, what are your favourite things about it? What unique things do you do to celebrate the season?
Adventure awaits
On June 30, 52 residents completed their training in the Family Medicine, Family Practice Anesthesia, Emergency Medicine, Anesthesiology, General Surgery, Internal Medicine, Orthopedic Surgery, Pediatrics and Psychiatry programs. These residents have now transitioned to independent practice. Congratulations!
Last Friday, July 1, was the first day for new resident doctors in training. We are excited that 68 brand new residents will be off to a wonderful start in their latest adventure. These resident doctors are training in one of 12 different College of Family Physicians Canada (CFPC) and Royal College of Physicians and Surgeons of Canada (RCPSC) programs. Thirty of these new resident doctors recently graduated from the MD program at NOSM University! Welcome!
NOSM University's fully accredited residency programs are among the highest regarded in the country. To our incoming residents, despite the pandemic causing a very unusual end to your MD training, you are entering a noble and wonderful profession at an incredible time. We are so happy to have you here at NOSM University!
Residency is a two-to five-year training program, plus an additional four years after that for subspecialties. At this stage, the journey to becoming a doctor is only at the halfway point. The transition can be both exciting and very stressful—it's a demanding job with long hours, and a new resident needs to be well supported during this time. NOSM University's Learner Support Services and Assistant Dean of Resident Wellness are readily accessible, and wellness strategies are built into all of our programs. Building that support network for you is important to destigmatize asking for help, and to develop resilience among residents.
Later this summer, on July 28, we will celebrate the completion of the Northern Ontario Dietetic Internship Program (NODIP) for 10 new Registered Dietitians. Thank you to the dedicated preceptors and the committed organizations across the North who support their learning. In September, we will welcome 12 new NODIP learners to NOSM University.
And we're already looking forward to the new class of medical students joining us in September. This year, we will have 69 students, 5 of whom are Military Medical Training Program (MMTP) students. Of these new medical students, 26% have self-identified as Francophone and 16% have self-identified as Indigenous. Of the 64 medical students who are not in the MMTP, 91% are from Northern Ontario, 8% are from other rural communities in Canada and 1% are from an urban area in Canada.
I extend my congratulations to those of you joining us at NOSM University, and to NOSM University alumni coming back home to the best training in Canada!
Miigwetch, thank you, marsi, merci,
Dr. Sarita Verma
President, Vice Chancellor, Dean and CEO
NOSM University
If you have any feedback or comments, please reach out at president@nosm.ca and follow me on Twitter @ddsv3.
On Tuesday, July 5, Dr. Sarita Verma welcomed to NOSM University, the Honourable Patty Hajdu, Minister of Indigenous Services and Minister responsible for the Federal Economic Development Agency for Northern Ontario, along with MPs Marc Serré and Viviane Lapointe.
On Friday, July 1, Dr. Sarita Verma was honoured for her commitment to outstanding humanitarian services, accomplishments and leadership in health promotion and medical education by the Sudbury Multicultural Folk Arts Association.
---

Make an impact on Northern Ontario's health-care landscape
Join NOSM University as a Board member
Are you interested in the governance of an amazing, internationally-recognized institution leading higher education, health and research? NOSM University—the first independent medical university in Canada—invites nominations and self-nominations of individuals external to the University to be considered for membership on the Board of Governors.
The Board of Governors of NOSM University champions the importance of exceptional board leadership and believes that our organization needs a strong and effective board to fully realize its potential for the betterment of health care in the North. In addition to the standard roles and responsibilities of a board member, NOSM University board members will be active advocates and ambassadors for the organization who are fully engaged in identifying and securing the financial resources and partnerships necessary to advance our mission. A connection to Northern Ontario is essential.
Applications must be received no later than July 28, 2022, at 4:00 p.m. For information, requirements and commitment, please visit the Board of Governors webpage.
---
Planting Seeds of Change: Growing Social Accountability in Northern Ontario
"Welcome to the inaugural celebration of the Centre for Social Accountability!" An enthusiastic and heartfelt welcome from Dr. Erin Cameron, the Centre's Academic Director, began a landmark event that included stories of success and a look to the promising future. NOSM University's Centre for Social Accountability was officially launched with a celebration event jointly hosted online and in-person in Thunder Bay and Sudbury. In addition to sharing success stories, important partnerships, collaborations and milestones achieved in the first year were highlighted. The event included comments from Dr. Sarita Verma; Dr. David Marsh, Associate Dean, Research, Innovation and International Relations; Dr. Alex Anawati, CFSA Clinical Lead; Dr. Natalie Aubin, Vice-President Social Accountability at Health Sciences North; and, Dr. Joseph LeBlanc, Associate Dean, Equity and Inclusion. To close the event, Dr. Erin Cameron invited all in attendance to visit the Centres
website
and to consider becoming a friend or affiliate of
the Centre
!
---

17th annual Northern Health Research Conference
On June 24, NOSM University hosted the 17th annual Northern Health Research Conference (NHRC). After holding the 16th conference entirely virtual, this year was the first time the NHRC blended in-person and virtual attendance. The 134 registrants (70 in-person and 64 virtual) which included 47 faculty and 42 students, enjoyed a rich program of oral presentations and poster presentations covering a broad range of research impacting the health of people across Northern Ontario. In addition, this was the first time the Master of Medical Sciences students at NOSM U held a workshop in conjunction with NHRC. In an inspiring keynote presentation, Dr. Chi Cheng, a NOSM U faculty member, demonstrated from her own research trajectory, and provided wise lessons for physicians and other health professionals looking to build research as a component of their professional careers. Overall, the conference was a great success providing opportunities for students and faculty across the north to learn from each other and identify opportunities for collaboration in the future.