Our Year of Making History
Our Year of Making History
Posted on May 31, 2022
Bonjour, Aanin, Boozhoo, Tanshi, Kwe Kwe, Hello,
To make history is to do something important that has not been done before and will be remembered for a long time. This year—2022—is the year that we, NOSM University, are making history.
Imaginative. Inventive. Inquisitive. Inspiring. That's what I think of the 58 newly-minted MDs who are graduating this week.
Please join me as we tip our hats to this 14th graduating class. This marks 838 MD grads since 2009.
All of you are about to join your chosen profession, a calling to which you may feel very proud. If you work hard, take good care of yourself and remain humble, yours will be a long and worthwhile career in medicine. You will heal and comfort many people, and you will do good in the world. Congratulations, doctors!
Hold your heads high, class of 2022: you are helpers, you are advocates and you are leaders.
And to you, I must say this: Thank you.
Foremost, thank you for adapting. Many of your educational experiences were shifted and shaped by this pandemic. You dug in and adjusted—like the professionals you are—to off-and-on lockdowns, managing uncertainty and, in our case, being in a health-care profession that has become one of the riskiest and most dangerous in the world.
Thank you for supporting one another.  Our programs are rigorous and demanding, and too much time in isolation proved a harmful thing for many during COVID-19. You found ways to shore each other up, to make bonds and forge friendships. You may not know how you impacted the life of a fellow student, and you may never know. But rest assured, though: you did.
Thank you for your excited ingenuity. Student-led projects like the Cannabis Use by Teens video and the second annual menstrual product drive for Kingfisher Lake First Nation, make us all so proud of your energy and passion for a healthier, more just world.
Thank you for bringing joy to NOSM University and everyone you interacted within Northern Ontario. Some of my happiest moments these last few years have been hearing your laughter and seeing you revel in your learning. As they say: the days can be long, but the years are short. Moments of joy from you punctuated many lives, and made this unprecedented time enjoyable. Many of you worked with me on our astounding initiatives like the anti-racism strategy, the inaugural Dean's Lecture Series, our strategic Plan (The NOSM University Challenge 2025), Operation Remote Immunity and the birth of our new medical university. You are Tweeters and Instagrammers extraordinaire! You are captivating, courageous, compassionate changemakers.
Thank you for leading our University and your learning with compassion. Compassion is the ever-beating heart of this profession. As President Theodore Roosevelt once said, "Nobody cares how much you know, until they know how much you care." That will be true in every aspect of your life. Take it to heart. As you leave the safe confines of the MD program to residency positions and go to the next phase of your education, never stop learning, never stop asking questions, and never forget that medicine is an art as well as a science.
Making History
NOSM University makes history as the first independent medical university in Canada
The spring issue of the President's Report is now available at report.nosm.ca. We celebrate NOSM University's roots by highlighting key milestones from the past 20 years. Read about the mark NOSM University is making in embodying health justice, opening doors for BIPOC women in medicine, empowering future learners, and changing the status quo by becoming the research nexus for the North.
Far from a break with the past, NOSM University is a seamless continuation of the work done by so many to make it the single greatest resource for health and wealth in Northern Ontario.
And yet, we are making history on a regular basis. NOSM University is expanding with more MD and residency positions. Incredible research is happening, and you can learn more in the 2021 Research Annual Report – A Treetop View. NOSM University will make history with its inaugural charter class entering Canada's first independent medical university this fall. And this year, we have our first Board of Governors, our first Senate, and we are on the way to selecting our first University Chancellor.
Collectively, so many people, including staff, faculty, learners and the public, are involved in this historic journey. I want to thank you all. We are truly a village of movers and shakers! Those who came before us with this incredible vision created the successful foundation of NOSM University—now some 20 years in the making. Thank you to everyone who has helped to build upon the legacy of that vision, which has led to today and to this incredible moment. I especially want to extend my appreciation to the NOSM Transition Board, Transition Senate, our Executive Group and Management Group for their untiring work during the past few months. It has been scary yet inspiring.
We have a lot more work to do. Just imagine what we will look like in 50 years. NOSM University is, and will always be, rooted in the North. We will keep growing with creativity, leading in cutting-edge education and research, being socially accountable and making history in everything we do.
Miigwetch, thank you, marsi, merci,
Dr. Sarita Verma
President, Vice Chancellor, Dean and CEO
NOSM University
If you have any feedback or comments, please reach out at dean@nosm.caand follow me on Twitter @ddsv3.
---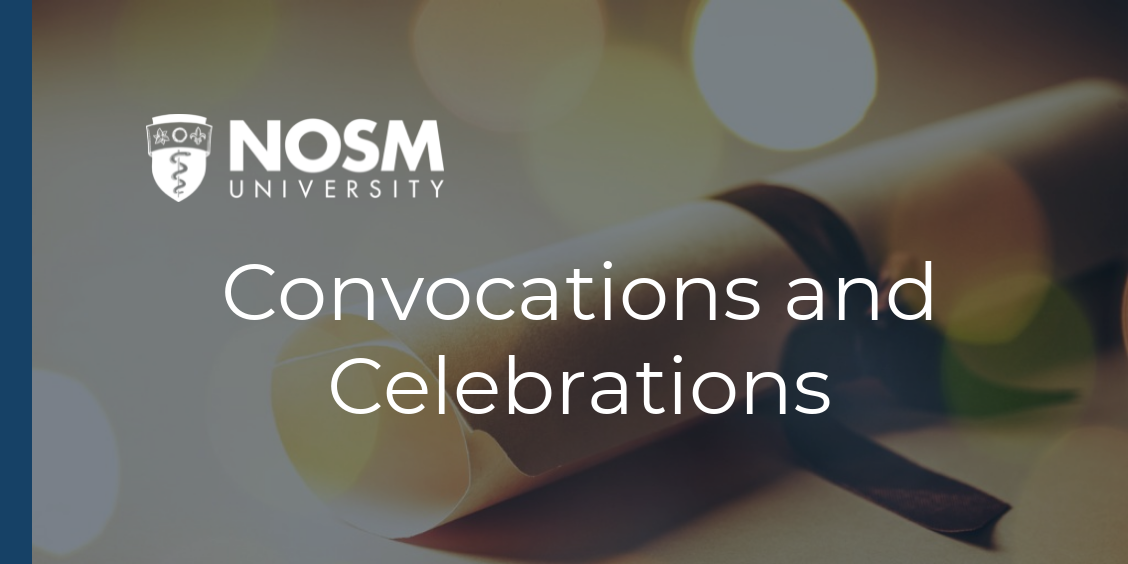 This week, we celebrate convocation together in both Sudbury and Thunder Bay. It is a time of great excitement for NOSM University's MD Class of 2022, their family and friends. Celebrating our newest physicians.
Sudbury
Tuesday, May 31, 2022 at 2:30 p.m. (In person and online.)
Thunder Bay Ceremony
Friday, June 3, 2022 at 12:00 p.m. (In person only.)
Following each convocation, NOSM University is hosting a reception and white coat ceremony for graduates.
---
Northern Health Research Conference
Join us June 24, 2022 for our first-ever hybrid conference! View the conference agenda.
Participants will have the option to attend in person from the NOSM University Sudbury campus or virtually. There is no registration fee to attend this year's conference as we try out a hybrid model.
Please visit the NHRC website for further information and to register.
---

Support NOSM University students
—your future doctors!