A fresh year filled with optimism and new opportunity.
A fresh year filled with optimism and new opportunity.
Posted on September 8, 2021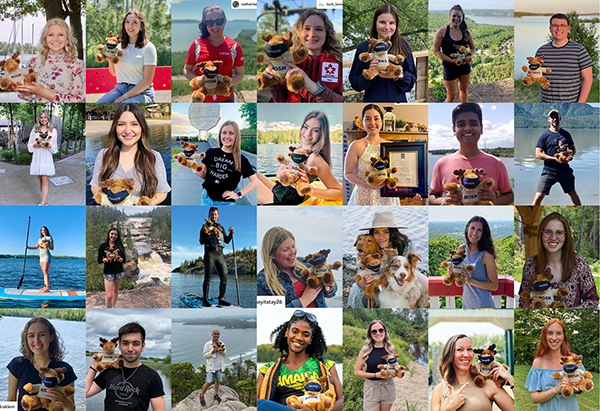 This week marks the start of a new academic year for many, including the MD, dietetics, and Master of Medical Studies (MMS) programs. Education is an adventure filled with opportunity and experiences that you build on and take with you throughout your lifetime. Welcome to our learners, faculty and staff who are on campus this week and those who are participating in activities virtually. It's a fresh new year and I hope you will approach it with much optimism.
Although it feels like the beginning of a chapter for some, our resident doctors started their training on July 1, 2021; residents don't have time off over the summer. At the end of day on June 30, fourth-year medical students became residents and residents completing their training transitioned to independent practice.
This month, we welcome the 15th class of the Northern Ontario Dietetic Internship Program (NODIP). The program is a comprehensive 46-week program in which students learn about nutrition care, population and public health, and management roles in dietetics. Eleven soon-to-be Registered Dietitians are learning from dedicated preceptors across the region.
8 of the 11 (73%) are from Northern Ontario
All requested experience in Indigenous, Francophone, and/or rural/remote communities
2 were prior NOSM summer students
Their practice-based projects include: Decolonizing Dietetics; Culinary Nutrition to Improve Outcomes in Oncology Patients; NODIP Graduate Tracking Study; Mental Health Culinary Medicine Labs; Determining the Appropriate Potassium Bath for Hemodialysis Patients; and, Acceptability of FITI Probiotic Yogurt
All will be participating in the Nourish: Food is Our Medicine Learning Journey this year.
Our second Master of Medical Studies (MMS) cohort, which includes five new students, starts this month. The MMS program is designed for physicians wanting to complement their clinical practice with research. They immerse themselves in a research project that answers questions which have an impact on Northern and rural communities.
And there are 69 students in the incoming MD class, including five Military Medical Training Program (MMTP) students.
46 females (68%)
17 males (25%)
5 undeclared gender (7%)
12 Indigenous (17%)
16 Francophone (23%)
25 is the average age
3.82 is the average GPA
18 (28%) are from rural Northern Ontario Rural
36 (56%) are from urban Northern Ontario
8 (13%) are from rural and remote areas of Southern Ontario or the rest of Canada
2 (3%) are from urban areas of Southern Ontario or the rest of Canada
This year, NOSM experienced a five-fold increase in Northern applicants; a 3.2-fold increase in Indigenous applicants; and, two-fold increase in Francophone and rural applicants.
There is a movement happening among all 17 medical schools in Canada to improve the diversity of future physicians and better represent the Canadian population. Evidence proves that current "medical students are wealthier and less ethnically diverse than the general population," as cited in Calling for a broader conceptualization of diversity: Surface and deep diversity in four Canadian medical schools.
Canadian medical schools, including NOSM, have strategically changed their admissions processes to attract diverse applicants. It is also widely recognised that medical students predominantly come from more affluent and privileged households. A survey conducted by the Association of Faculties of Medicine of Canada (AFMC) in 2018 found that 63 per cent of students come from families with an annual income above $100,000/year and only seven per cent were from families making less than $40,000. Subsequently, the AFMC launched the Future of Admissions in Canada Think Tank (FACTT) to provide guidance on increasing diversity in medical schools.
The Calls to Action 23 and 24 of the Truth and Reconciliation Commission (TRC) Report provides a clear directive to train more First Nations, Métis and Inuit physicians to provide high quality, anti-racist, culturally safe care to Indigenous people.
Last year the Black Medical Students Association of Canada made ground-breaking recommendations covering admissions, curriculum and accountability. The Price of a Dream Project (supported by NOSM and all other Ontario medical schools) and other initiatives are working to actively address the:
effect of the commercialization of medical school applications, MCAT, interview preparation, and the resulting financial barriers to admission;
lack of transparency of criteria used to admit successful applicants;
absence of collection of useful sociodemographic data including race, ethnicity and socioeconomic status for the purpose of internal systems evaluation and identification of bottlenecks; and,
potential for diversity/pipeline programs and partnerships.
More than ever, the need to advance work in equity, diversity and inclusion in medical education is clear.
What are we doing about it? NOSM has implemented new pathways to medicine—Rural Generalist Pathway, Indigenous Health Practitioner Pathway, Francophone Health Practitioner Pathway and advanced Indigenous and Northern outreach. These initiatives directly relate to The NOSM Challenge 2025, our renewed commitment to the School's Social Accountability Mandate and our partnerships with communities across Northern Ontario. NOSM is leading bold, necessary changes to build a sustainable future of quality health care that addresses underserved populations and health inequities. We've instated regular reviews of the School's admissions processes and will continue to advocate for an expansion of our MD program.
Most important, is our commitment to improve support for our students. We are working to ease the burden of student debt and improve access to medical school through the direct support of new bursaries and scholarships. Ultimately, we must work to reduce the financial stress and alleviate the pressure on our medical students.
As we move forward with an open mind and intentions to make lasting change and improvements, we want to hear from you. Please let me know what else do you think the School should be doing to improve our equity, diversity and inclusion practices.
Miigwetch, thank you, marsi, merci,
Dr. Sarita Verma
Dean, President and CEO
Northern Ontario School of Medicine
If you have any feedback or comments, please reach out at dean@nosm.ca and follow me on twitter @ddsv3.
---
NOSM In the News
Did you hear that 17% of NOSM's incoming class of medical students self-identify as Indigenous, marking a record high at the School. Learn more.
---
Return to Campus

Starting today (September 7, 2021), all on-campus activities for learners will resume at the medical school buildings in Thunder Bay and Sudbury. The School will require all learners, researchers, faculty, staff, and visitors who intend to access the medical school buildings in Sudbury and Thunder Bay to have the first vaccine dose by September 7, and must be fully vaccinated no later than October 7, 2021. These requirements are aligned with the advice of public health authorities across Northern Ontario, government directives and are consistent with NOSM's peer organizations. More information can be found at 
nosm.ca
. Return to campus is guided by recommendations and directives from local Public Health and the Government of Ontario. Should an increase in COVID-19 cases occur, there may be a renewed restrictions for on campus activities and a return to remote learning.
---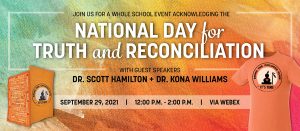 Time for Reflection: National Day for Truth and Reconciliation

September 30 was recently proclaimed as the National Day for Truth and Reconciliation. Join us for a special event on September 29, 2021 from 12:00 p.m. to 2:00 p.m. with guest speakers Drs. Scott Hamilton and Kona Williams who will speak about the gravesites at residential schools. All members of the NOSM community are invited to listen, learn and reflect on the impacts of residential schools and understand their impact as we take steps towards reconciliation leading up to this day of reflection on September 30. Isaac Murdoch, an Anishinaabe artist and activist, has once again allowed us to print his design on t-shirts. This is especially meaningful given the confirmed reports of gravesites at several residential schools, with more discoveries expected. The orange t-shirt—which says: "Bring the Children Home. It's Time."—is now available for purchase.
---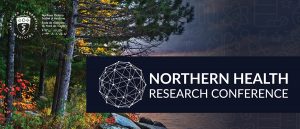 2021 Virtual Northern Health Research Conference
Registration is opening soon for the upcoming 2021 Virtual Northern Health Research Conference. Keynote speaker, Dr. Mohammed Shurrab, Assistant Professor at NOSM and Cardiologist and Electrophysiologist at Health Sciences North (HSN) will speak on Cardiovascular research using health services administrative data in Northern Ontario: Impact on quality of care and outcomes. Recently named HSN Research Institute's (HSNRI) Research Lead in Cardiovascular Health, Dr. Shurrab is working with ICES North integrating academics, research and scholarship to improve the quality of care and outcomes in Northern Ontario. His research focuses on multiple cardiovascular topics related to irregular heartbeats and stroke, blood thinners and heart attack with a focus on the elderly population.