Congratulations Class of 2021! Welcome to your new Profession!
Congratulations Class of 2021! Welcome to your new Profession!
Posted on June 1, 2021
In the next few weeks, we celebrate the Class of 2021. We enthusiastically congratulate 66 newly minted physicians, 73 resident doctors completing their programs, and 12 registered dietitians.
Each of these soon to be graduates has demonstrated integrity and perseverance throughout this pandemic, and are moving on as captivating, courageous, compassionate changemakers.
They have adjusted to the realities of working and learning during COVID-19, an ongoing lockdown, and managing constant uncertainty all in pursuit of a health-care profession that has become one of the riskiest and most dangerous in the world. These amazing graduates leave the safe confines of higher learning to go into practise in rural, remote, Indigenous and Francophone communities across Northern Ontario and Canada.
With this class, the 13th class of MDs, NOSM has now graduated 780 doctors.
This year, we will celebrate online—in style! We have sophisticated speeches and guest appearances from across Canada to say a few words of welcome. We have planned several events including a special retro-convocation for the MD Class of 2020.
"This will be over soon." That's what we told ourselves last year. In fact, the pandemic got worse, but we adjusted. Graduates, you had to face a world that is still uncertain, without big weddings, attending funerals, without in-room dining and without that much deserved vacation on the beach. When you cannot have all the pomp because of the circumstances what do you do?
We can celebrate the incredible ways you have made the world a better place over the past year. To all graduates, I want to say: I am in awe of you!
You have so much power and such a bright future. You have first-hand experienced adversity and you know what health inequity looks like—some of you have experienced it. But more, you have actively worked to make a difference and become changemakers. You have inspired the NOSM community with your anti-racism work. You've volunteered with Operation Remote Immunity, vaccination clinics, and to support front-line workers when they needed a helping hand. You've been mentors to your classmates and colleagues. You're innovative problem solvers.
I want to share some practical advice:
Stay authentic. Trust yourself. You've made good decisions to get to this point in your career. Know that you will continue to be successful if you stay on your path.
Be impeccable with your word. Speak with compassion and integrity. Be inclusive in your language.
Build a strong support system. Continue to strengthen relationships with your biggest supporters at home and at work. Be kind to everyone.
Prioritize wellness. No one is always 100%. There will be ups and downs. Lean on others when you need support and provide the same. Wellness should always be a priority.
Keep in touch. We want to hear from you, please connect with alumni@nosm.ca.
You have the best future ahead! Go on… show off. The world is waiting for you.
"Don't just get involved. Fight for your seat at the table. Better yet, fight for a seat at the head of the table."
—Barack Obama
---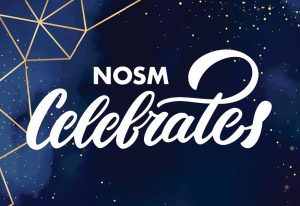 NOSM Celebrates 2021 MD Grads
SUDBURY
Tuesday, June 1, 2021
4:15 p.m. – 5:00 p.m.
THUNDER BAY
Monday, June 7, 2021
2:15 p.m. – 3:00 p.m.
NOSM Celebrates 2020 MD Grads
Sunday, June 6, 2021
2 p.m. – 3 p.m.
Laurentian University Convocation
Tuesday, June 1, 2021 at 2:30 p.m.
Information is available at laurentian.ca.
Virtual ceremonies can be viewed on Laurentian's YouTube channel.
Lakehead University Convocation
Monday, June 7, 2021 at 1 p.m.
Connection details are available on Lakehead's convocation website.
Information about the ceremonies, distinguished guests/honorees, and a social media celebration kit can be found at www.lakeheadu.ca/convocation.
---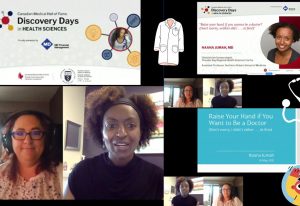 Discovery Day at NOSM inspires curious and enthusiastic Northern youth
Nearly 250 curious and enthusiastic youth from across Northern Ontario met virtually on May 18 to explore exciting career options in medicine and research. This year, a select group of students from 31 high schools across the region were chosen to join hundreds of others who are interested in medicine and science. Read more.
---
July 2 is a vacation day just for you!


A message to staff and full-time faculty at NOSM
As we approach Canada Day, I am strongly encouraging you to take well-deserved vacation time. In recognition of the additional time you have devoted to NOSM, July 2 will not be deducted from your vacation balance if you are able to take the Friday off. For those who already have booked this time off, your vacation balance will be restored. For those who are scheduled to work on July 2 and are not able to change their schedule, please speak with your supervisor to find an alternative day off. NOSM is very grateful for all the time and energy you have devoted to managing the pandemic, Laurentian insolvency, among other important initiatives.