Connecting through "Art in Isolation"
Posted on April 8, 2020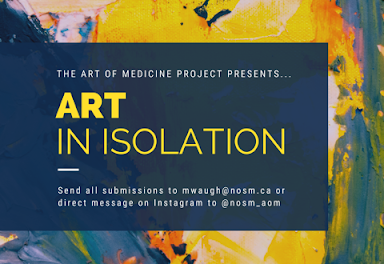 During COVID-19 medical students are invited to submit their art over the course of this physical distancing period. It is an important time to stay well and creative. Personal art can be anything related to medicine or not including: 
Singing

Playing an Instrument

Dancing

Monologue

Poem

Drawing

Painting

Photography

Videography

Arts and Crafts

Collage

Woodworking

Cross stitching
The goal is to create a sharing platform that will help connect us and to make something beautiful out of this stressful situation.

The posts can be sent to mwaugh@nosm.ca or sent by direct message to the new Art of Medicine Instagram page @nosm_aom. Please be sure to follow them on Instagram to see the submissions.

Please note: The Instagram page will be open to the general public for the time being. If you would like to post something anonymously, please state this in your submission.