Listening, learning and daring to lead
Listening, learning and daring to lead
Posted on October 20, 2021
These past six weeks, I have had the joy of traveling across Northern Ontario to consult widely about NOSM University. I have met with leaders, physician teachers, resident doctors, medical students, alumni, community-based researchers and so many more. For me, this has been about listening, learning and respecting. Importantly, it's been about transparency and honest conversations.
As we make the journey to becoming NOSM University, our public consultation is employing a range of strategies to foster trust as a critical element in long-term, sustainable engagement. With trust, comes relationships that respect the right of partners to be informed and empowered. Existing partners need to participate in the vision for NOSM University and new partners need to join in the movement. Our ultimate goal is reciprocity—relationships with partners and communities across Northern Ontario that are mutually beneficial. NOSM University will make a huge impact as we continue our momentum and build on our successes in the future.
The challenge is that we have entered an era of declining trust, to varying degrees, in all kinds of institutions. What is truth and what is not, can sometimes get blurred in the frenzy of competition. But that is an antiquated way of leveraging success. In my opinion, we need better collaboration to ensure the positive outcomes for all institutions in the North – to "lift all boats." The spreading of misinformation about the future of NOSM University has meant that discussions have provided the opportunity to rebuild and strengthen the trust invested in NOSM back in 2002.
Getting back on the road after the pandemic restrictions were lowered and living in Thunder Bay has made a huge difference for me both personally and professionally. After a short seven months on the job, I had been in lockdown in Sudbury and unable to complete my plan to 'get acquainted' with Northern Ontario. Since Labour Day, I have been able to meet with staff, faculty, partners, alumni and donors.
On October 4, I hosted an engagement event with a group of donors who have contributed funds to support our students and programs. They are involved, enthusiastic and will continue to contribute to areas of need. As NOSM University seeks to rebuild our endowments and ensure that no learner is left behind due to the cost of higher education, their commitment to equity and learner support is remarkable. NOSM University aspires to making higher education accessible to anyone who wants to pursue a career.
On October 1, NOSM's residency program directors and administrators had a day long retreat and again, I was able to have a meaningful dialogue with them about expansion, innovation and regionalisation. I continue to be highly impressed by their work—and by our team led by Dr. Rob Anderson and Jennifer Fawcett. With accreditation coming up at the end of November, they are working flat out. With a fantastic group of clinician leaders, I know our residency programs will do well.
On October 5, I hosted the first of many townhalls on the NOSM University concept. What a turn out! This was an unprecedented opportunity to hear from everyone about the issues and to assure all that NOSM University has no intention of leaving the Northwest and to allay the fears created by some statements that were simply untrue. The calming of waters and the presentation of a bold, relevant yet visionary future was really well-received.
I have also spent valuable time in Sioux Lookout (October 12), Kenora (October 13), Fort Frances (October 14). These meetings with people from all walks – hospitals, educational institutes, clinics, AHACs and municipalities reinvigorated me and provided inspiration yet also, validation that we are on the right course, and that becoming NOSM University is the right trajectory. Today, I am in Hearst and I will be in Kapuskasing tomorrow.
Many people so graciously hosted us in the Northwest. A very moving time was spent at the Gizhewaadiziwin Health Access Centre and where we offered tobacco at the site of the residential school.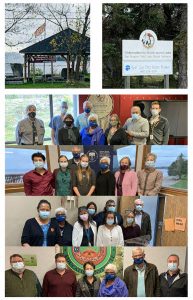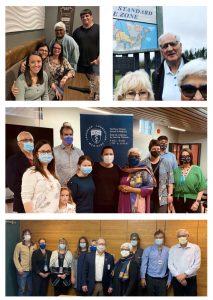 The work is only half way done. There is a townhall in Sudbury (November 2) and a discussion with the Local Education Group leads on November 5. I also plan to meet with leaders and have townhalls in North Bay (November 8), Timmins (November 10) and Sault Ste. Marie (November 12). Phew! It will be a whirlwind tour. And so far, I am loving the vistas of Northern Ontario, the spectacular beauty, autumn colours and the warmth of the NOSM community.
There is still time to RSVP here for a NOSM University Consultation session near you.
What themes are emerging thus far?
There is unequivocal support for the evolution of NOSM to a free-standing University.
NOSM has been successful at graduating physicians for the urban centers, but we have more work to do for many rural, remote, First Nations, Francophone and minority communities.
Physicians who take on a teaching role, NOSM's clinical faculty, are feeling the stressors of the pandemic. They are experiencing diminishing resources and need more support with difficult problems such as managing learners with special needs and balancing clinical service demands with no protected academic time.
The presence of the Dean in community has reinforced the message that NOSM University will 'stay the course' on its commitment to social accountability and that it intends to stay in Thunder Bay, Sudbury and across all of Northern Ontario.
This consultation and engagement process also includes a public survey, to which you can contribute your input here.
With 159 responses to the survey, here is what we've heard so far:
94% of respondents believe that with the urgent need for more allied health professionals in Northern Ontario, transforming health human resource planning is still a priority.
When asked about social accountability, it is seen as an ever changing reality – fluid yet important. It's a key value for NOSM University to keep at the centre of everything we do.
As a university, NOSM must keep it commitment to equity, diversity, inclusion and reconciliation. Indigenous communities value our partnership and see real chances to co-create a future.
Although it is still in the making, nothing has been decided on our new model yet. I am excited to learn more and to hear from you. What does the NOSM University of the future look like to you? If you want to check in with the government plan, you can comment here: Consultation related to a regulation under the Northern Ontario School of Medicine University Act, 2021.
At the Federation of Medical Women of Canada Annual meeting on October 1, I gave a plenary speech with the Dean of Health Sciences at Queen's University, Dr. Jane Philpott. The topic was suitably titled for the two of us: Dare to Lead. If you are interested, here is the link to my slides. They are oriented to women, but apply to all. Take my Dare to Lead Questionnaire!
Are you a do-er, daring and discovering person? I am, according to some, a daring leader. What do you think?
Miigwetch, thank you, marsi, merci,
Dr. Sarita Verma
Dean, President and CEO
Northern Ontario School of Medicine
If you have any feedback or comments, please reach out at dean@nosm.ca and follow me on Twitter @ddsv3.
---

16th annual Northern Health Research Conference
Thank you to everyone who participated in this year's NHRC. For the first time since the inception of NHRC, the presentations were grouped into themes with a total of 23 oral presentations and 25 poster presentations. Congratulations to Dr. Christopher Thome, the 2021 recipient of the Rene Guilbeault Research Award, for his project titled: Ionizing radiation induced stimulation of natural killer cell cytotoxicity: A mechanism for cancer immunotherapy. Thank you to Dr. Mohammed Shurrab, keynote speaker, for his presentation on cardiovascular research using health services administrative data in Northern Ontario. Special thanks to Drs. TC Tai, Lacey Pitre, Eliseo Orrantia and Deborah Saunders, the NHRC Scientific Planning Committee, who reviewed all abstracts, as well as the entire Research and Continuing Education and Professional Development teams at NOSM.
---

Upcoming CEPD events

There are many exciting CEPD events taking place in the next month, including:
---
Changes in NOSM's organizational structure 
Effect immediately, Faculty Affairs, led by Dr. Harshad Telang, Associate Dean Faculty Affairs, will report to Dr. William McCready, Senior Associate Dean and Special Advisor. The Office of Institutional Intelligence, led by Mat Litalien, Director, Office of Institutional Intelligence will report to Dr. David Marsh, Associate Dean, Research, Innovation and International Relations. These changes are in reporting structure only and will better position NOSM in transitioning to NOSM University.
---

Congratulations!
Dr. Maurianne Reade was recently nominated to the Ontario Immunization Advisory Committee, bringing a rural Northern Ontario voice to the committee.