NOSM welcomes two new faculty section chairs
NOSM welcomes two new faculty section chairs
Posted on August 4, 2021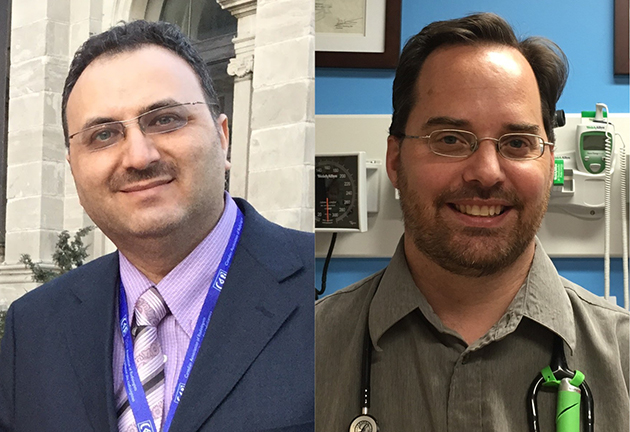 The Northern Ontario School of Medicine (NOSM) welcomes Drs. Amer Alaref and Justin Jagger, new Section Chairs of Radiology and Child and Adolescent Health respectively. Dr. Alaref began his term on July 1, 2021 and Dr. Jagger began on August 1, 2021.
"I am honoured to welcome Drs. Alaref and Jagger to their new roles at NOSM," says Dr. Barb Zelek, Division Head, Clinical Sciences and practising rural generalist family physician in Marathon. "I appreciate their enthusiasm and look forward to their contributions as part of the wonderful team of Section Chairs at NOSM."
Dr. Amer Alaref is a staff radiologist at Thunder Bay Regional Health Sciences Centre (TBRHSC) and an Assistant Professor of Radiology at NOSM. He received his MD and completed his Radiology residency program from Damascus University, Syria. Prior to joining NOSM and TBRHSC, Dr. Alaref did several fellowships at McMaster, McGill and the Children's Hospital of Eastern Ontario (CHEO). Dr. Alaref brings extensive research experience to his new position.
Dr. Justin Jagger is a pediatrician currently practising at the Thunder Bay Regional Health Sciences Centre. He is a NOSM Assistant Professor in the Section Child and Adolescent Health. He is a graduate of the MD program at Western University (2004) and completed a pediatrics residency at Queen's University (2009). Dr. Jagger is a longstanding and respected clinical preceptor at NOSM and was the former Chief of Pediatrics at TBRHSC.
A special thank you to Drs. Anatoly Schuster and Sean Murray for their leadership and commitment to the role of Radiology and Child and Adolescent Section Chair respectively. For further information about our Section Chairs, please visit the NOSM Division Chair/Section Chair webpage.