We're revealing our new Strategic Plan: The NOSM Challenge 2025
We're revealing our new Strategic Plan: The NOSM Challenge 2025
Posted on November 10, 2020
SPECIAL EDITION
Hello, Aanin, Boozhoo, Bonjour,
Today marks another historic day at the Northern Ontario School of Medicine (NOSM). I am very proud to share The NOSM Challenge 2025, the School's third strategic plan. The theme reflects the need to challenge ourselves, our communities, our ideas, and our commitment to social accountability in order to drive change and improve access to quality health care in Northern Ontario.
The five-year plan sets out the School's goals, aspirations and outcomes by 2025. With an updated mission statement "to improve the health of Northern Ontarians by being socially accountable in its education and research programs and by advocating for health equity," we have identified four strategic directions:
Transform Health Human Resource Planning
Advance Social Accountability
Innovate Health Professions Education
Strengthen Research Capacity in Northern Ontario
As well, to ensure the successful implementation of its plan, The NOSM Challenge 2025 identifies the following four strategic enablers:
Valuing Our People
Managing Our Resources
Investing in Our Infrastructure
Sustaining Our Resilience
NOSM listened to you. Our plan is grounded in input from nearly 2,000 stakeholders including learners, staff, faculty, partner organizations, and community members from across Northern Ontario. NOSM will train health-care professionals of the future to work in an increasingly uncertain and volatile world.
NOSM will promote innovation, discovery, and academic and clinical excellence while building a culture of diversity, inclusion, respect, equity, and empowerment.
How can we formulate strategy in the face of uncertainty?
That's the fundamental question leaders in today's rapidly shifting environment must ask as they prepare for the future. And in the midst of a global pandemic, answering it has never felt more urgent.
Even before the COVID-19 crisis, we were witnessing the worsening health inequities, rapid technological changes, growing economic interdependence, and mounting political instability that conspired to make the future increasingly murky. Uncertainty was so all-encompassing that to fully capture the depth and complexity of the issues we were facing, researchers had devised elaborate acronyms such as VUCA—volatility, uncertainty, complexity, and ambiguity and TUNA—turbulent, uncertain, novel, and ambiguous.
When the pandemic hit, the sense of uncertainty was so pervasive that many medical schools doubled down on efficiency at the expense of innovation; favouring the present at the expense of the future.
Although we at NOSM were adjusting to the 'new normal' we were also pivoting toward preparing for the future in virtual health education and population-based research.
We were already, and still are, ahead of the curve. While a lot of schools have focused solely on surviving immediate threats, at NOSM we rose to the Challenge immediately working on creating new ways to address the issues of the day.
We recognized that the decisions we were making in those moments would have ramifications for years—or even decades. And we recognized that we had to manage our way through the crisis and find a way to link current workloads to future outcomes.
Strategic foresight—offers a way forward.
This strategic plan, The NOSM Challenge 2025, imagines multiple futures in creative ways that heighten our ability to sense, shape, and adapt to what Northern Ontario's health, education and research reality will look like in the years ahead. Strategic foresight helps us figure out how to innovatively think about the future.
This was no small challenge. In order to survive and thrive over time, we plan to leverage our existing resources and explore new ones. We expect to be flexible and ambidextrous, with an eye to the future. We will confront curricular renewal, new admissions criteria, new pathways, innovation in research and new collaborations and partnerships, while ensuring that health human resources stay in the North. And we will always have a focus on our graduates, who remain committed to our values of social accountability, inclusiveness and respect. Strategic foresight in this plan doesn't just help us figure out what to think about the future. It helps us figure out how to innovatively think about it.
In The NOSM Challenge 2025, we are imagining a plausible, but a dramatically different future. This can be the most difficult part of the implementation of the plan, particularly for those used to more pragmatic modes of thinking. What we're doing here is asking every individual in the NOSM community and beyond to push yourself to imagine what the future will look like in five, 10, or even 20 years. I challenge you to prime your imagination and push the envelope of inventiveness.
Between now and 2025, through this Plan, let's inhabit that future, let's influence it and let's make an impact! As the pandemic has made it clear that needs and assumptions can change quickly and unpredictably, preparing for the future demands constant reappraisal, swift ability to pivot, and significant resiliency and perseverance.
This plan, this Challenge, this NOSM, has great potential and provides real opportunities for the School to gain competitive advantage through strategy.
This is our collective call to action. Join us in The NOSM Challenge 2025.
---
Please continue to follow my journey on Twitter @ddsv3 using #WhereisDrVerma.
I welcome input on this blog and other issues you want to bring to my attention by email to dean@nosm.ca.
---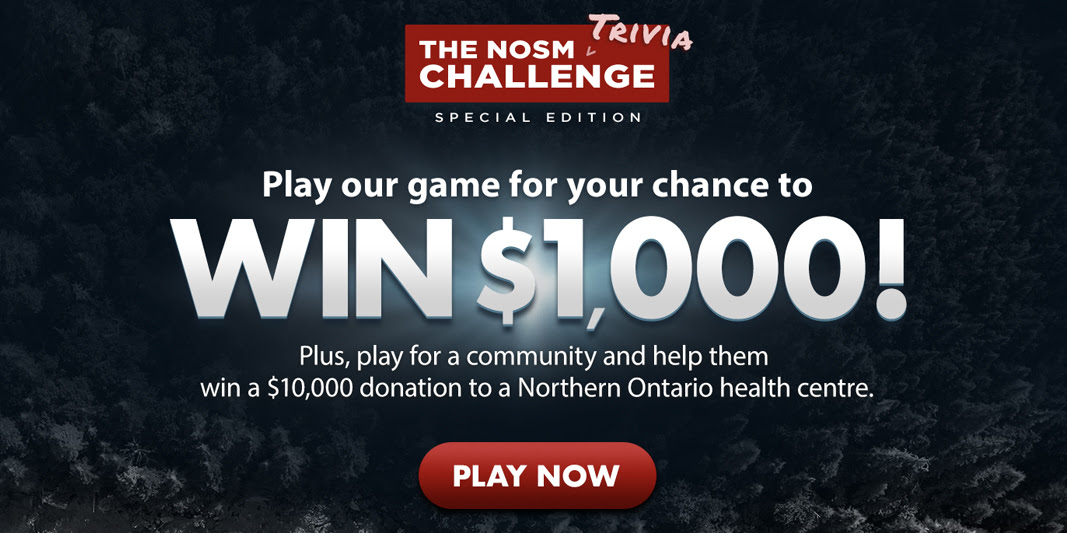 So you think you know about health care in Northern Ontario?
Take the NOSM Trivia Challenge. The game will inform and engage you with what unites us all in The NOSM Challenge 2025. Earn ballots for your chance to win $1,000 and when you register, select a Northern Ontario community that you want to play for and help them win $10,000 for a hospital or health centre in their community. Thank you to TD Insurance for sponsoring the NOSM trivia challenge.
To test your knowledge about Northern Ontario and NOSM—and for a chance to win—visit thenosmchallenge.ca. The game is open now until January 12, 2021 at 11:59 p.m. EST.
---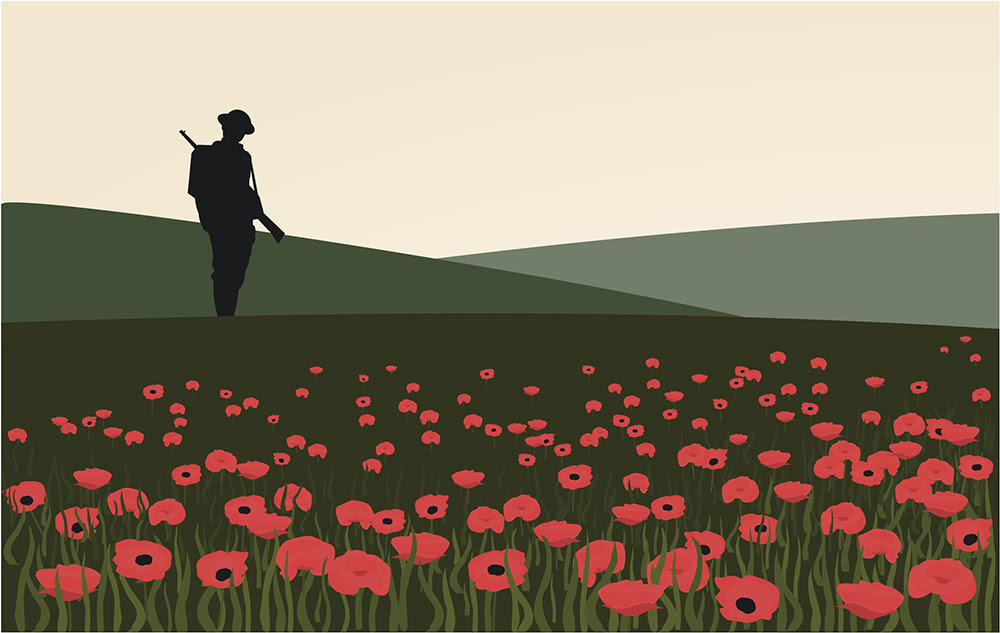 Tomorrow is Remembrance Day
Remember the service of our veterans and service providers in the armed forces. You're your poppies, pause for silence or participate in a memorial.
In Flanders Fields the poppies blow
Between the crosses, row on row,
That mark our place; and in the sky
The larks, still bravely singing, fly
Scarce heard amid the guns below.
We are the Dead. Short days ago
We lived, felt dawn, saw sunset glow,
Loved and were loved, and now we lie,
In Flanders fields.
Take up our quarrel with the foe:
To you from failing hands we throw
The torch; be yours to hold it high.
If ye break faith with us who die
We shall not sleep, though poppies grow
In Flanders fields.
John McCrae