Leading with compassion and giving thanks
Leading with compassion and giving thanks
Posted on October 18, 2022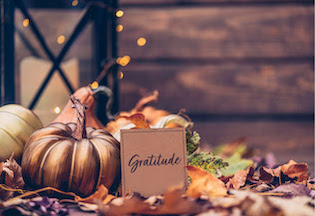 October is the month when many Canadians give thanks, often for food, family and good health around a shared table. I hope every one of you had the good fortune to enjoy all of that and more. This year, I give my thanks to everyone in the NOSM University community—learners, staff, faculty, community partners and beyond. Together, we are making history, and we are doing so with integrity.
Integrity is nothing if not in the doing. It's the ongoing tally of what we do: support, advocate, work. But it's also a state of mind: what we weigh, consider and feel. It's action after action that demonstrates our character and moral rectitude. That's what counts. At NOSM University, integrity is the foundation of everything we do. And it's paying off.
I know this because others are seeing in NOSM University what I have seen all along. As you may have heard by now, the FDC Foundation has entrusted us with a $10 million gift toward our burgeoning Student Endowment Fund. This generous donation is utterly transformational—because it is a matching gift, each dollar will eventually have its twin, and NOSM University will ultimately have $20 million dollars for which to be thankful. I cannot overstate the impact, or say thank you enough. With this gift, we are on our way to a Student Endowment Fund of such significance that it will support undergraduate medical learners in financial need for as long as we are standing.
This is a vote of confidence from the FDC Foundation, a signal that our work is seen and valued by people who are aligned with our values. Like John F. Kennedy said, "As we express our gratitude, we must never forget that the highest appreciation is not to utter words, but to live by them." That's the integrity piece; to show the FDC Foundation that we are truly grateful, we will keep pushing forward, and live by our word.
The goal is to start with $50 million for the NOSM University Student Endowment Fund, so we make an impact in our students' lives. By covering as much of the undergraduate medical tuition as we can, it will help even the playing field for Northern students. It will also incentivize those same students to follow their passion for health care at NOSM University, and then perhaps, to follow their hearts back home to practise. That's part of our plan for how we're going to help deliver health care to the thousands of people in Northern Ontario who continue to wait for a family doctor. As always, we will recruit from the North, for the North, and try to ease the financial burden in order to make it easier for our new doctors to stay.
As we prepare to add another 30 MD positions and 41 residency spots over the next five years, building a robust Student Endowment Fund is all the more urgent. Our medical programs are growing, as is our need to ensure access to medical education to people from diverse socioeconomic backgrounds. We hope that this generous matching gift will spur like-minded visionaries and philanthropists to champion NOSM University.
In the meantime, we will keep to our word and stick to the plan. We will continue to transform health human resource planning, advance social accountability, innovate health professions education and strengthen research capacity in Northern Ontario. But above all, we will lead with compassion, and give thanks where so much of it is due.
If you have any feedback or comments, please reach out at president@nosm.ca and follow me on Twitter @ddsv3.
---
President's Report
My President's Report, launched earlier this month with the theme of Integrity, focuses on our commitment to equity, diversity and to leadership. NOSM University is a trailblazer in this space. Learn more about how the Equity and Inclusion portfolio was created to address some very serious and pervasive health-care injustices; learn more about collaborative specializations at NOSM University;watch as four future MD graduates explain what drew them to the Indigenous Peoples' Health and Wellness Collaborative Specialization; and, how our work towards reconciliation continues.
---
National Day for Truth and Reconciliation
NOSM University recently hosted two events acknowledging National Day for Truth and Reconciliation. On September 12, Dr. Joseph LeBlanc provided an update on NOSM University's response to the Truth and Reconciliation Commission's (TRC) Calls to Action and the United Nations Declaration on the Rights of Indigenous Peoples (UNDRIP). On September 30, we heard truths and reflected on the legacy of residential schools. The recording is available for viewing on NOSM University's YouTube channel. Orange Shirts can still be purchased. Donations can be made in support of the Truth Award for an Indigenous medical student at NOSM University or to the Indigenous Educational Initiatives fund.
---
Join us at an upcoming reception
International Conference on Residency Education 2022 
Join Dr. Sarita Verma and co-host Dr. Rob Anderson in Montréal on Friday, October 28 between 5:30 – 7:30 p.m.
---
Family Medicine Forum 2022 
Join Dr. Sarita Verma and co-hosts Drs. Cathy Cervin and Barb Zelek in Toronto on Thursday, November 10 between 4:30 – 6:30 p.m.
---
MD program expands from 69 to 74 this year
Five very fortunate people received the best news at the end of August. NOSM University was able to offer five additional spots in the MD program this fall. With our original 64 spots, plus five Military Medical Training Program (MMTP) and these additional five MD seats, the pool of future physicians has expanded by an amazing number. Over the next few years, we are hoping to reach close to 100 medical students per year. Congratulations to all our incoming learners! I had the chance to meet many of them at a Meet and Greet on September 13. It was awesome to connect with our learners.
---
Family medicine residency program expansion
We have advanced our expansion for the residency program as well. Thanks to the Government of Ontario, we are adding five spots in the family medicine third-year enhanced skills program. These additional residency positions will address health-care needs in emergency medicine, family practice anesthesia, care of the elderly, 
addiction medicine and sport and exercise medicine
. Join us in congratulating the program directors and the residency program staff for undertaking this expansion so quickly.
---
Save the date: New Board of Governors and inaugural Chancellor announcement
On Thursday, November 24, 2022 we will celebrate the unveiling of NOSM University's inaugural Chancellor and Board of Governors. Please stay tuned for details.