NOSM University recognized for commitment to Northern Ontario's Francophone community
NOSM University recognized for commitment to Northern Ontario's Francophone community
Posted on June 1, 2022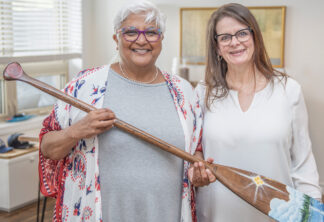 NOSM University is the recent recipient of the Réseau du mieux-être francophone du Nord de l'Ontario Award of Recognition honouring community partners for their contributions and efforts to improve access to, and equity of, French-language services.
"This is an honour for which we are very grateful, and it's one that tells me that NOSM University is on the right track" says Dr. Sarita Verma, President, Vice-Chancellor, and Dean of NOSM University who accepted the award on behalf of the University. "NOSM University has prioritized social accountability and health justice in everything we do. Simply, this means that the university must be thoughtful and responsive to communities and their health needs—particularly for the roughly 130,000 Francophones and French-speaking people in Northern Ontario."
The University continues to expand its efforts to support Francophone medical students who will practise in French, as well as support Francophile and Anglophone medical students in recognising and providing linguistic and culturally sensitive care.
On behalf of the University, Dr. Verma thanked the many Francophone contributors, supporters, partners and communities. "To meet the needs of the Francophone community, we rely on solid partnerships with organisations like the Réseau du mieux-être francophone du Nord de l'Ontario. Merci, thank you for this recognition."